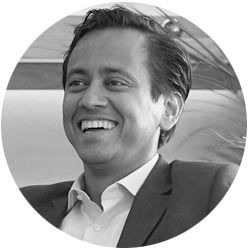 Mukund Bhatnagar – Partner Middle East and Africa Lead, Financial Services Kearney
Mukund Bhatnagar is a partner in the Dubai office and a member of the Financial Services practice. He serves a diverse set of clients, including regional banks, telecoms, conglomerates, government entities, and media and entertainment companies. He is an expert in developing corporate and business unit strategies for Middle East firms.
Mukund has been instrumental in creating economic development scenarios for the Gulf countries. He has written on topics ranging from family businesses to hyper-speed evolution of industries in the Middle East. He has co-authored several papers, including The Future of Islamic Banking and Paradigm Change: The New Reality of GCC Banking.
Before joining Kearney, Mukund worked at GE Capital for eight years in four different commercial roles across two continents, specializing in cards and payments and retail finance. He is a GE-certified Six Sigma black belt and was part of GE's coveted Experienced Commercial Leadership Program.
He earned his bachelor's degree in chemistry from Delhi University and his MBA from INSEAD graduate business school. He is a regular at INSEAD recruiting events in Dubai.