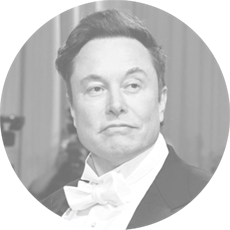 Elon Musk – Tesla, SpaceX
Elon Reeve Musk FRS is a South-African-born, Canadian/American engineer, industrial designer, and tech entrepreneur. If you're excited about the future of the world, you'll probably have seen Musk everywhere. Musk founded PayPal and is also the founder of Tesla Inc, SpaceX, The Boring Company, and Neuralink. Two years ago, Musk first appeared on this list as the 24th richest person worldwide, and he's now the 2nd.
Musk was born in Pretoria, South Africa, and briefly attended at the University of Pretoria before moving to Canada at age 18, acquiring citizenship through his Canadian-born mother. Two years later, he matriculated at Queen's University and transferred to the University of Pennsylvania, where he received bachelor's degrees in economics and physics.
In 1999, Zip2 was acquired by Compaq for $307 million and Musk co-founded X.com, a direct bank. X.com merged with Confinity in 2000 to form PayPal, which eBay acquired for $1.5 billion in 2002.
With $175.8 million, Musk founded SpaceX in 2002, a spaceflight services company. In 2004, he was an early investor in the electric vehicle manufacturer Tesla Motors (now Tesla). He became its chairman and product architect, assuming the position of CEO in 2008.
In 2006, he helped create SolarCity, a solar energy company that was later acquired by Tesla and became Tesla Energy. In 2015, he co-founded OpenAI, a nonprofit artificial intelligence research company. The following year, he co-founded Neuralink—a neurotechnology company developing brain–computer interfaces—and The Boring Company, a tunnel construction company.
Musk has also proposed a hyperloop high-speed vactrain transportation system. In 2022, his acquisition of Twitter for $44 billion was completed.