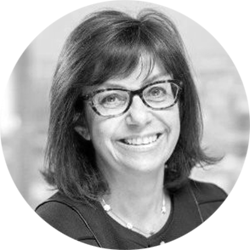 Isabelle Santenac – EY Global Insurance Leader
Isabelle is the Global Insurance Leader. She leads a team of over 12,000 industry professionals committed to helping insurers transform and reshape their business models through EY audit, business consulting, tax and corporate finance services. She's committed to bringing the support and confidence of the firm to help businesses thrive in the new transformative age.
She has over 30 years of experience working with large financial services organizations. Previously, she held the role of Assurance Managing Partner for EY EMEIA Financial Services and previously, I held the role of Global Assurance COO based in London. Since 2000, I have served as the lead partner for large international financial institutions headquartered in France or in Europe, whether audit or non-audit clients.
In addition to her work with EY, Isabelle is a board member and treasurer of Positive Planet, a non-profit organization for which EY is providing skilled sponsorship.
She received a master's degree in Management from ESCP.
How Isabelle is building a better working world
"In my role, I constantly ask if we can do better. I consistently ask tough questions in our audits and provide a timely, constructive challenge to management and a robust, clear perspective to audit committees. My objective is to lead the development of trust and high standards within financial services. Transparency breeds clarity. Clarity breeds confidence. Without upholding these high standards, we cannot expect to progress and build a better working world.
Alongside my work in insurance, I am a champion for nurturing talent and diversity in our organization. I readily welcome and encourage positive change and actively build inclusive teams. This is essential to providing services to clients and for our own organization. I continue to encourage and mentor Diversity & Inclusiveness in order to achieve this goal."