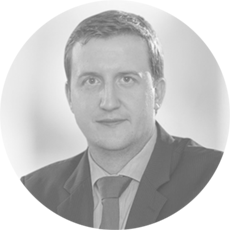 Kai Grass – Partner, Dusseldorf 's office Bain
Kai Grass is a member of Bain's Healthcare & Life Sciences and M&A & Divestitures practices. Kai's healthcare work focuses on pharmaceutical and medtech clients. He has extensive experience in biopharma strategy and transformation in different topics such as R&D and clinical trials, M&A, commercial, pricing, and product launch, and emerging markets trends.
His recent client engagements have focused heavily on M&A and Divestiture topics for clients across industries. He is an authority on post-merger integration, carve-out/divestitures and separations, corporate M&A strategy and capability building, as well as value creation plans in post-acquisition situations.
Prior to joining the firm in 2009, he held research roles at Procter & Gamble and various academic institutions.
He holds a Ph.D. in Theoretical Physics from Goethe University, a diploma in physics from the University of Freiburg and a diploma in applied physics from the University of Auckland.