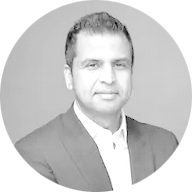 Mohit Pande – Chief Underwriting Officer, Property, P&C Reinsurance at Swiss Re
Mohit Pande is Head of Property Underwriting for the US & Canada and Chief Property Underwriter. He is responsible for a team of 35 people and the underwriting performance of a large premium portfolio of property fire and natural catastrophe business.
Prior to his present role Mohit was Head of Property Underwriting for Globals in the US. In this position he managed a team of property underwriters and helped drive business growth for the largest and most complex Global companies in Swiss Re's portfolio.
Mohit joined Swiss Re in 2005 and has held roles in Underwriting, Cat Perils and Structured Reinsurance Solutions. He has 20 years of reinsurance industry experience and has worked in India, Canada, USA, Switzerland and Japan.
Before joining Swiss Re, Mohit worked at the catastrophe modelling firms RMS (India) and AIR Worldwide (Boston).
Mohit holds a Master's degree in Wind Engineering from the University of Western Ontario in Canada and a Bachelor's degree in Civil Engineering from the Indian Institute of Technology, India.