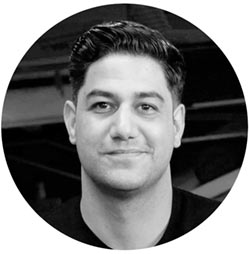 Niranjan 'Niji' Sabharwal – Enthusiastic about the intersection of business & technology
Niji Sabharwal, the cofounder and CEO of insurance-tech startup AgentSync, can lay claim to this unusual trifecta, thanks in part to two investors who went through the painful learning process with him. 
Denver-based AgentSync specializes in software for "producer management"—insurance jargon for keeping track of licensing and other compliance requirements among the industry's hundreds of thousands of independent sales agents. Sabharwal's spouse, Jenn Knight, is AgentSync's cofounder and chief technology officer. The company today announced a $75 million Series B funding round that values the company at $1.2 billion. Leading the round is Valor Equity Partners, whose CEO is Antonio Gracias; among the other participants is Craft Ventures. 

The key common denominator among Sabharwal, Gracias, and Sacks: All three were involved with employee-benefits software company Zenefits in 2015 and 2016, when that company ran into a huge compliance problem. Zenefits, which specializes in serving small and medium-size companies, had begun using its platform to enable insurance sales.