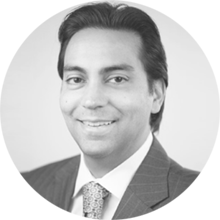 Ravi Malhotra – Managing Director Accenture Strategy Insurance Lead Asia Pacific
As Managing Director of Accenture's Insurance Strategy Practice for North America I am responsible for serving clients, setting practice direction, thought leadership, and practice management.

I have spent most of my career helping leading insurance and financial services companies to develop and execute strategies to be more competitive. I work with senior level clients on topics related to growth strategy, digital strategy, business and operating model design, transformation strategy and strategic cost reduction.

From 2013 to 2019, I was based in Sydney, Australia and served as Accenture's Insurance Strategy lead for the Asia Pacific region.

Prior to joining the Accenture Sydney office in 2013, I was with Accenture in North America and based in Chicago. I led our firm's North American management consulting practice for the insurance industry and the Financial Services strategy practice prior to that.
Prior to joining Accenture, I was a Managing Director at BearingPoint where I led the North American Business Transformation practice (cross industry), and served as MD for the Corporate Strategy Office.