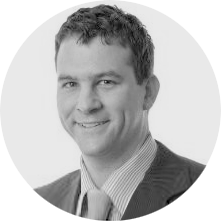 Rodney Bonnard – EY UK Financial Services, Insurance Leader and Markets Leader
Rodney has been leading UK insurance at EY since October 2015, sits on the board for UK Financial Services and is the UK Financial Services Markets Leader.
He is committed to ensuring that EY remain relevant to the challenges being faced by the insurance industry. The breadth of these challenges is very exciting – from digital disruption, treating customers fairly, finding growth, accounting, and regulatory challenges. All while making sure that EY still adds value in areas that our clients will always expect – audit, tax and actuarial work.
Rodney is an actuary and enjoys helping clients interpret their results in the context of the market.
"I'm a great believer that a strong insurance industry is one that is made up of diverse talent. Only through the encouragement of inclusion will we bring the most good to society. I'm committed to transforming the insurance industry in the new digital age – while keeping people at the heart of business."
He has a BSc (Hons) in Statistics and Actuarial Science from the University of the Witwatersrand and is a Fellow of the Institute and Faculty of Actuaries and the Society of Actuaries in Ireland.