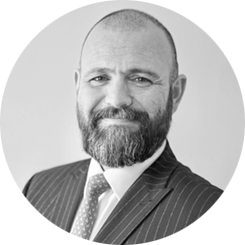 Scott Sayce – Global Head of Cyber and Group Head of the Cyber Centre of Competence AGCS
CHIEF UNDERWRITING OFFICER: A Senior Executive with proven Global Chief Underwriting Officer / Global Head leadership experience across highly technical product lines for major insurance corporations. Substantial underwriting and portfolio / market execution expertise for Cyber, Cross Line of Business Cyber Exposure, Financial Lines, & Speciality Insurance lines.

INSURANCE INDUSTRY EXPERIENCE: Bringing two decades specialist lines experience in SME, mid-sized, and global insurance corporations with extensive strategic leadership, E2E proposition design and commercial / growth track record in Global Head / Chief Underwriting Officer roles for Cyber & Financial Lines. Added Senior Executive presence on Group Underwriting Committees overseeing portfolio strategy execution across all speciality product lines and packages (broader insights on specialist Medical, Marine, Aviation & Energy areas).

COMPLEX INSURANCE PRODUCTS: A track record of leading key initiatives to successfully launch complex insurance products into new geographical areas and distribution channels (online, Lloyds of London and Company markets). Transformed / restructured business lines to achieve impressive net underwriting results, re-built divisions, restored growth trajectory, built high-performance teams (people and culture) and led Global Cyber Strategy Roadmap & Execution -including Group Board Engagements).