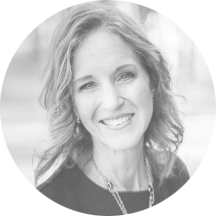 Shelly Habecker – L&H Sustainability Lead Americas, Life & Health Products Swiss Re Institute
As VP, Life & Health Sustainability Lead for Swiss Re Americas, Shelly
Habecker focuses on helping client partners grow sales sustainably by making life and health insurance more available, affordable, and accessible for underserved communities.
As an anthropologist with a PhD from Oxford University, Shelly has a passion for understanding people, their stories, cultures and experiences while connecting the dots to exceed customer needs, support and inspire innovation and develop better financial safety nets for all.
My passion is listening to people's stories and experiences so that I better understand what they need. I then build bridges between people and ideas to solve problems holistically and sustainably. I also delight in writing and speaking about the work I do to inspire others to the cause. If you, too, are interested in promoting financial inclusion for all and creating business value, please reach out.
Prior to joining Swiss Re in 2016, Shelly spent two decades in academia as an adjunct professor at George Washington University and Purdue University Fort Wayne. She also worked for the U.S. Office of Refugee Resettlement in Washington, D.C. for UNHCR in several African countries and for the U.S. Peace Corps in Eritrea.