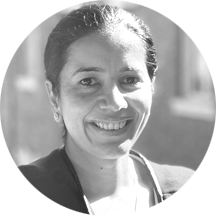 Swati Sharma – Manager Insurance Industry Group Advanced Technology Centers in India
Swati is a business executive who loves to work on new challenges and solve it through consulting and digital implementation. She has strong intent to solve large and complex problems while building new age transformative solutions. She enjoys interacting with clients and work real time to help them realize the art of possible. Her focus is strategy, building customer focused solutions and apply them at scale.
Swati leads the global supply chain practice. She help clients understand and leverage the application of the Internet of Things, the use of advanced robotics, and the application of advanced analytics of big data in supply chain management: place sensors in everything, create networks everywhere, automate anything, and analyze everything to significantly improve performance and their end customer satisfaction for Accenture Operations business.

Swati works with chief supply chain officers helping them realize their supply chains need "to become much faster, more granular, and much more precise" a reality by using digital twin technology and Accenture SynOps platform.

Swati helps clients to map the current digital maturity of the organization, create a sound understanding of the required levers to pull to reach the next performance level leveraging SynOps platform to shape the road map for digitization, and estimate the potential impact and concrete recommendations to create a lean digitized supply chain for their organization.