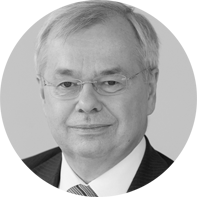 Torsten Jeworrek, Member of the Board of Management and CEO Reinsurance of Munich Re
Dr. Torsten Jeworrek was born in Oschersleben (Saxony-Anhalt) in 1961 and studied mathematics at the Technical University of Magdeburg.

After obtaining his doctorate, he worked at the University for four years as an assistant lecturer. Dr. Jeworrek joined Munich Re in 1990 as an underwriter in the Fire/Treaty department. He remained in this post for several years, except for a period of one year spent at Munich Re's MARC subsidiary in New York. In 1997, Dr. Jeworrek became Head of Section in the Operational Division: Property/Fire. Subsequently, he took up his first senior executive position in the Financial Reinsurance and Retrocession department. In 2001, Dr. Jeworrek was made Head of Divisional Unit: Netherlands, Nordic countries, UK and Ireland.

Dr. Jeworrek was appointed to the Board of Management of Munich Reinsurance Company in 2003. During his time on the Board, his responsibilities have included Special and Financial Risks; Reinsurance Investments; Corporate Underwriting/Global Clients; Global Business Architecture; Geo Risks Research and the Corporate Climate Centre.

Dr. Jeworrek has been Chair of the Reinsurance Committee since 2006, and is currently responsible for Reinsurance Development; Data and Analytics; Internet of Things; Corporate Underwriting; Claims; Accounting, Controlling and Central Reserving for Reinsurance; and Information Technology.