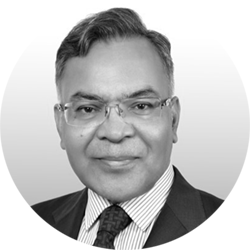 Vivek Narain – Co-founder SANA Health Solutions
Founder and Co-Promoter of Sana Health Solutions, a Digital Health Fintech Start-up, developing, to cater to the millennials, to help sort out their health concerns relating to well being, finance and insurance with a twist.

Certified Corporate Governance Professional from the Indian Institute of Corporate Affairs. Qualified Insurance Professional (Fellow of The Indian Insurance Institute), with over 37 years of global experience in 23 countries. Global Insurance Reach. Passionate about achieving success of various ventures, by improving the quality of 'business' and 'personal life' of business partners.

Motivated to increase the efficiency and effectiveness of insurance as a risk management tool in the VUCA (Volatile, Uncertain, Complex and Ambiguous), local and global environments.

Worked, in India, Hong Kong and USA, as an insurer, re-insurer, client risk manager, broker and a banker. It give the bandwidth to develop well rounded, compliant and sustainable risk management solutions. The experience enhances Risk and Insurance portfolio value propositions.

Dealt with major insurance markets, in London, Germany, Hong Kong, China, India, USA. Developed and managed large global commercial programs in developed countries with dovetailing underdeveloped countries like Indonesia, Malaysia, Thailand, Brazil, South Africa, Denmark, UAE, Egypt and many more.