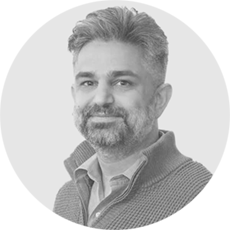 Kia Javanmardian – senior partner in McKinsey's Chicago office
Kia serves insurance carriers, brokers, wealth managers, and other financial institutions, primarily within the United States. A senior partner, he has extensive experience in advising clients on issues related to strategy, operations, business building, and core-business transformation.
Kia leads McKinsey's work in property and casualty insurance in North America and coleads our global efforts to help insurers navigate climate risk. He also helps lead the firm's research and thinking on underwriting, pricing, analytics-driven businesses, distribution strategy, and sales-force effectiveness, across different parts of the value chain within the financial-services space.
Examples of Kia's client work include the following:
supporting the development of an analytics-as-a-service business unit for a leading insurance carrier
leading a top insurance carrier's agile business transformation, including building and deploying a portfolio of digitally enabled products to reinvent and grow the core business
helping a leading retail life-insurance carrier revamp its distribution strategy and design a future-state operating model to support the organization in moving beyond life-insurance sales into financial planning
reengineering the pricing and underwriting analytics for a major personal- and commercial-line insurance carrier
advising a top personal-insurance carrier on how to use digital, analytics, and consumer-driven design to redesign the go-to-market strategy for a core business
using lean management to transform the product function of a top property- and casualty-insurance carrier and drive improvements in cycle time, quality, and pricing accuracy
Kia is frequently quoted in the media on the role of the insurance industry in mitigating climate risk and authors articles on the leading issues facing the insurance industry, including climate risk, AI, analytics, data, and underwriting.