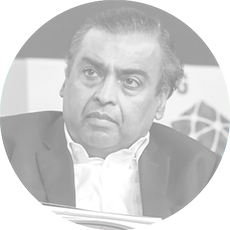 Mukesh Ambani, Reliance Industries
Mukesh Dhirubhai Ambani is an Indian billionaire businessman. He is the chairman and managing director of Reliance Industries Ltd. (RIL), a Fortune Global 500 company and India's most valuable company by market value. According to Forbes and Bloomberg Billionaires Index, Ambani's net worth is estimated at US$93.8 billion as of 29 November 2022, making him the second richest person in Asia after Gautam Adani and the 8th richest in the world.
Mukesh Dhirubhai Ambani was born on 19 April 1957 in the British Crown colony of Aden (present-day Yemen) into a Gujarati Hindu family to Dhirubhai Ambani and Kokilaben Ambani. He has a younger brother Anil Ambani and two sisters, Nina Bhadrashyam Kothari and Dipti Dattaraj Salgaonkar.
The family's financial status slightly improved when they moved to India but Ambani still lived in a communal society, used public transportation, and never received an allowance.