Foreign venture investors were present in nearly half of all European venture deals 2022 year, their highest level of participation to date.
A total of 4,232 deals worth €65.2 billion included firms based outside of Europe in 2022, according to PitchBook data. This represents 49.6% and 79% of overall European deal count and value, respectively.
The number of rounds with foreign investor participation is up slightly from 2021—when such deals represented 49.5% of overall transactions. On the other hand, in 2022, the share of deal value represented by rounds with foreign participation dropped from 81.7% to 79% as investors became more hesitant to commit large sums.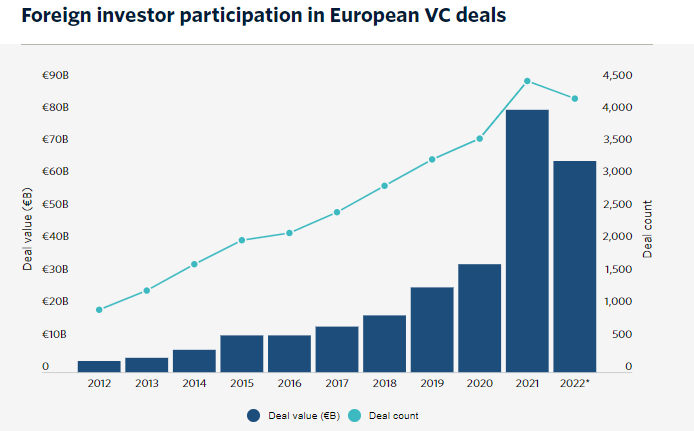 Foreign investors have been increasing their exposure to European venture capital over the last few years as the continent's VC ecosystem has matured. At the same time, European startups continue to offer attractive valuations for investors, especially when compared to their US counterparts. With the pound and the euro falling in value this year, US-based investors—the most active foreign investors in Europe—are at an advantage.
With more capital in the market, the entrance of foreign investors has increased deal sizes for European startups, and 2022 was no different. Most of the continent's largest rounds included firms from outside of Europe.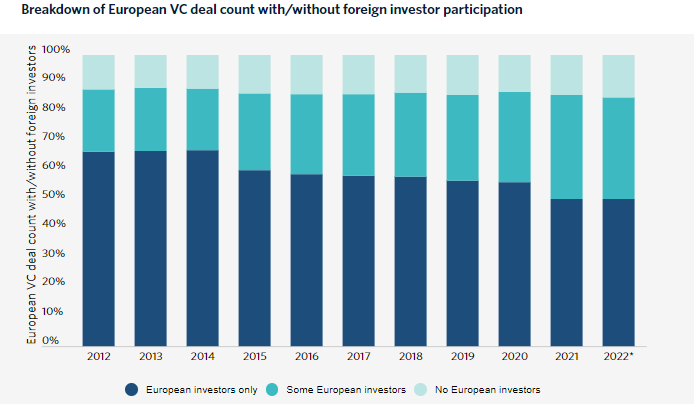 Many foreign investors have also opened up European offices to build up local networks. Firms including Sequoia, Sapphire Ventures and General Catalyst have all launched European headquarters in recent years.