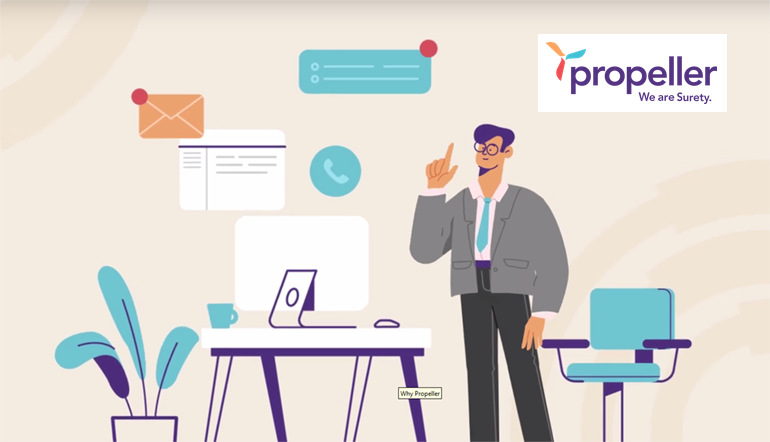 Philly-based insurtech, Propeller, Inc., has announced that it has raised $6.4 mn in seed funding led by a consortium of industry partners. This round of funding will enable the company to accelerate growth and further its mission of transforming the surety industry.
The partners in this seed funding include insurance companies, wholesalers, agents, venture capitalists, and even individuals from within the industry.
The company will use the funds to invest in people, finish its development roadmap, expand its product base, and drastically increase marketing and sales efforts to add agents to the Propeller ecosystem.
To date, Propeller has signed on over 2,100 insurance agencies nationwide and continues to receive rapid adoption among the agent and broker community.
Propeller is a digital MGA equipped with a proprietary instant issue surety bond platform. The platform currently houses nearly 7,000 instant issue surety bonds.
Propeller offers agents and brokers a white-labeled URL that houses surety bond obligations and allows both agents and customers to quote, pay, and receive their bonds within minutes.
Beyond this, insurtech offers underwriting expertise via proprietary programs, making the solution a "bolt-on" surety department for many agents and brokers, as well as for carriers who partner with Propeller.
Propeller was able to construct our funding from multiple strategic partners within the industry, all of whom believe in our mission to make the surety bonding process fast and easy.

Aaron Steffey, CEO and Co-Founder of Propeller
Co-Founder and Co-CEO Chris Kolger and Aaron Steffey set out to build a high-growth, profitable, sustainable business with the help of investment partners in an effort to truly propel the surety industry forward.
Propeller private labels the platform for agencies, allowing agents to either purchase bonds for clients or by empowering clients to purchase bonds directly. Agents are compensated for all purchases via their unique site link. The company partners with highly respected "A" rated carriers.