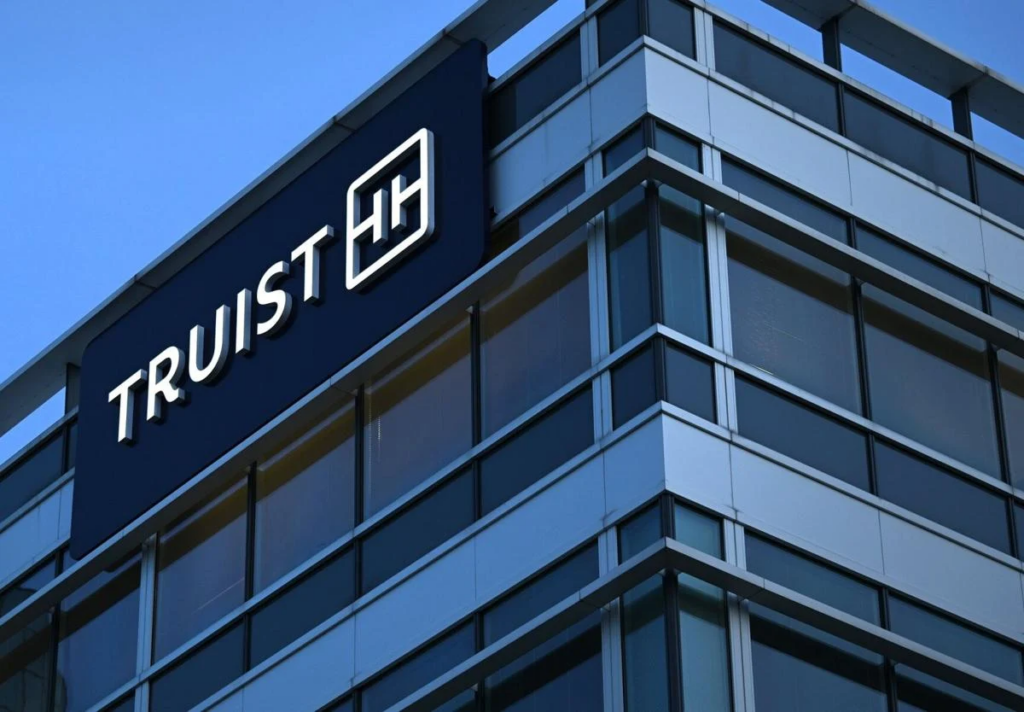 Truist Financial Corp.'s sale of a minority stake in its insurance arm has left the Street wondering what move the company will make next, according to S&P Global Market Intelligence data.
Truist agreed to sell a 20% stake in Truist Insurance Holdings Inc. to funds managed by private equity firm Stone Point Capital LLC for $1.95 billion.
The transaction, which values the insurance unit at $14.75 billion and is expected to close in the second quarter, will likely lead to more insurance M&A for the company, and it further opens the door for Truist to take the business line public or sell it entirely, industry experts said.
Truist executives said they hope the sale will expand its M&A optionality and make it a more attractive insurance buyer.
The announcement today is creating the launching pad and the currency and the optionality of where we go in the future

President and CEO Bill Rogers Jr.
Chief Insurance Officer John Howard said on the same call that the company expects "to have some really attractive opportunities as a result of this announcement."
Industry experts agreed that Truist will likely use the capital from the transaction to grow the unit in the near future, but in the long term, the company could sell it entirely or take it public.
Truist will continue to want to leverage this platform and presumably can do so with … external sources of capital that will allow them to grow the core bank while also continuing to explore these other growth opportunities within insurance

Piper Sandler analyst Stephen Scouten
And then based on the structure of the deal, at some point it seems they'll be either some sort of incremental liquidation of that business or an IPO, maybe some sort of spin-out that would create overall shareholder value for existing Truist shareholders.
Under the agreement, Truist can conduct another transaction anytime, including a sale or IPO. After 6.5 years, Stone Point can ask Truist to explore an IPO or sale, or Truist can buy back the stake it sold at fair market value instead.
Though those terms are customary in these types of deals, it leaves the door open for Truist to pursue an outright sale of its insurance unit or explore an IPO, Compass Point analyst David Rochester wrote in a Feb. 17 note. However, "we would view [Truist]'s continued control/ownership of [Truist Insurance Holdings] more favorably than the alternative," he wrote. Instead, Truist will likely use the capital from the deal to fund growth over time, Rochester wrote.
An attractive business line
Insurance arms are attractive for banks because of the stable source of fee income they provide throughout all economic cycles and the cross-selling opportunities they provide, industry experts said.
"It tends to be steady year after year and in fact growing," said Anthony Latini Jr., managing director of investment banking at Janney Montgomery Scott LLC, in an interview. "It's another product to sell to your customer base, and it tends to be true that the more products you sell to your customer base, the more they're interested in staying around for a longer period of time and not moving to another bank."
Insurance commissions and fees made up 34.6% of Truist's noninterest income in the fourth quarter of 2022.
Stable noninterest income is viewed attractively by investors, according to John Mackerey, senior vice president of the North American Financial Institutions Group at DBRS Morningstar.
"In general, we tend to view favorably companies that have high levels of recurring noninterest income, so the insurance brokerage business would fit under that umbrella," Mackerey said in an interview. It is "a fairly stable recurring business with growth potential."
With the stake sale, Truist was likely trying to show investors the value of its insurance business, which they might not have fully recognized, Mackerey said.
Based on the $14.75 billion valuation, Truist Insurance Holdings has a larger amount of total equity than competing insurance brokers such as Marsh & McLennan Cos. Inc. and Arthur J. Gallagher & Co.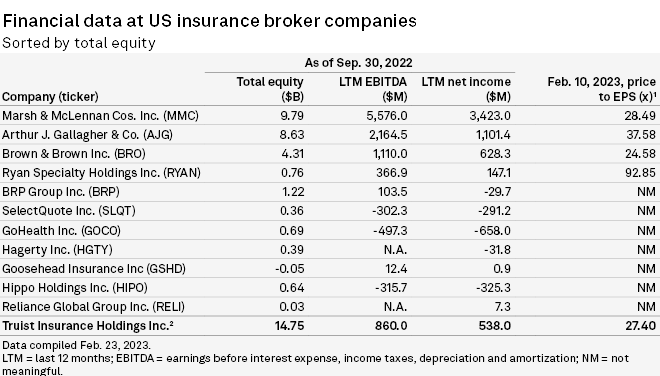 Bank-insurance M&A
U.S. banks' acquisitions of insurance businesses have not slowed even as traditional bank M&A slowed in 2022 with uncertainty and rising interest rates. The industry announced 20 acquisitions of insurance units in 2022, down slightly from 23 in 2021 but up from 2019 and 2020 levels.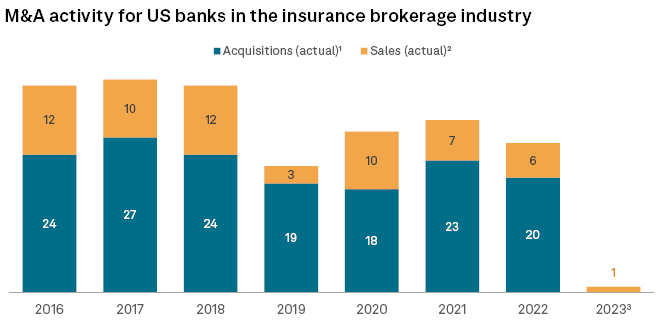 Truist is one of the most active bank buyers in the insurance space with 11 acquisitions since 2016, tied with Boston-based Eastern Bankshares Inc.and Portsmouth, Va.-based TowneBank over that time frame.
…………………..
AUTHORS: Zoe Sagalow, Xylex Mangulabnan – S&P Global Market Intelligence data