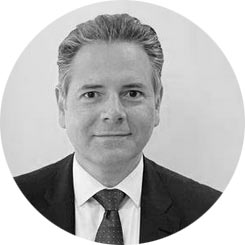 Marc Voses – Partner Clyde & Co
Marc Voses is an experienced litigator and advisor to domestic and international insurers, reinsurers, and insurance industry participants. His practice includes handling complex coverage and claim handling issues and disputes arising under insurance policies, such as cyber, technology and media, energy, directors' and officers', and management and professional liability. Marc's litigation experience includes representations in trials and appeals in state and federal courts throughout the United States, as well as in domestic and international meditations and arbitrations, and resulting judgment enforcement and collection proceedings. He has also represented insurance industry clients in regulatory investigations before the US Attorney's Office, Department of Homeland Security, Securities and Exchange Commission, and various state and district offices of the Attorney General.
Marc also assists insurers in drafting insurance policies, endorsements, and surety bond related agreements. Clients rely on his extensive experience with issues related to computer system and security failures, pre-breach planning and post-breach response, and ransomware payment negotiation. Marc's experience includes addressing issues arising out of social engineering fraud, cryptocurrencies and other digital assets, business interruption losses, cyber subrogation, data protection laws, and identity theft. He advises his clients in assessing risks and responding to cyber and data compromise incidents.
Marc is sought out by clients to assist with the regulatory hurdles involved in complying with data protection laws, including assessing clients' data collection habits, evaluating the applicability of such laws, drafting privacy disclosures, and responding to inquiries by clients' business partners and regulators. He also assists clients with drafting and negotiating technology contracts covering services and products.
Prior to pursuing a career in law, Marc worked in the audit and attestation group of Deloitte.
Admissions
New York
New Jersey
US District Court for the District of New Jersey
US District Courts for the Eastern, Northern, Southern, and Western Districts of New York
US Court of Appeals for the Second Circuit
Education
J.D., St. John's University School of Law, 1999. Chief Justice, Moot Court Honor Society.
B.A., magna cum laude, St. John's University School of Business Administration, 1994. Beta Alpha Psi Honor Society.
Experience
Successfully represented an insurer in the seminal insurance coverage litigation involving Sony's request for coverage under its commercial general liability policies for a cyber-attack that resulted in a data breach and subsequent class action litigation by the affected customers.
Successfully represented insurers in disputes with policyholders concerning coverage under professional E&O policies.
Successfully represented insurers in coverage litigation against private equity firms seeking coverage for claims arising out of professional services related to mortgage backed securities, market timing and late trading.
Successfully represented an insurer in environmental coverage litigation arising out of an alleged spill of thousands of gallons of petroleum product into a Hamptons (NY) waterway.
Successfully represented a client in a lawsuit filed in California arising out of an alleged data breach of personal health information.
Successfully advised an insurance broker concerning allegations of failure to timely place cyber, privacy, and data breach insurance.
Successfully represented an insured in a novel case involving allegations of breach of privacy rights resulting from the broadcast of a health care documentary.
Successfully represented an insurer in a dispute with its insured concerning the allocation of subrogation proceeds between them.
Successfully represented a program agent in litigation involving claims of tortious interference with its exclusive program.
Successfully represented insurance industry participants in disputes involving non-competition/non-solicitation agreements.
Counsels insurers concerning coverage issues and disputes concerning silent, unintentional, and non-affirmative cyber.
Counseled insurers concerning coverage issues related to payment card industry assessments related to a data breach under a commercial general liability insurance policy.
Counseled insurers concerning cyber coverage issues related to an insured's unauthorized scraping of data and information.
Counseled insurers on negotiation strategy and coverage issues related to the payment of ransomware extortion.
Counseled insurers concerning coverage for business interruption losses arising from computer system outages and security failures.
Counseled accountants, lawyers, architects and engineers, and health care providers on the emerging risk of data loss and theft.
Counseled clients on the development of new insurance products and the accompanying regulatory requirements.
Counseled insurers on drafting cyber exclusion language for non-cyber policies.
Counseled insurers on recouping losses paid under cyber policies from third parties.