Scorching weather coupled with a lack of rain will create the perfect conditions for wildfires in the UK, and insurers should brace themselves for a rise in home insurance claims as flames spread into inhabited areas.
According to GlobalData, climate change and extreme weather conditions will only increase the frequency and severity of weather-related claims.
Dried-out landscapes are becoming a common sight in the UK this summer. When temperatures reached over 40oC just weeks ago, the media reported that around 60 homes in the UK had been destroyed after a surge in fires, and these will inevitably lead to home insurance claims.
As temperatures now head towards a new heatwave, history will repeat itself and we will see more fires and more claims.
According to GlobalData's 2021 UK Insurance Consumer Survey, weather incidents—excluding floods and storms—accounted for 10.8% of all home insurance claims.
This rises to 27% when floods and storms are included, making weather-related claims the most significant for insurers.
Resons for UK home insurance claims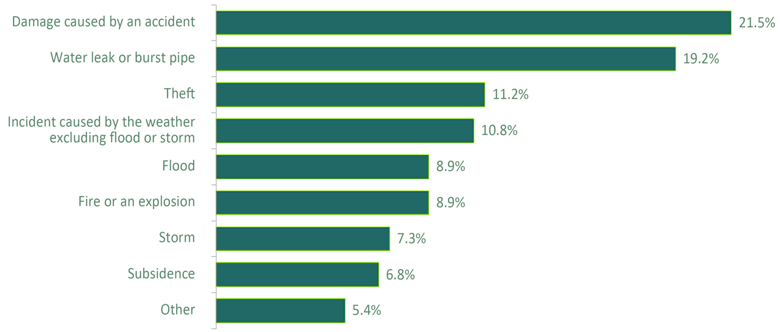 The proportion of weather-related claims will be higher in 2022 due to the recurring heatwaves this summer and storms Eunice and Franklin earlier this year.
The Met Office has issued another extreme heat warning for parts of England and Wales, as temperatures are forecast to reach 35oC between August 11 and August 14, 2022. The likelihood of droughts occurring is also increasing as dry spells continue to prevail.
Periods of prolonged high temperatures and dry conditions increase the risk of wildfires. Indeed, extreme weather events are becoming far more common as climate change worsens. Weather-related claims can be particularly devastating and are therefore expensive to insurers. Moreover, they may also claim lives, impacting other lines of business.