Typhoon Nanmadol has inflicted ¥120 billion ($912 mn) in property losses on the Japanese insurance industry, according to PERILS' second industry loss estimate for the event.
The typhoon, which was the 14th named storm in the 2022 Western North Pacific typhoon season, affected the islands of Kyushu and Shikoku in southern Japan and the western and central regions of Japan's main island of Honshu from Sept. 18 to 20.
The typhoon's strong winds and extreme rainfall caused flooding and landslides in the affected areas.
However, according to PERILS, the resulting loss to the insurance industry was comparatively benign. This can be attributed to Nanmadol's track, which traversed an area of lower value asset concentration compared to the major typhoons of 2019 (Faxai, Hagibis) or 2018 (Trami, Jebi).
PERILS also said that the southern islands of Japan are frequently exposed to extreme weather and, as a result, are quite prepared to mitigate the impact of such events.
The second loss report for Typhoon Nanmadol is based on a fresh round of data collection from the majority of the Japan non-life insurance market

Lukas Wissler, product manager at PERILS
It confirms the manageable loss level of the event, which was already indicated in our first loss report. Given the current challenges in the global cat capacity markets, the confirmation of the moderate losses stemming from Typhoon Nanmadol will likely be welcome news.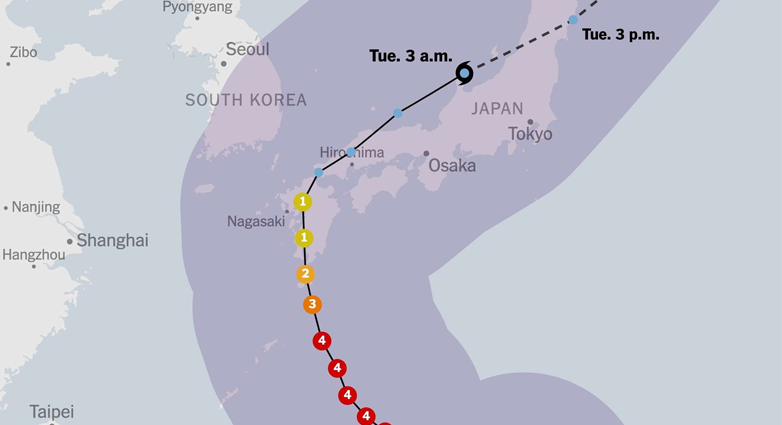 Typhoon Nanmadol, known in the Philippines as Super Typhoon Josie, was a powerful tropical cyclone that impacted Japan.
The fourteenth named storm, seventh typhoon, and second super typhoon of the 2022 Pacific typhoon season, Nanmadol originated from a disturbance to the east of Iwo Jima which the Joint Typhoon Warning Center (JTWC) designated as a tropical depression on September 12. Later that same day, upon attaining tropical storm strength, it was named Nanmadol by the Japan Meteorological Agency (JMA).
The storm gradually became better organized, with its sustained winds reaching typhoon strength two days later. It then underwent rapid intensification, with its wind speed increasing by 45 km/h (30 mph).
Nanmadol peaked with winds of 195 km/h (120 mph) and a central pressure of 910 mbar (26.87 inHg) on September 17, and also briefly entered the Philippine Area of Responsibility, where it received the name Josie.
Following peak intensity, the storm began an eyewall replacement cycle and tracked north towards Japan, where it made landfall on Southern Kyushu on September 18.
Later, Nanmadol became a severe tropical storm on September 19, before transitioning into an extratropical low early the next day.
In preparation for the storm, more than half a million people were evacuated in Japan, a rare "special warning" was issued for Kagoshima by the JMA. In Kagoshima, 8,000 fled their homes, with another 12,000 in evacuation shelters. In South Korea, 7,000 households also experienced power outages. Four deaths were attributed to Nanmadol, all in Japan.