Insurtechs are the driving force of this evolution, and investors are taking note. Venture capital (VC) investment has grown faster than the more mature private-equity or public-markets funding.
In 1H2022, the total amount of VC invested in insurtechs surpassed $7 billion, $11 billion in 2021, double the amount invested in 2020.
In addition, private-equity investors are increasingly looking to invest sooner, further increasing the amount of capital flowing into the market.
This has created significant pressure on insurtechs to scale—and to do so quickly. While some insurtechs may choose to merge with incumbents, others will focus on scaling independently. The path to accelerating growth differs depending on the type of insurtech player. In this post, we focus on two common types: emerging carriers and distributors, and ecosystem players.
InsurTechs need to keep pace with the demand they have created through sustainable unit economics and wise risk management. By focusing first on growth and then on underwriting, the insurtech 1.0 wave essentially flowed in the wrong direction. But there is plenty of time to reverse the tide — consumers' enormous appetite for convenient, modern insurance products has only been whet. So what does focusing on next-generation underwriting really look like, and how should you build upon it?
As insurtech companies encroach on the wider insurance industry, a number of impressive startups are disrupting the space and attracting fresh talent to the marketplace. They position themselves as shining examples of value-for-money, swift-service competitors in sectors that have previously proven to be slow and stodgy.
Traditional insurers that have not adapted to going digital first are under pressure. Their sales are currently collapsing. A sudden switch to the digital world is often not possible.
This is partly because the technology is lacking, but also because successful digital direct sales requires a different mindse.
Averedge InsurTechs funding


InsurTech Startups are developing new approaches to traditional activities, such as underwriting and claims management, that could give them an edge. These initiatives tend to take the form of investments, partnerships, and acquisitions. While these approaches may help improve incumbents' competitive posture, they also drive opportunities for startups to help legacy providers fill the gaps in their offerings.
InsurTech companies have been seeing an increase in the adoption of their services over the past two years, since the start of the global COVID-19 pandemic. Investors have been making significant bets in the industry in recent years.
In 2022, cumulative global deal value across VC, PE, and M&A for insurtech companies reached $20 billion, which was slightly lower than 2020`s $18.3 billion and 2019's $19.3 billion in deals.
According NTT DATA review, private capital continued to flood the insurance industry in 2021, driving total investments in insurtechs to new heights across all insurance types, investment stages, and regions.
Here is our list of some Insurtech startups that received the most venture capital investments.
Top 10 InsurTechs by the most venture capital investments
Total Invested in InsurTech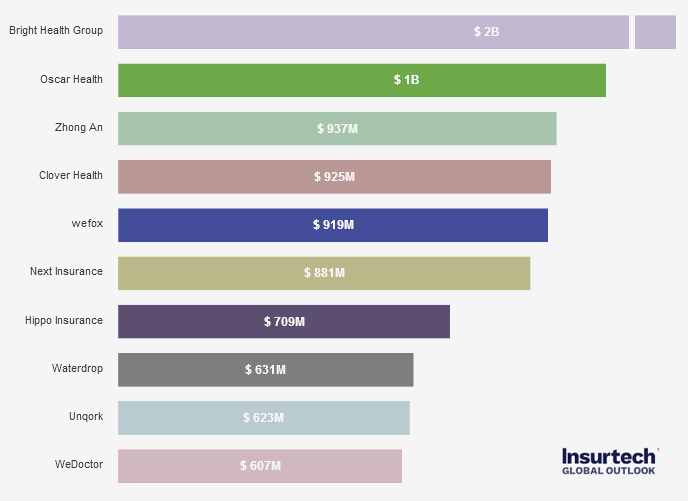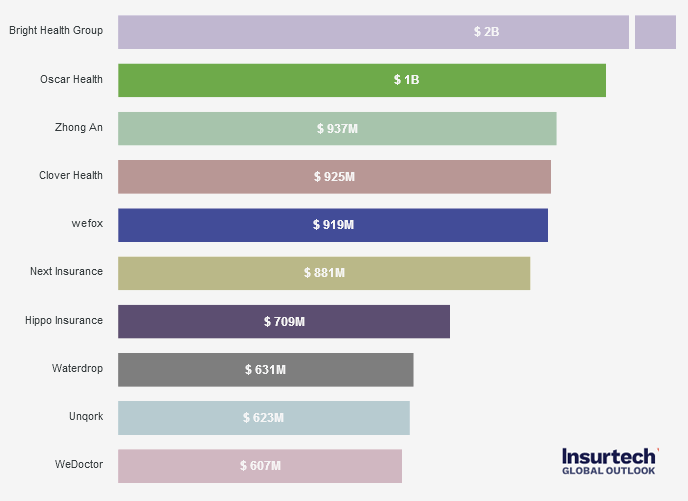 The technology that insurtech startups use can really vary. But they all have one goal—to rival big, established companies and grow their market share by solving problems for customers. Compared to other industries and products, the slow, cumbersome processes of the traditional insurance models leave many customers dissatisfied. Today, people want to be able to buy their travel insurance with a tap of the finger, not work through stacks of forms. Insurtech startups recognize this and want to do something about it.
Traditional insurance models work by sorting customers into groups by their risk category. These groups are pretty broad, which means that some people in the group will end up paying more for their policy than they should.
By contrast, insurtech startups are trying to use real data, instead of statistical models, to create smaller, tailored risk categories. This makes it easier for them to offer a more competitive pricing strategy.
Investment in InsurTechs by Line of Business






Cheaper insurance is great for customers, but there are other benefits to insurtech when it's done well. These include products and platforms that are faster, more intuitive, and tailored to the individual.
As with any advance in technology, improving the user experience and the user interface of digital products is a key part of insurtech. Many startups are focused on getting customers to the right product as quickly as possible.
This helps customers avoid complicated forms and long hold times on the phone. Unless you struggle with technology or have a need to communicate often with a broker or financial advisor, you will likely find insurtech the easiest option to use.
Investment in InsurTechs by Technology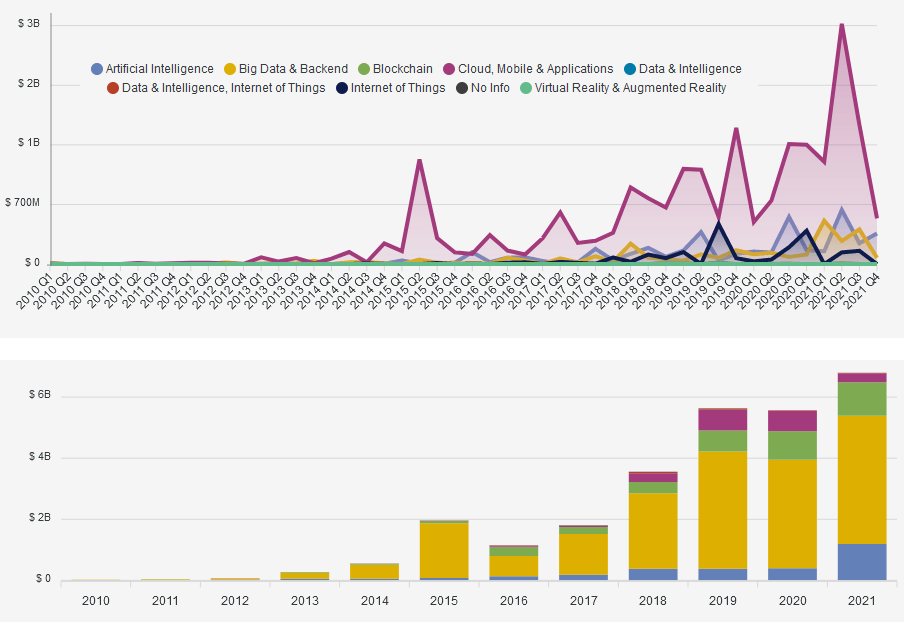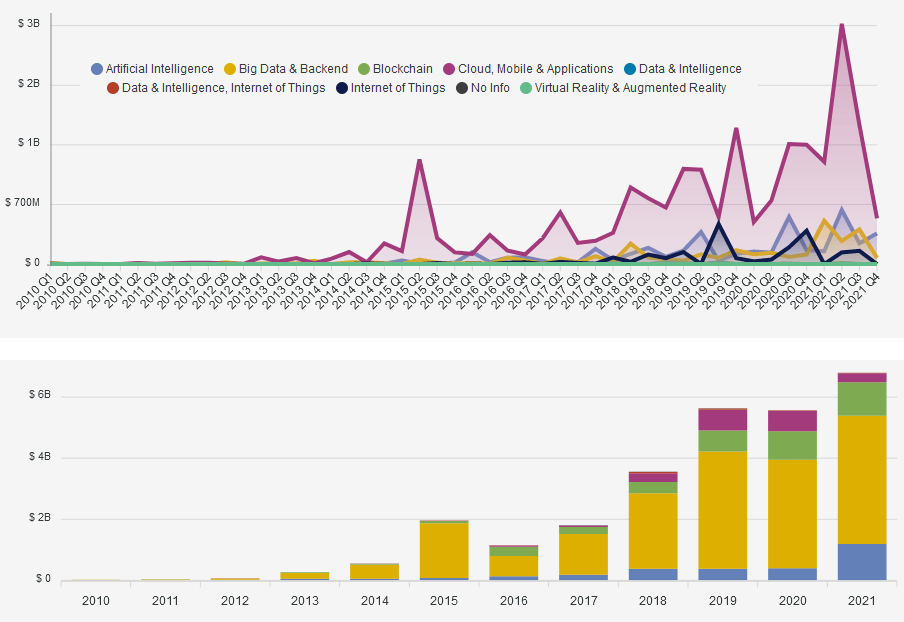 The belief driving insurtech companies and investments by venture capitalists in the space is that the insurance industry is ripe for innovation and disruption.
Insurtech refers to the use of technology innovations designed to squeeze out savings and efficiency from the current insurance industry model. Insurtech is a combination of the words "insurance" and "technology," inspired by the term fintech.
Insurtech is exploring avenues that large insurance firms have less incentive to exploit, such as offering ultra-customized policies, social insurance, and using new streams of data from Internet-enabled devices to dynamically price premiums according to observed behavior.
After achieving scale in their core markets, insurtechs will naturally set their sights on new and attractive segments and geographies that can unlock next-horizon growth opportunities. This is the time for a full strategy refresh—an exercise that requires analytical rigor and external perspectives.
Startups operating in this disruptive innovation space are digital natives that are equipped with a good technological infrastructure so that they can easily switch their operations to remote.
Insurtech is the term given to companies who are using technology to innovate and disrupt the insurance industry. As you might have guessed, it's the meeting point of 'insurance' and 'technology'. It's been popularized by new, disruptive companies and products that capitalize on the inefficiencies of older, established providers. Today, there are startup incubators dedicated to just insurtech, and larger companies are collaborating with startups to update their offerings.
Insurtech companies are changing things up:
Using data from wearables and social platforms to create more tailored policies
Pivoting away from hard copy documents and instead using online forms and digital signatures to keep the process easy and accessible
Bringing together disparate policies and products onto one, easy-to-use platform—like mobile apps
Harnessing AI to take on tasks that were formally done by an insurance broker
From mobile apps to big data and AI, the leading insurtech companies use a range of innovative tools to shake up the insurance industry.
The goal is to create a road map for an ambitious growth trajectory and to identify a clear set of enablers and strategic M&A opportunities to achieve these growth targets.
In our experience, the most successful insurtechs have clearly defined the playing field where they can win and doubled down on specific customer subsegments (such as millennials or brokers). Once the strategy comes into focus, insurtechs can then bring the model to new geographies and drive growth on a global scale.
Criticism of InsurTech
Although many of these innovations are long overdue, there are reasons why the incumbent insurance companies are so reluctant to adapt. Insurance is a highly regulated industry with many layers of jurisdictional legal baggage to deal with. As such, the major companies have survived this long by being incredibly cautious, which has made them shy away from working with any startups—let alone startups in their own, very stable industry.
This is a bigger problem than it sounds, as many of the insurtech startups still require the help of traditional insurers to handle underwriting and manage catastrophic risk.
That said, as more insurtech startups garner consumer interest with a refined model and a user-friendly approach, they may find that the incumbent players warm to the idea of insurtech and become interested in buying up some of the innovation.
………………………..

by Peter Sonner