Lloyd's of London announced the 13 InsurTech startups joining the 10th cohort of its innovation hub, the Lloyd's Lab, following a competitive pitch process where they presented innovative insurance solutions for the market.
Main programme is an InsurTech accelerator programme which aims to help innovative ideas gain traction and success in insurance market.
The Lloyd's Lab is the heart of innovation for Insurance. An award winning space dedicated to accelerating and fostering new products and solutions fit for the needs of our customers around the world. As we face the challenges of the AI age, the Lloyd's Lab brings together cutting edge InsurTechs, start-ups and ideas which support our market's shared goal of sharing risk to create a braver world.
Located in the heart of the world's specialist insurance market, the Lloyd's Lab gives InsurTechs access to a coworking space in the iconic building and the chance to develop their ideas alongside their target audience. Find out more about this and our other initiatives by following the links below.
The global accelerator programme received over 200 applications from 32 countries, of which 13 teams have been selected to form the next cohort of the Lloyd's Lab, beginning on 24 April 2023.
Each of the teams chosen impressed an expert panel of Lloyd's and market stakeholders participants.
For the 10th Cohort, the InsurTechs have been selected based on solutions geared towards three themes:

European Digital and Climate Solutions;
Data and Models; and New Products.
Throughout the ten week programme, teams will develop their products with the support of market experts and explore how their innovations can support the Lloyd's market.
Together with the expert panel of judges, we were impressed with the calibre of the teams who presented at our Pitch Day and have earnt a place in Cohort 10, and the dynamism they'll bring to the programme.

Rosie Denée, Lloyd's Lab Senior Manager
After receiving our highest ever number of international applications and introducing first regional theme to this cohort, judges excited to see the dynamism and output that will deliver solutions for our global marketplace.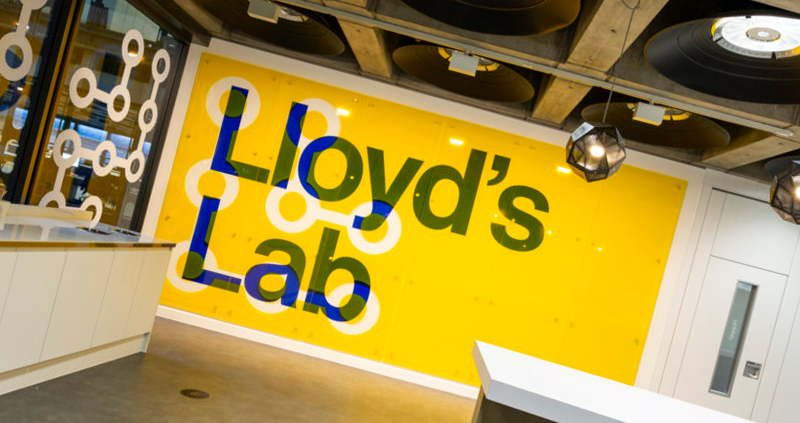 This year for the first time, to increase collaboration between London and European Insurtech sectors, the Lloyd's Lab has introduced a region-specific theme, with four of the 13 successful teams addressing European Digital and Climate Solutions.
European Digital and Climate Solutions
Armilla AI – a leading provider of Responsible AI technology, empowering vendors and enterprises to guarantee the quality of their AI products an mitigate associated risks.
REOR20 – have developed a breakthrough AI system for flood risk understanding and mitigation based on the physics governing floods. The solution combines accuracy with unprecedented scaling capabilities, providing high resolution hazard data down to the individual building element.
SIMULYTIC (A Siemens AG Venture) – provides (re)insurers risk exposure insights for automated vehicle (AV) deployments. The Simulytic platform contextualises and AV deployment with digital replicas and models, simulates a rich synthetic driving history using their proven tech and analyses the operational lifetime of Avs to support pricing a policy and scenario-based insurance products.
Value.Space – deliver satellite-based risk assessments, it has opened a up a new and proven capability that provides a x10 faster and x25 more cost-effective way to assess risks of assets such as dams, mines tailing storage facilities and real-estate.
Data and Models
Axio – a cyber risk assessment and quantification focused company which encompasses consultancy, professional services and SaaS.
Diesta – a next-generation payment reconciliation engine for the insurance industry. Their technology links internal systems and external partners onto one financial ledger for an efficient and fast processing of insurance premiums.
Intelligent AI – brings together deep insurance domain expertise, together with innovation and data science to transform the commercial property underwriting sector globally with Digital Twins of Risk.
PolArctic – an oceanographic, and data science company with a focus on creating tailored products for the Arctic. They are identifying and creating solutions to business and policy questions about the Arctic through the use of AI and Machine Learning techniques.
New Products
Aanika Biosciences – a biotechnology company dedicated to developing food safety technologies. As Aanika has created a multi-trigger parametric food recall policy designed to embed with its microbial barcode tags and provide coverage against financial loss resulting from a food pathogen event.
FireBreak – a team dedicated to filling both the data and protection gaps in wildfire risk. Their mobile app for self-inspection encourages mitigation while generating first-party, on-the-ground data for underwriting.
Gabriel – a next-generation active threat solution that dramatically reduces the risk of an incident costing unnecessary lives and damage.
Signal Intelligence – work with maritime organisations who want to increase operational efficiency and be more environmentally responsible; they harness the power of IoT to unlock siloed vessel performance data and deliver value to their partners
spacebands – create software and wearable technology that makes workplaces safer.
Lloyd's is the world's leading marketplace for commercial, corporate and specialty risk solutions. Through the collective intelligence and expertise of the market's underwriters and brokers, we're sharing risk to create a braver world.
The Lloyd's market offers the resources, capability and insight to develop new and innovative products for customers in any industry, on any scale, in more than 200 territories.

by Peter Sonner