Life Insurtech Covr Financial Technologies has partnered with Smart Choice to bring its digital insurance platform for independent agents, Covr Pro, to 9,500 Smart Choice agencies, allowing even more independent advisors to use Covr's leading digital solution.
Covr's digital, white-labeled platforms integrate seamlessly with financial brands to provide life, long-term care, disability, and supplemental health solutions from top carriers to their clients in a simple, turnkey way. AI-driven tools, digital advice model and omni-channel sales support seamlessly blends high-tech and high-touch. Insurtech has dedicated to transforming the insurance purchase process from something that was previously slow and paper-based to an experience that is fast and digital.
Covr Pro offers access to leading technology and comprehensive support that streamlines insurance transactions and improves client experiences

Ron Alexander, Covr President and Chief Innovation Officer
"We're thrilled that our digital BGA solution is now available to Smart Choice agencies and their advisors to help grow their insurance businesses."
Covr's digital insurance technology is rapidly becoming the platform of choice for financial institutions and independent agents by offering a single digital insurance journey for multiple insurance carriers and product types.
Covr's partners include some of the largest financial institutions, banks, and wealth management firms in the United States. Covr is the only embedded insurance platform that has both an advisor-facing and DTC platform on the same technology stack. This offers Covr's partners and their customers more options and the ability to transact business in a more efficient and customer friendly manner.
Covr currently serves over 25,000 financial advisors and over 40 million customers across over 30 financial institutions.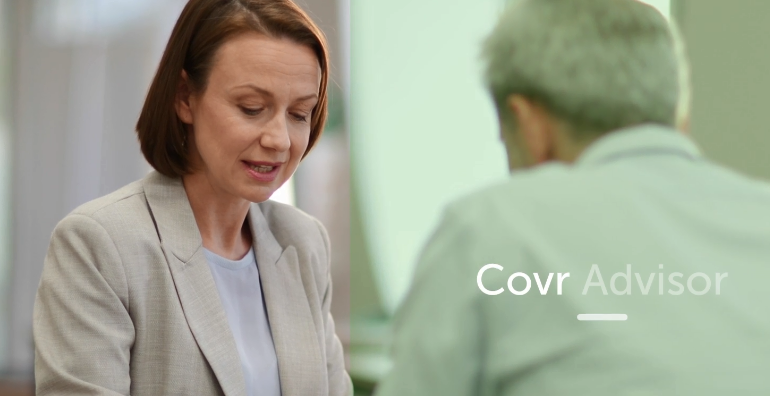 With Covr Pro, independent advisors get:
Intuitive digital platform
Market-leading compensation
Application intake & end-to-end case management including e-sign and e-delivery
Industry proven Carriers
No production requirement
Immediate access
Covr Pro offers self-directed tools and real-time quotes from top insurance carriers, 100% drop-ticket for all available products, and support from Covr's team of experts.
For those not focused on insurance, independent advisors can refer clients to Covr Assist for a full- service solution. Insurance solutions are an important part of building business, and the Covr Pro platform makes the process fast & simple.
Covr Financial Technologies was born as the digital arm of National Brokerage, a traditional brokerage firm based in Boise, Idaho. Selling life insurance was a cumbersome, time-consuming process, and Covr's founders set out to change that.
By 2014, National Brokerage was recognized as a leading force in financial technology with what was then known as 1-Click Coverage, which offered instant-issue term life insurance that could be approved or denied online immediately. Over the next couple of years, 1-Click evolved into Covr, the leading VC-backed insurtech it is today.
Covr in 2022 has completed its Series B fundraising round including new investor Stone Point Ventures, and strong existing investor participation from Sony Innovation Fund by IVG, Aflac Ventures, Allianz Life Ventures, Connecticut Innovations, Fairview Capital, Contour Venture Partners, Commerce Ventures and Tribeca Early Stage Partners.
Covr's mission wasn't only about speed. Where Covr's competitors tended to operate in silos, only partnering with one insurance carrier, Covr today partners with more than 30 of the country's leading insurance providers, giving customers an unparalleled choice of products.
Because consumers tend to trust their current financial institution when buying protection products, it's a win for all – advisors, consumers and carriers alike benefit from the Covr platform's ability to offer multiple products in a white-labeled solution.
Today, Covr continues to grow and evolve, revolutionizing the life insurance industry with its unique combination of choice, speed and simplicity.

by Peter Sonner