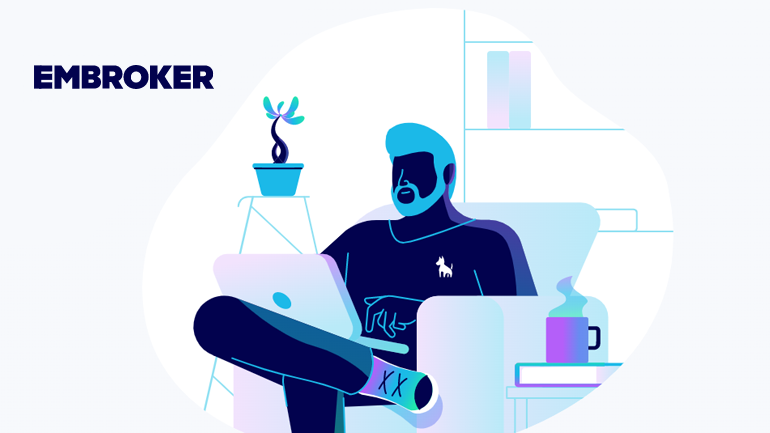 Digital business insurance platform Embroker has launched a new data science application, ONE — a universal application that utilizes AI and machine-learning technologies to generate business insurance products tailored to specific industry needs. The streamlined process focuses on critical business information and removes the need for unnecessary and redundant questions, enabling brokers and startup founders to get quotes for a comprehensive bundle of products instantly (see How IoT, ML, AI and Blockchain Technology are Changing Insurance?).
The company began with its Startup Package geared to small businesses, simplifying applications for insurance policies. Embroker's focus includes cybersecurity coverage and working to digitally transform insurance.
ONE builds on its previous offerings by applying AI to reach other verticals and embed broker knowledge into the service.
Business insurance is one of the oldest industries in the world. It is built on personal relationships rather than technological advancement. It's also dominated by long-established players.
Embroker is a digitally-native business insurance company built from the ground up with modern technology to eliminate the inefficiencies that increase prices and lead to frustrating customer experiences.
From machine learning to artificial intelligence, insurtech use the latest technology to make policies more tailored, less expensive, and easier to purchase.
ONE by Embroker allows us to focus on what we know is important: the needs of the consumer. The universal application was, from the start, at the heart of Embroker's product and mission.

Ben Jennings, chief revenue officer Embroker
ONE's process focuses on critical business information and decreases the number of questions brokers and business owners need to answer to receive policy quotes. The platform uses 14 questions plus data provided by the insureds to generate up to four specific quotes.
ONE by Embroker as a universal application that can synthesize and combine products — enhanced with third-party data at scale — to provide a tailored suite of coverage for insurance customers' needs.
The insurance coverages offered through ONE include employment practices liability, tech errors and omissions, fiduciary liability, and directors and officers insurance. The quotes that ONE generates will include all necessary coverage, whether the policies are from Embroker or other underwriters.
With ONE, Embroker will serve both small companies with simpler risks and large corporations with complex risks. This includes bespoke insurance programs for large and complex commercial risk.
Business owners are looking for a single-destination solution for their insurance needs so they can spend less time hunting for answers and more time running their business. Commercial insurtechs offer a vast array of coverage types, yet provide little guidance on choosing the right package of products.
This requires founders and brokers to shop multiple locations to assemble the right risk management solution, and after all that work, the coverage may or may not deliver on their specific needs.
This process is a burden on the organizations, and does not maximize the capability of their broker: Insurance professionals are forced to spend unnecessary hours shopping for policies across multiple vendors instead of providing value-added services to their customers.
Embroker is transforming commercial insurance by making it radically simple for businesses to get the right insurance at the best price. Embroker focuses on industry-specific coverage for the most complex and inefficient lines of insurance, such as Directors and Officers, Employment Practices Liability, Cyber, and Professional Liability. Embroker uses predictive modeling powered by proprietary technology to fully automate underwriting and make the buying process simple, fast, and more affordable.

by Peter Sonner