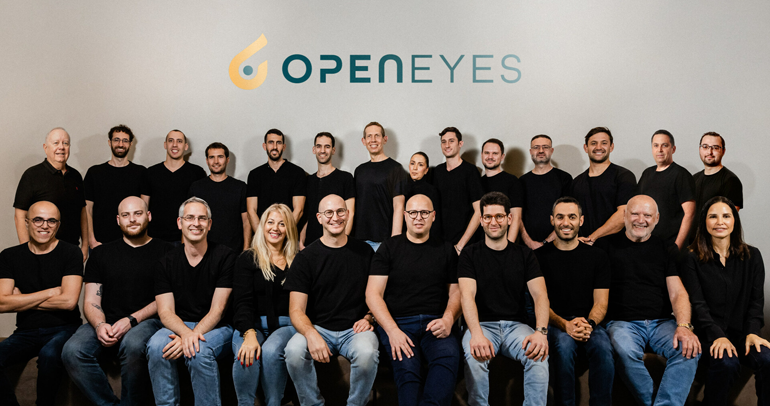 OpenEyes, an Israeli insurtech startup targeting commercial automotive fleets, has emerged from stealth with $18 mn in Series A funding led by Insight Partners and Pitango First, with participation by MoreVC, which led the Seed round together with Pitango First.
OpenEyes will use the funding to fuel the development of its cutting-edge technology and to hire additional team members to support its increasing US operations. To date, OpenEyes has raised a total of $23 mn.
Co-founded by Yoav Oron (CEO), Dr. Omry Sendik (CTO) and Dan Charash (Chairman), OpenEyes currently employs 25 people in Israel and the U.S.
OpenEyes' solution lowers the insurable risk and the cost of claims, but more importantly, it have seen accidents reduced and lives saved.
The National Highway Traffic Safety Administration (NHTSA) estimated that the number of people who died in motor vehicle traffic crashes in 2021 increased by 10.5% from 2020—the highest numbers of fatalities since 2005 and the largest annual percentage increase in history. In addition, studies by NHTSA show that large truck crashes are roughly three times more likely to result in injuries when compared to passenger vehicles.
OpenEyes is already being used by fleets driving millions of miles nationwide and the independently validated results demonstrate that OpenEyes has helped reduce the frequency of accidents by over 25.5%, and the severity of claims by over 30%.
Large numbers of accidents and high costs of claims in commercial fleets are leading to ever-increasing premiums on commercial auto insurance, making it difficult for fleet to afford coverage and maintain operational efficiency.
Insurance companies have been losing money for years paying out accident claims, and little or nothing is being done to address and reduce the core risks.
Instead, carriers raise premiums each year to cover the ever-increasing costs of accidents.
Founded in 2020, OpenEyes offers commercial auto insurance combined with cutting-edge technology, which appears to be some form of computer vision.
The startup operates an insurance agency, OpenEyes Insurance Agency, which offers competitive rates.
OpenEyes provides a novel one-stop-shop solution that enables fleets to truly understand their source of risk, from both the fleets' as well as the insurers' perspective. This precise understanding allows OpenEyes to power their underwriting, driver coaching and prevention, and claims handling.
OpenEyes leverages cutting edge full stack technological solution to fundamentally alter the risk model of commercial fleets insurance. The integration between In-vehicle technology and insurance creates a new experience for fleet owners.
OpenEyes aims to offer commercial automotive insurance to fleets of all kinds at lower rates by reducing the frequency and severity of traffic accidents. Using OpenEyes's technology, fleet managers and safety officers can identify the sources of risk in their fleet, enabling them to implement practices that reduce the frequency of accidents. In addition, OpenEyes enables precise underwriting and streamlines claims handling and prevention.
Insight Partners is a global software investor partnering with high-growth technology, software, and Internet startup and ScaleUp companies that are driving transformative change in their industries. As of June 30, 2022, the firm has over $80B in regulatory assets under management. Insight Partners has invested in more than 700 companies worldwide and has seen over 55 portfolio companies achieve an IPO.