Pathpoint, the digital wholesaler where insurance agents can get bindable small commercial E&S quotes, has raised $12.5 mn in funding from existing investors.
Caffeinated Capital led the round to fuel continued expansion after Pathpoint posted record growth in 2022. In January 2021, Pathpoint raised $30m in its Series A funding round, which was also led by Caffeinated Capital.
This investment is about deeply investing in Pathpoint's Go-to-Market function

Raymond Tonsing, Founder and Managing Partner at Caffeinated Capital
Businesses in high-risk industries often need coverage that standard carriers can't provide. Increasingly, agents turn to the excess and surplus (E&S) market to find policies for them. In 2021, total E&S premiums grew by 22%, reaching $51 billion.
Expanding your product offerings into the E&S market can help you better serve your clients.
Data indicates that agents who can try Pathpoint even once love using it, but there's still untapped opportunity in terms of getting in front of more agents and deepening relationships across the distribution base both in terms of existing partners and new ones.
Further investment in GTM will build on growth to date and enable Pathpoint to become not only a category defining growing wholesaler, but a profitable one, within the next few years.
Over 5,000 agents have been appointed with Pathpoint since the company launched in late 2020. Overall gross written premium quadrupled from 2021 to 2022, and monthly active users tripled.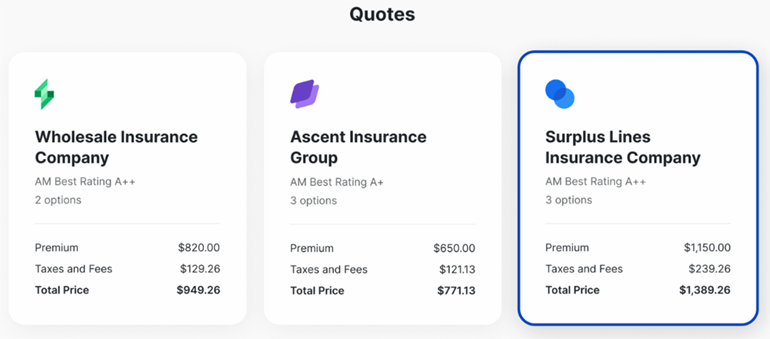 On average, an agent using Pathpoint receives a quote in seven minutes and is able to bind the quote within a day, while traditional wholesale experiences often take days to return quotes.
To further scale distribution, Pathpoint began working with some of the largest networks, aggregators, franchise operations, and digital platforms in the commercial insurance agency space.
Pathpoint launched with 16 of the top 40 in 2022 and plans to use new funding to double this number in 2023.
In addition to these partnerships, Pathpoint continues to expand supply and iterate on its product with independent agents, who continue to make up 40% of new users, in mind.
Given the growth over the last 6 months, it became clear to us that we needed to invest more in sales and marketing infrastructure to better support our existing distribution and further expand it

Alex Bargmann, Pathpoint's CEO
"The investment from Caffeinated Capital unlocks this while setting us up to build a profitable wholesale intermediary with national distribution. There is currently no other solution that gives agents such a fast, simple, and efficient E&S experience. Until now, we've been restricted in terms of the sheer number of agents we can get to, which is why we'll target funding to Sales and Marketing while continuing to innovate on E&S process and broadening our small commercial E&S product and market offering."
Non-admitted insurance coverage is typically procured through the use of wholesale brokers who access the E&S, or Excess and Surplus Lines, marketplace.
E&S risks cannot be placed in the admitted markets due to a shortage of capacity or the complexity of the risk.
As more and more business is conducted through the E&S market (which is expected to grow 25%), agent access to a fast and transparent way to quote, bind, and service E&S products online becomes even more critical.
E&S insurance is provided to businesses facing risks that admitted carriers won't adequately insure. It's usually necessary when companies operate in industries with high liability potential or uncommon risks.
Non-admitted carriers offer E&S insurance. They're strictly regulated in their domiciled states, but they don't have licenses in the states where they provide coverage. As a result, their policies aren't subject to form or rate regulations.
The lack of form restrictions lets non-admitted carriers write policies using wording that matches unusual or excessive risks. Meanwhile, the freedom from rate regulations lets them collect premiums sufficient to cover their elevated exposure.
For example, a landscaper needs a general liability policy with an aggregate coverage limit of $3 million, but admitted carriers won't offer them more than $2 million. Subsequently, their insurance agent turns to the E&S market and finds a non-admitted insurer willing to meet their client's needs.

by Yana Keller