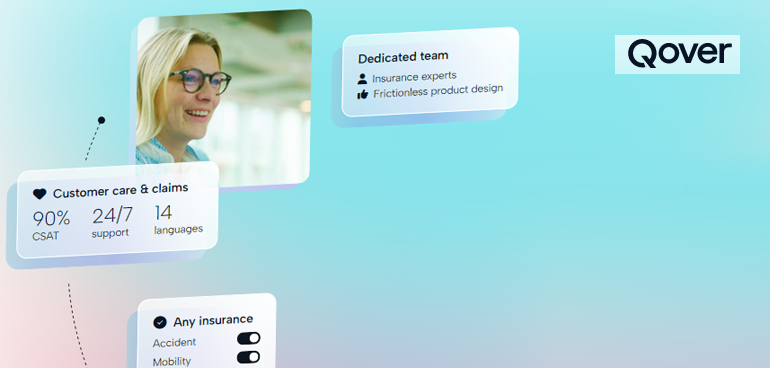 European business finance solution Qonto has partnered with embedded insurance orchestration provider Qover to streamline their insurance operations.
Qover's modular embedded insurance orchestration platform enables companies like Qonto to integrate tailored insurance products for a better user experience, while simplifying program management through transparent claims data.
Qover is an InsurTech that adds completely tailored cover to a company's digital experience, increasing its opportunities to grow and decreasing the cost of insurance as the business scales.
We both strive to make insurance simple and transparent for Qonto as a business and their clients. The modularity of our embedded insurance orchestration platform means that Qonto can decide which insurance services they need – from advising on the right product to streamlining operations to providing clear performance data to track the progression of their program.

Quentin Colmant, CEO & Co-founder of Qover
The new insurance program was designed based on real input from Qonto's customers – largely SMEs and freelancers. All 350,000+ businesses across France, Germany, Spain and Italy now have access to various levels of travel, fraud and purchase protection depending on their payment card.
Launched in 2017 by Steve Anavi and Alexandre Prot, Qonto serves more than 350,000 clients in 4 countries (France, Germany, Italy and Spain) and employs more than 1,000 team members in Paris, Berlin, Milan, Barcelona and Belgrade.
Business finance solution Qonto is using insurtech Qover to simplify and overhaul its embedded insurance programme for cardholders.
Since its creation, Qonto has raised a total of €622 million from Valar, Alven, the European Investment Bank, Tencent, DST Global, Tiger Global, TCV, Alkeon, Eurazeo, KKR, Insight Partners, Exor Seeds and Gaingels to support its global growth ambitions. In July 2022, Qonto joined forces with German fintech champion Penta and became the market leader in Germany.