The US cyber market saw continued and increasing demand for its products in 2021, according to a new report from re/insurance broker Aon.
The report, US Cyber Market Update: 2021 Cyber Insurance Profits and Performance, said the number of insurers in this sector grew from 200 to 214 between 2020 and 2021. For the preceding two one-year periods—between 2018 and 2019, and 2019 and 2020—eight firms joined the sector each year.
This latest increase matches that of between 2017 and 2018 when the number of participants increased by 14.
Most new participants are small, with a median written premium of approximately $103,000, although a few are writing into the millions of dollars of premium. And the broker added that the new entrants reflect continued demand for cyber insurance, while some incumbent markets are limiting their capacity.
However, premiums grew sharply between 2020 and 2021. US Cyber premiums reported to the NAIC grew to $4.83bn in 2021, a 76% increase from the prior year. The rate of growth for Standalone Cyber products was significantly higher: a 94% increase year-over-year for Standalone versus a 49% increase for Package.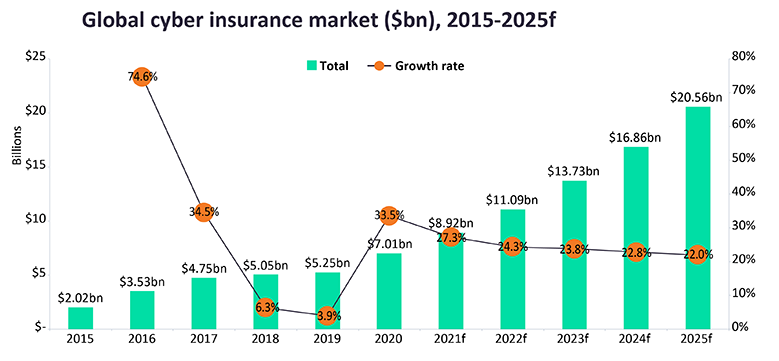 There were total premiums in 2017 of $1.84bn, in 2018 of $2.03bn, in 2019 of $2.26bn, and $2.74bn in 2022.
Overall, the market became more competitive in 2023. The top 10 Cyber insurers accounted for 58% of direct written premiums, down from 68% last year. By way of comparison, the top 10 writers of other liability-claims made insurance account for 55% of premium and the top 10 in commercial multi-peril account for 46% of premium.
Earned premium per policy increased for both Standalone and Package policies, with increases of 25% for Standalone and 21% for Package on an earned basis.
This is a notable contrast to 2020, when we saw a single digit increase in Standalone premium per policy and a reduction in Package.
The increase in overall premium per policy kept pace with a continued rise in severity. Average claim size rose 24% in 2021, from $74,354 in 2020 to $91,833 in 2021, with similar increases for both Standalone and Package.
This severity increase is lower than 2020, when average claim size rose 53%. Additionally, the severity increases in 2020 and 2021 follow a few years of declining severity.
Despite the rise in insurers operating in this sector and in premiums, recent stories have said that the while demand for such products rises, reinsurance capacity has not kept pace.
S&P said there were several reasons for this. Firstly, it said that ILS investors have learned the hard way that they can be exposed to perils that they had not fully modeled and/or priced for.
In recent years, secondary perils have increased in frequency, and, in aggregate, resulted in higher losses than investors had expected. Cyber risks are not limited by region and can easily spread across the globe in a few seconds, exposing investors to accumulation risk and related losses.
ILS with exposure to underlying natural disaster risk offer diversification and real returns that are mostly independent of the capital markets. In contrast, a big cyber event could trigger a decline or volatility in stock and bond market values, increasing the correlation with the capital markets.
Growth in the market was due more to rate adjustments than increases in the volume or size of contracts.
The market dynamic reflects a growing number of (re)insurers' hesitancy to underwrite large cyber risks (and some providers' reduced risk appetite) due to more frequent and severe cyber attacks, and greater systemic risk.
The need to continually re-assess evolving cyber risk exposures is a challenge that will likely mean that dynamic contract conditions will prove an enduring characteristic of the cyber insurance market.
That, in turn, heightens the need for policy clarity, with precise wording, which will be key to sustainable underwriting of cyber insurance.
by Yana Keller