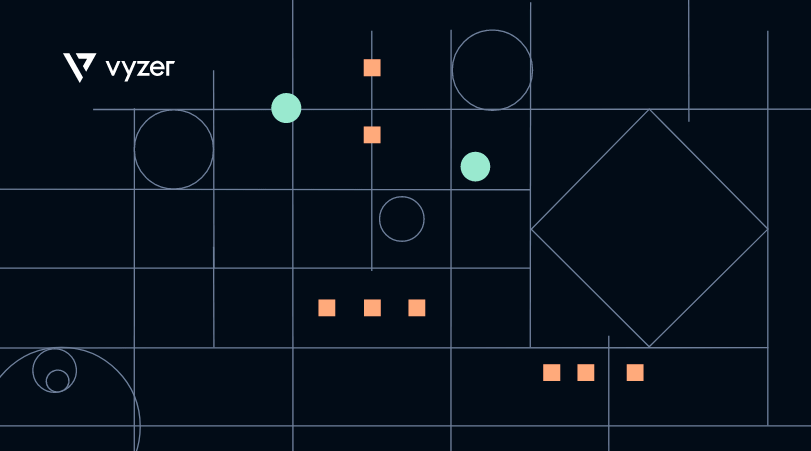 Vyzer has raised a Seed round of $6.3 mn from leading VCs, angel investors, and family offices including iAngels, Guy Gamzu, MonetaVC, Jonathan Kolber and Rafi Gidron.
Vyzer's offering encompasses financial analysis, advanced planning, tracking, automated data management, analytics, peer benchmarking, and forecasting. The AI-powered platform aims to eliminate the need for conventional high-cost models and financial advisors and make wealth management accessible and understandable.
Leveraging AI technology, Vyzer transforms data into potent wealth-building strategies and grants investors access to a unified portfolio view.
Vyzer is a cutting-edge wealth management platform that leverages the AI and advanced technology to simplify the complexities of managing diverse investment portfolios for sophisticated investors. The platform offers a consolidated view, automates data aggregation, provides performance tracking, and employs advanced financial planning tools via an intuitive user interface.
The comprehensive offering encompasses financial analysis, advanced planning, tracking, automated data management, insightful analytics, peer benchmarking, and forecasting, which are all seamlessly accessible through a single holistic dashboard.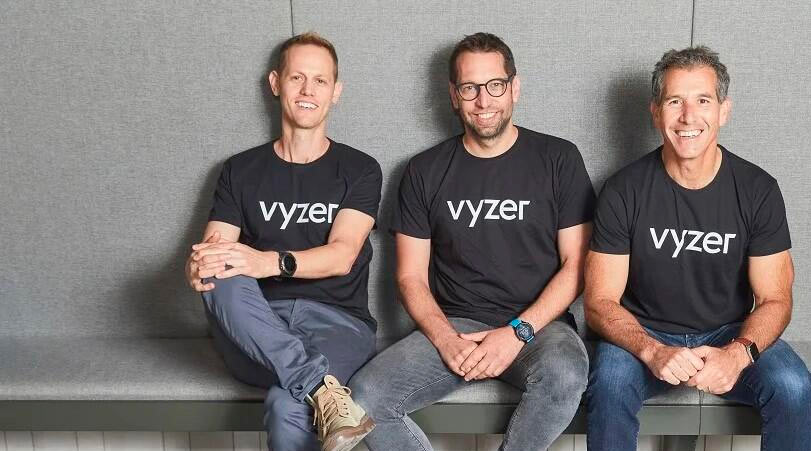 Co-founded by Litan Yahav, Tomer Salvi, and Guy Gamzu, the company has offices in Israel and New York. Yahav and Salvi previously co-founded Segoma, which was acquired by R2Net for $18 million in 2015.
Vyzer is making billionaire wealth management back-office capabilities accessible to everyday investors. The funds will enable us to enhance our platform's AI capabilities, develop new features, and broaden our market presence.

Litan Yahav, Vyzer Co-Founder and CEO
"Our ultimate goal is to simplify and streamline complex wealth processes for our customers, equipping each member with greater insights and control. This, in turn, empowers them to maximize their investment potential and foster wealth growth."
Amid the largest wealth transfer in history – an anticipated shift of $68 trillion from baby boomers to their heirs – a whole new cohort of investors needs to quickly become financially savvy.
With over 22 million millionaires in the US alone, many from the ranks of the younger, more tech-savvy generations, the urgency for effective wealth management tools with a holistic, transparent, and comprehensive approach to wealth management has never been greater.
At the same time, individuals and families navigating sophisticated investment portfolios often face the daunting task of managing a variety of financial assets and asset classes, including balancing multiple passive income streams, responding to capital calls, deciphering financial statements, and handling numerous public and private investments.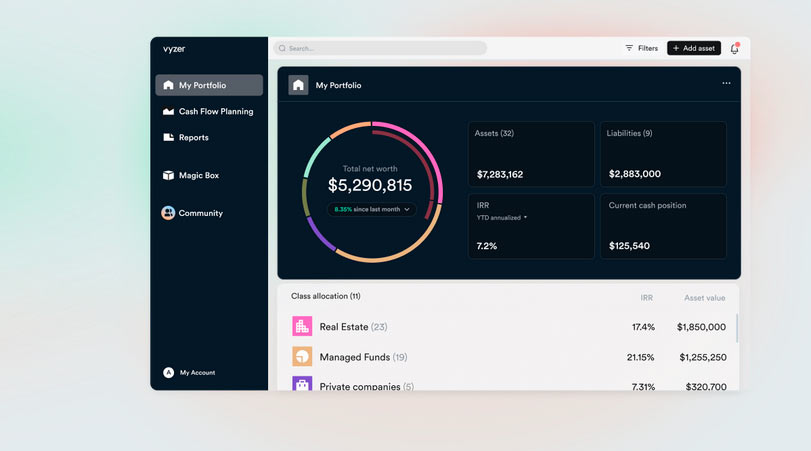 These complexities, with different levels of liquidity and time horizons, often occur within intricate holding structures. Vyzer's AI-powered platform addresses these challenges, democratizing wealth management services by eliminating the need for conventional high-cost models and financial advisors, all for a flat annual fee.
Vyzer goes beyond simply organizing and overseeing assets; it actively fosters their preservation and enhances portfolio growth potential, making wealth management accessible and understandable.
For those put off by the steep fees tied to traditional wealth management or leaning towards a DIY approach but hindered by the limitations of spreadsheets, Vyzer provides an empowering and affordable alternative to control their finances.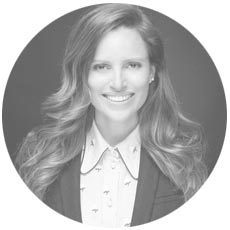 High-net worth individuals are increasingly gravitating towards private investments – from real estate and startups to private equity. However, the lack of digitization in the management of these alternative investments presents significant challenges when it comes to achieving a holistic overview of their portfolios

Shelly Hod Moyal, Founding Partner of iAngels
"Vyzer's solution provides investors with broad and transparent visibility into their portfolios. It allows them to capitalize on the ever-growing investment landscape by making informed and timely decisions, and it enables them to effectively scale their portfolios at an affordable cost."
Powered by advanced AI and sophisticated algorithms, Vyzer optimizes cash flow management and investment foresight, obviating the need for labor-intensive manual data entry and reducing expenses.
A standout feature of Vyzer's solution is its peer benchmarking tool, which harnesses the platform's AI capabilities to provide clients with unparalleled insights into investment strategies, fund managers, and similar investors' activities.
This empowers users to make informed investment decisions and anticipate financial trajectories that were once considered futuristic. By providing such transparency, Vyzer addresses a critical need in the private market investment industry, notorious for its dearth of information and opacity.

by Peter Sonner