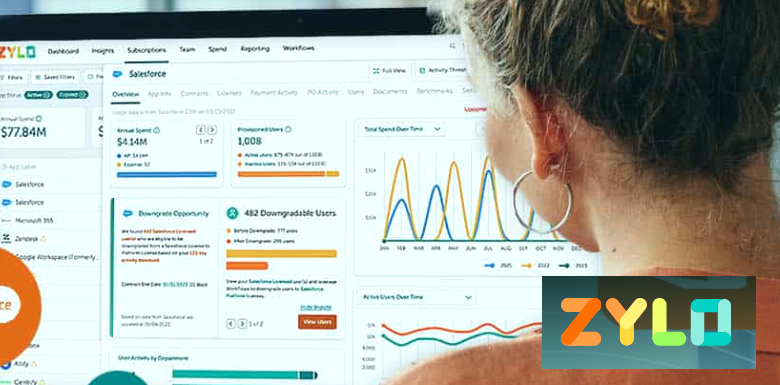 SaaS insurtech Zylo has secured an additional $5 mn in Series C funding from MassMutual Ventures and celebrates key milestones from 2022.
This additional funding comes in the wake of an exceptionally strong year of growth for Zylo.
Having experienced several record-breaking quarters, the company doubled new business and welcomed many innovative organizations to its roster of customers which already includes enterprises such as Adobe, Atlassian, Coupa, Doordash, Intuit, Salesforce, and Yahoo.
With more than 30 million SaaS licenses and $30 billion in SaaS spend under management, Zylo is fueled by more data than any other provider.
Only Zylo's enterprise SaaS management platform delivers 100% visibility into your SaaS footprint to drive actionable insights and automated workflows.
Alongside the platform, Zylo offers a suite of spend optimization services to drive greater cost savings while freeing up resources, implementing a proven best-in-class approach to manage SaaS negotiations from end to end.
By enabling organizations to manage their growing SaaS portfolios and derive the greatest value from their SaaS investments, Zylo is solving a problem that nearly every organization faces – and one that's become more apparent in the current economic climate.
Zylo announced the first tranche of its $31.5 mn Series C raise in November. Baird Capital's Venture Team led the C round, which also included Spring Lake Equity Partners and existing investors Bessemer Venture Partners, Menlo Ventures and High Alpha, as well as strategic partner and investor Coupa Ventures.
Amid economic uncertainty, organizations face mounting pressure to reduce expenses. Today, SaaS is the second largest operating expense of most companies.
Having raised more than $72.5 mn to date, Zylo is backed by leading SaaS investors, including Bessemer Venture Partners, Menlo Ventures, Baird Capital's Venture Team, Spring Lake Equity Partners, High Alpha, GGV, Slack Fund, Salesforce Ventures, MassMutual Ventures and Coupa Ventures.
Organizations recognize the need for SaaS management technology and services to drive down spending, control costly renewals, mitigate risk and stop SaaS sprawl.
In 2022, Zylo helped customers identify nearly $3.2 billion in wasted SaaS spend. Fueled by the most data in the SaaS management landscape, Zylo added more than 2,000 new applications to its Zybrary and more than $1B to its SaaS spend under management, totaling $30B in spend.
The growth-at-all-costs model of the past is over, as organizations take more fiscally responsible positions

Eric Christopher, CEO at Zylo
Fiscal health is critical to surviving in today's economic climate, and continually driving cost savings is not just important in the short term, but will be well into the future.
SaaS Management must be part of the conversation, as it has the most immediate impact. In fact, we identified up to 40% of unused SaaS licensing within our customer base in 2022 alone.

by Peter Sonner