The global medical professional liability insurance market was valued at $14.5 bn in 2022, and is projected to reach $33.7 bn by 2031, growing at a CAGR of 10.8% from 2022 to 2031.
Some MPL specialists have taken on new business, while some still need to further reposition or trim their portfolios after acquiring other MPL carriers in prior years (see Life & Health Inclusive Insurance).
Medical professional liability insurance forcast
Medical professional liability (MPL) insurance segment continues to experience negative returns and an overall decline in policyholders' surplus due primarily to unrealized losses stemming from volatility in the capital markets, AM Best reports.
The pressure for heightened rate increases due to capacity shortages in recent years mostly has dissipated, so growth for most MPL carriers has reverted back to average

David Blades, Associate Director for Industry Research and Analytics at AM Best
MPL segment incurred an underwriting loss of $260 mn in 2022, which was lower than in the immediate previous years, but still the eighth consecutive year that the segment has posted an underwriting loss.
MPL segment's core client base is still being impacted by health care consolidation and the employment of physicians by hospitals, which often have their own captives or self-insurance mechanisms (see about Cancer Health Insurance).
And despite positive net income of $786 mn for the MPL composite in 2022, it was a decline of 15.1% from the previous year, due mainly to a significant decline in realized capital gains, though partially offset by the reduction in underwriting losses and growth in net investment income (see Personal Accident and Health Insurance Industry Outlook).
MPL insurers need to maintain discipline pursuing premium adequacy to effectively combat headwinds, such as rising claims severity, the erosion of tort reforms in certain jurisdictions, high reinsurance costs and the impact of social inflation

Sharon Marks, Director at AM Best
Other risks remain on the horizon, including escalating burnout rates, staffing and supply shortages and further growth of alternative care providers. Large U.S. Health Insurers have expanded participation in individual insurance.
These potential threats could negate much of the progress the segment has made regarding pricing gains and loss ratio improvements over the last two years.
What is Medical professional liability insurance?
Medical professional liability insurance is a type of insurance designed to protect medical professionals' finances against legal fees and compensation claims made by patients in the event of a legal dispute.
A particular contractual duty known as indemnity requires one party to make up the damage suffered by the party who was wronged.
The purpose of medical liability insurance or malpractice insurance is to cover the extent of monetary loss brought on by unintended mistakes and omissions made by the physician, insured qualified and nonqualified workers, and staff. In addition, it pays for the costs associated with self-representation in court.
Surge in improving claim management services via advanced software allows insurance companies to efficiently speed up the customer's payment lifecycle and reduce fraudulent claim settlement activities.
In addition, increase in instances of accidents and surge in awareness of medical professional liability insurance are some of the factors propelling the medical professional liability insurance market growth.
Increase in insurance premium cost and lack of knowledge about coverages included in medical professional liability insurance policy are some of the major factors limiting the medical professional liability insurance market.
On the contrary, the surge in reliance on medical equipment for patient's diagnosis by doctors can risk the diagnosis owing to faulty equipment, which is expected to boost the demand for medical professional liability insurance.
Furthermore, increasing cases of suing for wrong treatments is anticipated to drive the medical professional liability insurance market in upcoming years.
Medical professional liability insurance segment Review
The medical professional liability insurance market analysis is segmented into type, claim type, coverage, application, distribution channel, and region.
By type, the market is differentiated into occurrence-based policies and claims-based policies. The claim type is segmented into misdiagnosis or delayed diagnosis, childbirth injuries, medication errors, surgical errors and others.
By coverage, the market is segmented into up to $1 mn, $1 mn to $5 mn, and $5 mn to $20 mn and above $20 mn.
Depending on application, it is fragmented into individual and commercial.
The commercial is further segmented into private hospital and public hospital. Private hospital is further segregated into large hospital and small and medium-sized hospital.
The distribution channel segment is segregated into agents & brokers, direct response, banks and others. Region-wise, the market is analyzed across North America, Europe, Asia-Pacific, and LAMEA.
Medical Professional Liability Insurance Market By Distribution Channel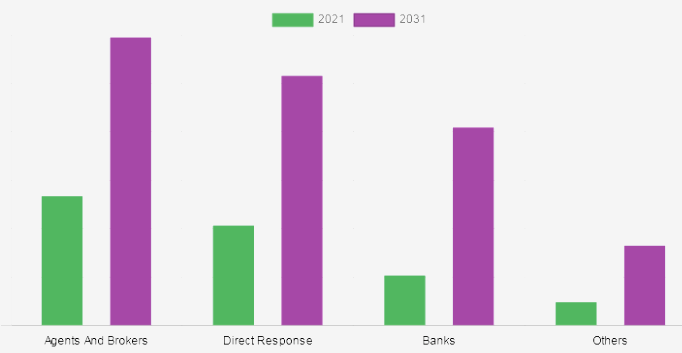 By distribution channel, agents & brokers segment accounted for the highest share in medical professional liability insurance market size.
This is attributed to the fact that physicians and hospitals prefer agents & brokers to acquire the insurance coverage as they have little understanding of medical professional liability insurance appropriate plans.
By region, Asia-Pacific is expected to grow at the highest CAGR during the forecast period in medical professional liability insurance market share. This is attributed to increase in number of medical mistakes during operation & surgeries across the Asian countries owing to factors like incorrect time, omission error, staff shortages and incorrect doses.
……………..
AUTHORS: David Blades – Associate Director for Industry Research and Analytics at AM Best, Sharon Marks – Director at AM Best