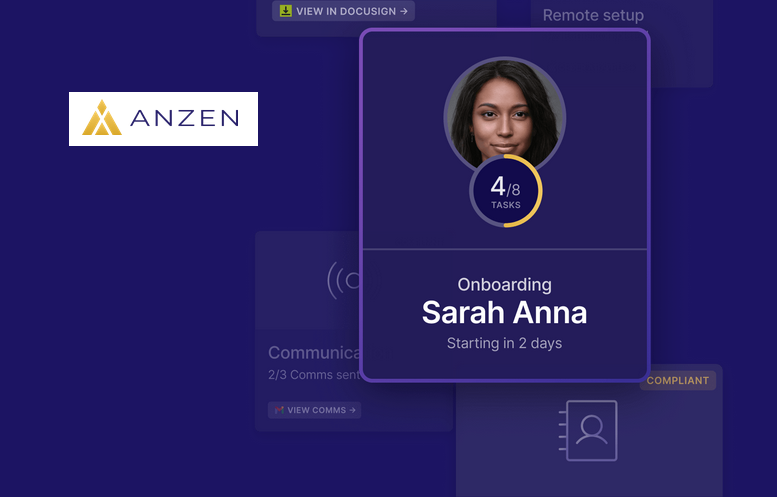 San Francisco-based provider of management insurance for high-growth businesses Anzen Insurance has raised $10 million in seed financing led by Andreesen Horowitz, with MS&AD Ventures, Tokio Marine (Asia), AmTrust Financial and Greenlight Re as participants.
42% of early-stage startups and small businesses get sued by their employees. Anzen provides the most comprehensive insurance you need. Anzen can pull your key operations data from Payroll, HRIS, and ATS to keep you safe. We unify, analyze, and report any risks that could negatively impact you, your employees, and your shareholders.
Many companies are required to buy management liability protection, but few understand why they need it. More importantly, few company executives know how to avoid the risks that management insurance is intended to cover.
Anzen was founded to protect companies that believe in creating safe and high-value working environments for their employees and management teams. "We believe that growing companies and their leaders, if given the right tools and guidance, can build cultures of safety, respect, and value".
"Anzen isn't just about insurance: we provide increased safety to business owners. We want teams to spend their time building better products and services, while worrying less about compliance, HR, financial, and shareholder risk exposures. We believe insurance should actively support businesses by providing services designed to reduce their risk.
We deeply understand the value a broker brings to their customers. Because of this, we distribute insurance and risk management products through a select community of high-caliber brokers across the U.S.
"Today, we are proud to introduce Anzen (meaning 'safety" in Japanese), where we are rebuilding from the bottom up the insurance that every growing company is required to buy – Directors and Officers (D&O) or Executive Liability Insurance. We are also launching the Anzen Management Operations (MgmtOps™) suite, which contains a first of its kind Safety Auditor created to track and automate employee compliance. Anzen is on a mission to offer a superior insurance product with software to keep companies safe; therefore allowing management to focus on what is most important- growing and running their business."
Insurance partners include AmTrust Financial, Greenlight Re, and Everest Re.
Anzen helps implement an onboarding and offboarding process that's compliant. Anzen automatically keep track of any steps and communications to keep you safe, while scaling quickly.
by Peter Sonner