Global pension fund involvement in M&A and fundraising activity was strong in the first quarter 2023, according to S&P Global Market Intelligence data.
Pension funds are financial intermediaries which offer social insurance by providing income to the insured persons following their retirement. Often they also provide death and disability benefits.
While pension schemes vary greatly across countries, there are two main types: defined benefit and defined contribution. In a defined benefit policy the future payment to the policyholder is predetermined, or has at least a guaranteed minimum amount.
By contrast, in a defined contribution scheme the regular contribution (or "premium") paid to the scheme is fixed and the value of the policyholder's pension wealth depends on the performance of the pension funds' investments.
Pension fund sponsors invested in 24 disclosed transactions for a total of $15.2 bn in the Q1 2023. That compares to investing in 37 deals for a total of $11 bn in the Q1 2022.
A new era is rapidly unfolding, potentially marking the end of cheap money and a long period of low volatility. ​2022 was a year of consequences with unparalleled geopolitical tension, a turbulent economic environment and rapid tightening of monetary policy. A period of the economic cycle with a disinflationary headwind has come to an end. Asset owners may find the next period uncomfortable. Regime change will become more apparent during 2023.
Global Pension Fund sponsor activity
Investment organisations move from isolated models to versions that recognize the benefits of collaborations in the value chain​. There is a big shift in priorities towards active ownership activities which is enabled by deeper AO-AM engagement and the rise of sustainability NGOs like PRI. Leadership styles are evolving with systems leadership particularly well-placed to produce a change in collective action settings.
Pension fund investments are on track to exceed the $24.7 billion figure logged for full year 2022.
The biggest was Canada Pension Plan Investment Board joining with Silver Lake Technology Management to acquire experience management software company Qualtrics International Inc. for $10.44 billion. That transaction is expected to close in the second half of the year.
Private equity was an investor in seven of the 10 largest transactions that involved pension funds during the first quarter.
Pension Fund transaction value & number of deals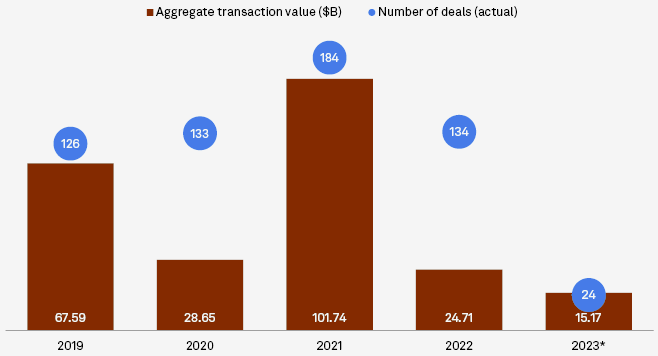 Asset owners are getting ready for the climate challenges, new regulations and reporting rules​. With the rolling out of new sustainability-related regulations and climate reporting becoming more demanding, asset owners need to be watchful when rebalancing their finite resources (see How Insurers are Contributing to Social Sustainability?). Rightsizing in strategies and resource allocation becomes crucial.
In the second-largest deal of the quarter, an investor group including Public Sector Pension Investment Board and EQT AB (publ) agreed to buy telecommunication services company Radius Global Infrastructure Inc. for $3 billion.
Next was Canada Pension Plan Investment Board's participation in Netskope Inc.'s convertible debt round of funding that raised $401 million for the application software company. Goldman Sachs Asset Management International, Morgan Stanley Tactical Value Investing and Ontario Teachers' Pension Plan Board were also part of the investor group.
Ranking Pension Fund sponsor activity by transactions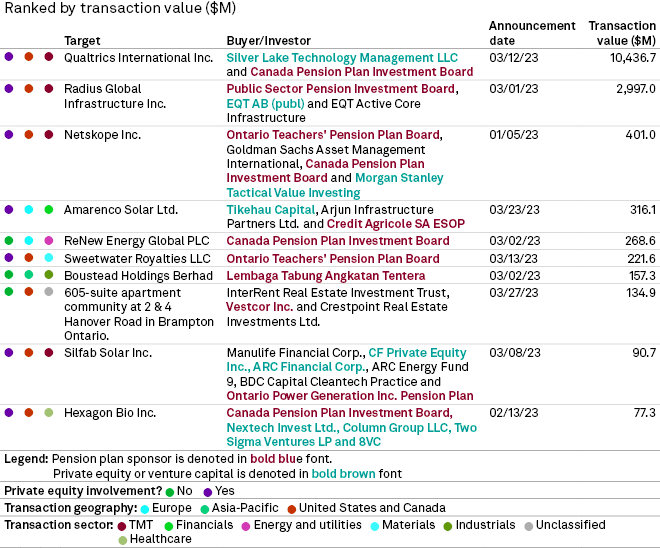 Pention Sector exposure
The technology, media and telecommunications sector attracted the most pension fund investment in the first quarter, with a total deal value of $14 billion. The financials and energy sectors followed with $320 million and $270 million, respectively.
Pension Fund sponsor activity, 2022-2023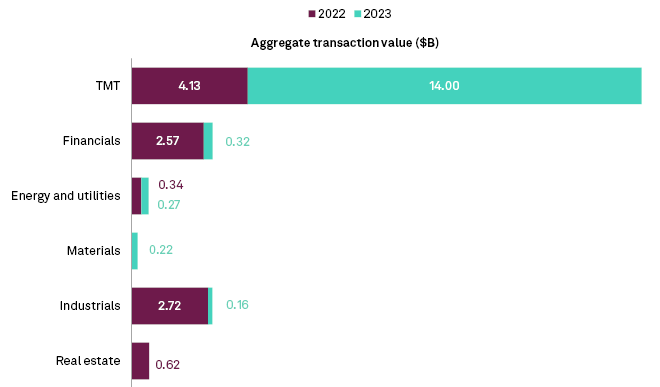 The assets section provides information on the holdings of pension funds, i.e. information on the funds' investments, loans provided and other claims.
This includes information about the country and sector of the counterparty (in the case of assets the counterparty is usually either the issuer of the financial instruments or the recipient of the loan). The data also provide information about the financial instrument itself, broken down by type of instrument and by maturity.
The liabilities section provides information on claims against euro area pension funds. These liabilities consist of pension fund reserves held as cover for claims by policyholders, as well as of pension funds' equity, loans received and other financial obligations.
The data collected provide information about the instrument as well as about the country and sector of the counterparty.
Asset owners are likely to -face substantial challenges in the coming years
The study draws attention to 3 subjects significant to the investment industry and its building resilience (see Global Insurer's Structured Securities Investments Outlook).
Macro uncertainty and systemic risk
Uncertainty has been one of the dominant themes in the investment industry in 2022 with heightened geopolitical tension entangled with slower real economic growth. Organisational resilience will bring a new perspective to an economy that spent a decade improving efficiency and is needing to become adaptable to a more difficult operating environment.
Investment horizon, fun maturity and pension design
The majority of asset owners are focused on the long horizon and have the resilience to cope with short-term declines, but they may need to re-set strategies for the new conditions ahead where the future outlook is uncertain. Horizon also comes into play when looking at ESG and investing for sustainable impact.
Stewardship, fiduciary duty and the future of ESG
While the future of ESG is often debated and contested, the direction of change stays the same. Transition to clean energy is speeding up and looking into the future, investment organisations need to readjust their strategies to navigate an evolving ESG landscape.
…………………….
AUTHORS: Muhammad Hammad Asif – S&P Global Market Intelligence data, Annie Sabater – S&P Global Market Intelligence data analytics.