According to Future Market Insights (FMI), the insurtech market is forecasted to reach a net worth of US$ 165.4 Bn in 2032 from a mere market value of US$ 12.5 Bn in 2021. It is predicted to with an impressive CAGR of 25.9% during the forecast period.
The growth of general awareness among common people about the benefits of insurance policies has created a huge demand for general insurance policies provided by several companies across the globe. Insurance companies have also increased their market presence by the application of digital insurtech or insurance technology infrastructure with the changing economic scenario.
InsurTech (Insurance Technology) refers to the use of technology that engages in the creation, distribution and administration of insurance product & services.
Insurtech is discovering solutions such as offering ultra-customized policies, social insurance, and using new streams of data from Internet-enabled devices to dynamically price premiums. Insurtech helps insurers to collect and analyze customer data, which can be specifically used to target right customer, with affordable price quotation (see How Insurers and InsurTechs Can Transform Insurance Platforms?).
Moreover, with the use of machine learning, artificial intelligence, and cloud computing, Insurtech helps in making better predictions of consumer needs, purchase quantity, and improves decision making and insurance planning.
The Key Takeway
As per the market analysis report, the absolute growth of the global insurtech market size in terms of value is predicted to be around US$ 148.8 Bn over the forecast years 2022 to 2032.
As the concept of insurtech insurance companies is expanding to new areas of service, the solution segment is growing at a faster rate than the service segment. The CAGR predicted for the solution segment is nearly 25.8% for the coming decade.
On the basis of various technologies adopted by life insurance tech companies, cloud computing has emerged to be the most attractive segment in the present market. The estimated growth of this segment over the forecast years is nearly 25.2%.
US market holds the dominant position in the global market for having the highest amount of insurtech capital, valued at about US$ 6 Bn in the year 2022. It is also the top-performing country with a CAGR of 25.6% that is predicted to reach the net worth of the regional insurtech market up to US$ 58.6 Bn by the end of this forecast period.
Global insurtech market size
According to InsurTech Sector Overview 2022, the global insurtech market was valued at USD 3.75 billion in 2021 and is expected to grow at a CAGR of 50.4% during the forecast period. There has been a massive increase in data generation owing to the increased adoption of mobile devices and social media.
Insurtech market size, 2018-2030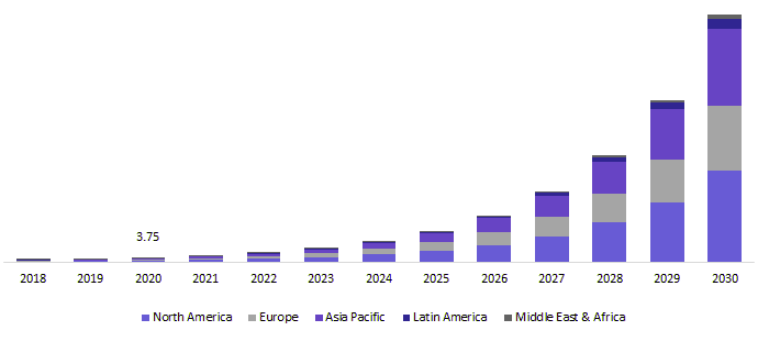 Data availability allows a company to follow customer behavior and obtain insights to improve the customer experience and provide better services. As insurtech becomes more widely used, it enables more effective decision-making and the implementation of creative business strategies to meet the expanding needs in the global insurance market.
Insurtech has simplified micropayments for consumers owing to the increased adoption of mobile phones and wearable tech.
Key players operating in the Insurtech market are developing micropayment systems to service consumers in regions with low insurance penetration levels. Insurtech enables the development of platforms offering one-stop solutions for customers for purchase, payments, servicing, and interaction with social media.
Insurance companies are developing self-directed solutions for customer acquisition and customer service to cater to the growing demand for online and mobile channels. Customer-centric solutions are increasingly used for enhanced user experience, transaction efficiency, and transparency. Rising consumer demands for efficient services and personalized solutions are leading to the emergence of Usage-based Insurance (UBI) models (see How InsurTechs & Tech-Driven Innovation Changing the Insurance Industry?).
Over the years of service and development of commercial insurance, insurtechs companies have intensified in terms of offering customized policies to the customers.
Adoption of insurtech technology
Adoption of such technology for collecting and analyzing customer data for insurtech life insurance companies has further boosted the business attraction of the global insurtech market.
The emergence of a number of small and regional players operating in various categories such as insurtech car insurance or home insurance insurtech companies have fragmented the market, making it highly competitive.
Most of the key players are strengthening their market by establishing partnerships and collaborations with the banking and financial institutions for introducing new specific commercial insurance insurtech solutions.
Rapid digitization of all major service sectors of economy has also shifted the business model of insurance providing companies across the globe. Addition of professional and consulting services to the potential customers over online platforms have necessitated the integration of insurance technology solutions further propelling the growth of global insurtech market.
The pandemic has prompted insurers to invest & adopt Insurtech and focus on several areas including customer centricity, intelligent processes, accelerate virtual interactions in sales & claims, and reduce expenses in order to sustain in the competitive business environment.
Technologies such as artificial intelligence, machine learning, blockchain and cloud computing enables real-time tracking & monitoring information regarding the activity of insured for particular business lines and streamline & modernize business operations, which acts as key driving factor of the global Insurtech market growth.
In addition, due to changing business models, insurance companies are leveraging innovative digital solutions to scale their business and developing product lines based on requirement by niche customers, which notably contributes toward the market growth. However, different standards & regulations toward the insurance industry and privacy & security concerns are some of the factors that limit the market growth.
Furthermore, developing economies offer significant opportunities for Insurtech market to expand & develop their offerings, especially among emerging economies such as Australia, China, India, Singapore, and South Korea.
Incorporation of technologies such as cloud computing, artificial intelligence, and blockchain, for facilitating loss prediction & prevention, risk monitoring, and simplifying claims processing is becoming a major factor that is expected to provide lucrative opportunities for the expansion of the Insurtech market growth in the coming years.
Insurtech and Insurer`s digital infrastructure
According to the market survey report of the EIS group for Insurance companies, almost 59% of the companies were found to have increased their spending on establishing digital infrastructure. This includes a record proliferation of P&C insurtech companies in the global market.
The major players operating in the global insurtech market include Damco Group, DXC Technology Company, Majesco, Oscar Insurance, Quantemplate, Shift Technology, Trov Insurance Solutions, LLC, Wipro Limited, and Zhongan Insurance, among others.
One of the top insurance companies in the USA named, Universal Fire & Casualty Insurance Company, announced to accept cryptocurrency payments for premiums, starting a new business model for home insurance insurtech companies in the US market. Integration of such advanced digital facilities and blockchain technologies is expected to further boost the global insurtech market.
An automobile insurance company named Metromile also announced in December 2021 to accept cryptocurrency from its customers to pay their premiums and claim payments. This new development is anticipated to give way to some new opportunities in the domain of insurtech.
Insurtech Market Growth Drivers
The adoption of wearable tech has increased significantly over the past few years, leading to insurtech being implemented in the telemedicine market. The demand for insurtech is expected to increase considerably in the healthcare sector during the forecast period. Implementation of insurtech enables data gathering by carriers for risk mitigation and improving customer experience (see How Does AI Technology Impact on Insurance Industry?).
Integration of technologies such as big data analytics, cloud computing, and IoT assists in avoiding the development of chronic health conditions while resulting in considerable savings in claims.
Digitization of complete healthcare data would provide a healthy ecosystem to manage risks and customer engagement. Growing adoption of genomic and epigenetic technology in the market for biological age determination would alter the costing and execution of life policies. Some companies operating in this segment of the insurtech market include Babylon, Discovery Vitality, Good Doctor, and Wellthy Therapeutics, among others.
Greater availability of transactional data is fueling increased adoption of data analytics in insurtech to minimize risks, reduce costs, optimize profits, and offer enhanced customer services and customized solutions. The move towards data analytics for customer analytics, marketing analytics, etc., enables companies to provide personalized customer solutions while improving operating efficiency and profits. The growing adoption of artificial intelligence simplifies and improves onboarding and customer service, claims settlement experience, fraud prevention, and anti-money laundering.
Regional Insurtech Insights
North America, Europe, Asia-Pacific, Latin America, the Middle East, and Africa make up the market's five regions. North America and Europe are the two most important markets for Insurtech. Insurtech solutions are getting increasingly popular as clients spend more money on insurance-related products. Second, these solutions provide property and health insurance options that are flexible and adaptive. The growing number of Insurtech businesses also fuels North America's market expansion.
Europe is expected to be the second-largest Insurtech market, with an expected market value of USD 34,182 million by 2030.
The region is likely to grow significantly due to many rising economies and financial hubs in Germany, France, and the United Kingdom. Local insurers are seeking to offer low-cost insurance premium options. As smartphone penetration increases across Europe, the regional market will grow.
Due to the increased use of data-driven analysis by investors, Asia-Pacific is expected to be one of the fastest-growing regional marketplaces. The regional market will likely benefit companies from developing economies such as Thailand, Singapore, India, and China.
Business digitalization has far-reaching ramifications for regional economies, education, and employment across Latin America, the Middle East, and Africa, among other things. To develop private-sector jobs and encourage partnerships, Saudi Arabia prioritizes digital transformation in its 2030 Strategy and National Transformation Program (NTP) 2020. Such a fast-rising economy will almost probably bring unequaled market potential during the foreseeable future.
Rising Demand for Reinsurer Support and Customer Benefits
Reinsurers actively engage in two key roles: supporting Insurtech via funding and offering necessary underwriting capabilities. Reinsurers are designing digital technologies and putting capital into Insurtech. For example, Munich Re-established Digital Partners, a digital technology provider with direct investments in certain Insurtech.
Reinsurers are turbocharging Insurtech development, especially for Insurtech full carriers, via these strategic bets while also maintaining their place as the custodian of asset allocations from across the insurance sector.

Consumers drive Insurtech because they can give value to any element of their lives. It permits friends, family, and other members of the community to be covered as well. Consumers are involved throughout the process from registration through claims, and they even have a voice in who sits on the insurance claim jury panel during a hearing. Customers benefit from increased knowledge and participation.
The majority of people nowadays work entirely on their smartphones. Customers want the same mobile convenience when it comes to insurance. Consumers can use Insurtech to study, confirm, and make decisions from the comfort of their own homes. By checking the progress of claims from their mobile devices, insurers and consumers will save time. As a result, consumer benefits such as empowerment, ease of access, convenience, better security, and personalization propel the global Insurtech market forward.
Insurtech Market Opportunities are Burgeoning

Over the forecast period, the Insurtech market is expected to grow at a CAGR of more than 50%. Surprisingly, development is being driven by large full-service carriers Lemonade, Root, and Metromile and a plethora of smaller enterprises.
This one-of-a-kind incident highlights how Insurtech is finding momentum with clients and growing. This expansion has been facilitated by the growing digital environment, which has increased mobility, travel, health, and home coverage possibilities. As a result, many industry groups are eager to cooperate with Insurtech to take advantage of this mutually beneficial potential.
Insurtech enablers are launching new projects and collaborating with significant software businesses to get into the market.
………………………..

by Peter Sonner