Most insurers had to ramp up digitization plans during the pandemic to transition practically overnight to a remote workforce and virtual engagement with customers.
Overall, however, while technology transformation has often focused on enhancing internal efficiency and accelerating speed to market, that emphasis has begun to shift for many insurers to investments improving customer experience and bolstering data and analytics capabilities.
The goal for 2023 and beyond should be to more fully realize the benefits of technology infrastructure investments to make insurers increasingly agile, innovative, and customer-centric.
Insurers have frequently taken a piecemeal approach to technology modernization, transforming system by system, function by function, and app by app (see InsurTech Valuations). Investment decisions have been mainly driven by shorter-term budget and feasibility considerations rather than achieving longer-term competitiveness through improved customer experience.
Insurance IT-dominated infrastructure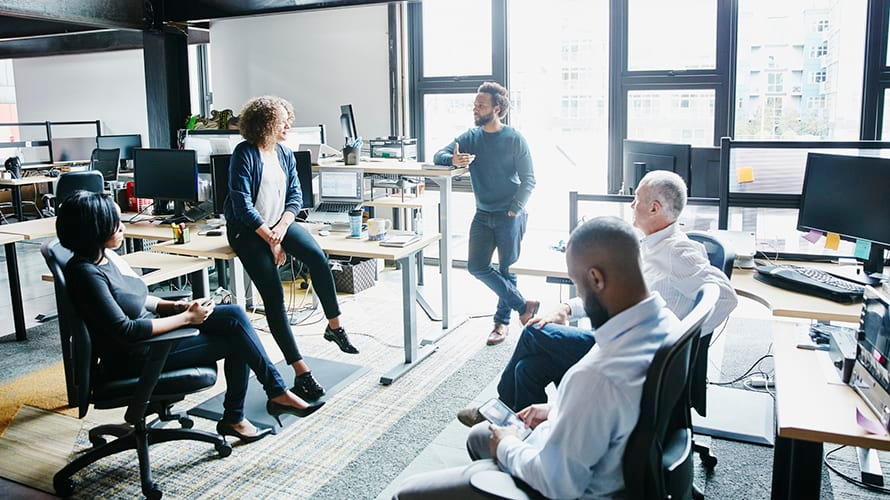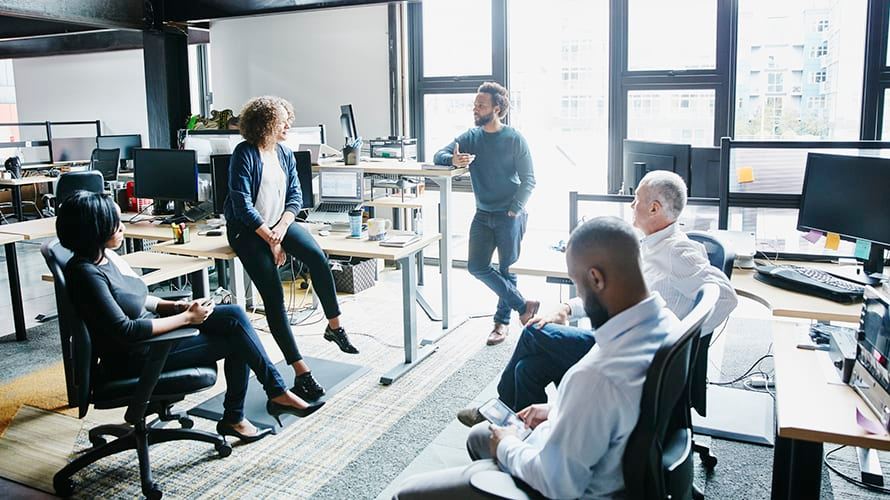 A fundamental shift in perspective and priorities should, therefore, already be underway. Insurers still running IT-dominated infrastructure projects should be shifting leadership of transformation initiatives to line of business and department heads collaborating with CIOs and CTOs in enabling roles.
Technology strategies and investments should be tailored to differentiate insurers in customer segmentation, product support, and value-added services, facilitating sustainable growth and profitability.
InsurTechs are helping to accelerate technology transformation in two fundamental ways. For one, legacy insurers are already facing increased competition from stand-alone InsurTechs designed for customer-centricity from their launch (see 10 Biggest InsurTech Funding Rounds in 9M 2022).
At the same time, many carriers are benefiting from point solutions offered by enabling InsurTechs in underwriting, claims, and online distribution platforms, among other customer-facing functions.
InsurTech investment slowed considerably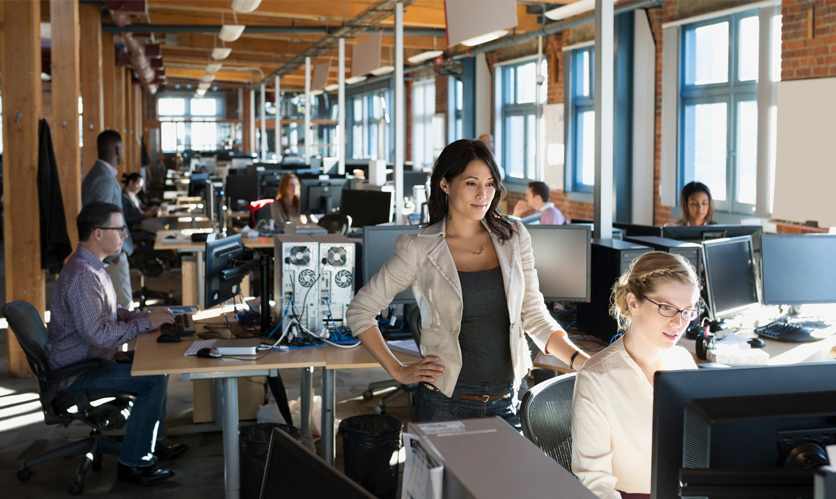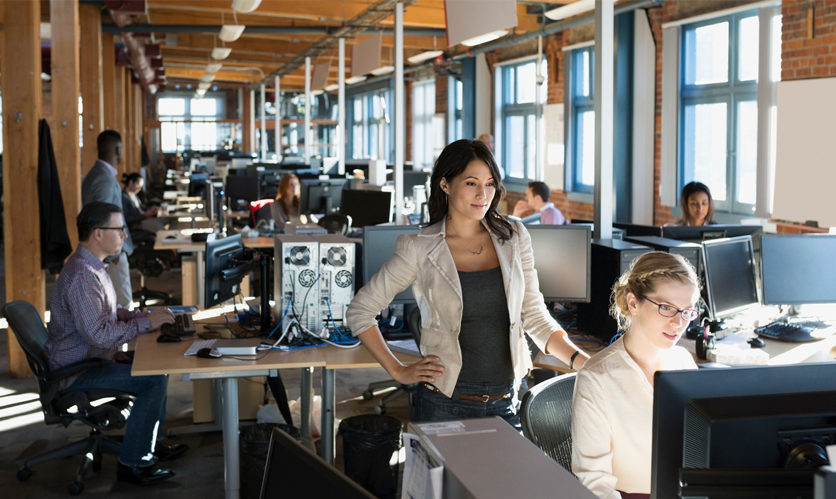 InsurTech investment boomed in 2021, drawing a record US$17.2 billion in funding—just slightly below the prior four years combined, as demand for digital solutions rose during the pandemic, while more established startups looked to scale.
Investment wasn't nearly as robust in the first half of 2022; however, the US$4.64 billion raised as of July 1 was already just short of the second-highest full-year total (see InsurTech Market Ounlook for 2032).
While InsurTech investment slowed considerably in 1H 2022, it is still likely to be the second highest ever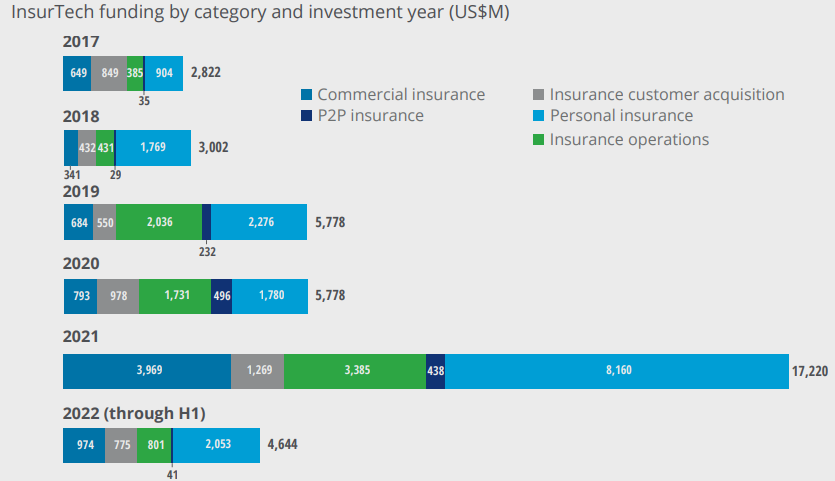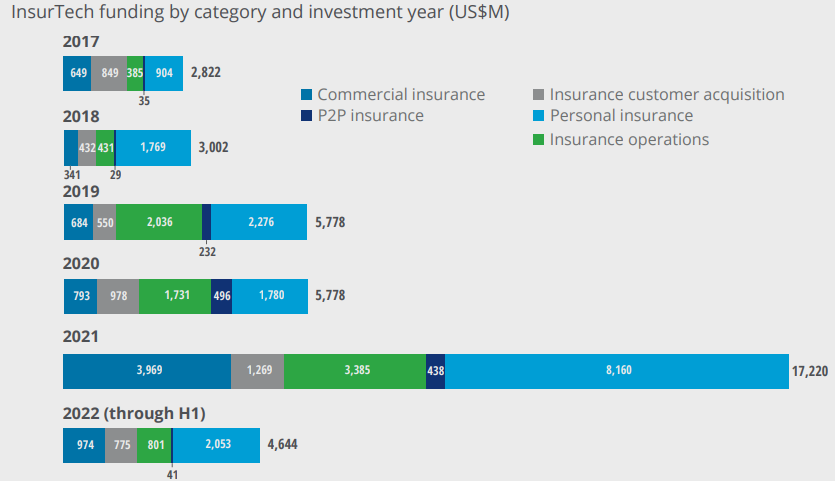 Meanwhile, advancing data management and analytics maturity should also be one of the main agenda items for insurers. Many carriers still too often treat data as an infrastructure expense to be managed, rather than as a strategic asset that can help them learn more about customer needs and preferences in terms of products and services.
A recent global survey and interviews with chief data officers by the Deloitte Center for Financial Services found that "upgrading to more holistic data management systems while empowering teams to collaborate on data across functions and business lines could help insurers capitalize on their data and analytics initiatives to accelerate innovation, bolster competitive differentiation, and ultimately sustain profitable growth."
Another possible facilitator might be adoption of low-code/no-code platforms—visual software development programs allowing developers to drag and drop application components and integrate them, also referred to as "democratization of application development."
These can enable accelerated and streamlined software development via point-and-click instead of hand coding.
Insurance CIOs and CTOs should consider these alternative development platforms as an agile way to create custom applications while lowering risks and costs. It could help insurers innovate more quickly with platforms of engagement while bolstering automation capabilities.
For example, US-based XN Worldwide Insurance adopted CoverGo's no-code platform to advance its digital transformation goals and increase customer satisfaction by improving speed to market.
Technology should enable the flipping of priorities from internal core considerations to externally focused "customer to core" initiatives.
Such customer-centricity should help spur continuing adaptation and innovation that could set carriers apart in an increasingly commoditized market.
It should also help insurers position themselves as more holistic risk management and mitigation consultants, rather than their historical emphasis on transactional risk transfer and indemnification.
Cloud capabilities should be accelerating shift to customer centricity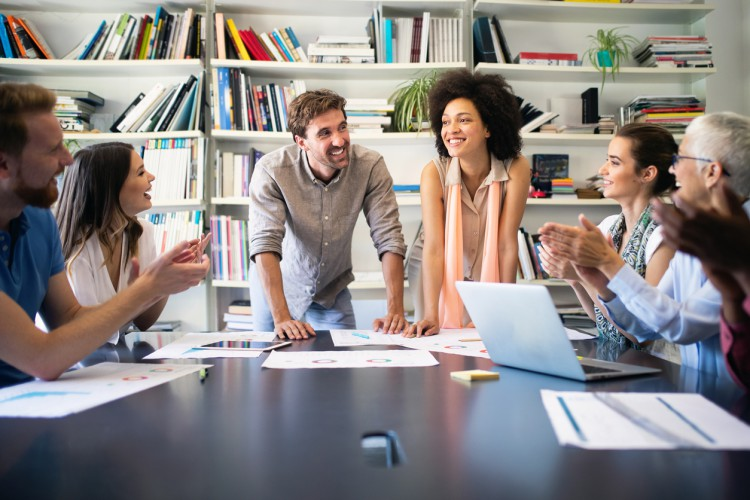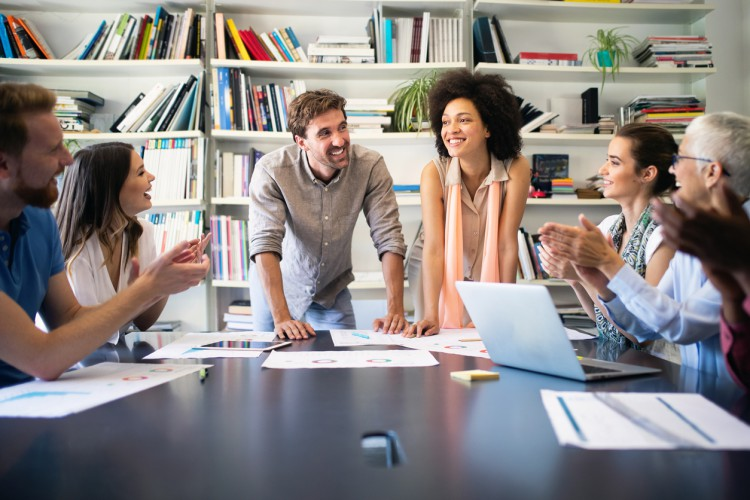 Transition to cloud platforms may well be the most significant technology initiative launched by insurers over the past few years, because of its potential impact throughout the value chain. Insurers have spent much time and money migrating data, systems, and applications to the cloud, laying the foundation for even more significant capability upgrades across functions and lines of business.
Many have started establishing a fully native cloud platform on which individual applications can be built, configured, and operated.
However, many are still struggling to realize cloud's full business value beyond table stakes cost savings and efficiency gains. This is often because parts of legacy technology and non–cloud native applications remain in place, creating a hybrid operating system inhibiting interoperability.
To realize the full potential of cloud adoption, the platform should be seen as a means to an end, rather than an end in itself. Moving to the cloud should merely be the beginning of an ongoing transition encompassing more and more data, systems, and processes.
However, while many carriers may have laid the cloud infrastructure, too often they still mimic the siloed manner in which operations were handled on legacy systems. This could limit their ability to take full advantage of cloud capabilities, as well as experiment, innovate, and transform their operations.
Cloud should ultimately be treated like electricity— as a facilitator. People generally don't talk about electricity powering light bulbs but focus instead on enhancing the lighting systems they enable.
Cloud should be in the background, providing the means to forge ahead with more transformative changes, enabling cross-functional compatibility and easier orchestration among multiple systems and applications.
While older forms of architecture may have also intended to offer interoperability, that goal is likely to be more attainable with cloud-based modular architectures and APIs, which can enable various systems to be integrated in a plug-and-play manner.
Ultimately, cloud should be helping insurers improve customer experience by bolstering digital capabilities and deepening their understanding of policyholder needs and preferences through cross-functional applications and data analytics.
Still, even as most insurers have begun to modernize operations through cloud adoption, many remain uncertain how to effectively piece together all their data, applications, and systems on the cloud—especially those areas particular to insurance.
Industry clouds can hypercharge an organization's capacity to change. Their preconfigured capabilities kick-start the digital build, and continuous innovation-led investment from ecosystem partners allows users to achieve greater nimbleness, scalability, stability, and optionality

Deloitte
This has prompted the emergence of providers with "industry cloud" solutions for underwriting, policy administration, claims, and other insurance value chain elements to layer atop more generic platforms offered by hyperscalers.
Now that many insurers have moved core systems onto the cloud, the next challenge will likely be to focus on microimprovements utilizing cloud-based applications specific to their business. This is where industry cloud providers should prove helpful, creating an application programming interace (API) layer making it easier to plug and play segment-specific functionality onto a more general cloud foundation.
It is likely that cloud-native architectures will not revolve around central core systems. Rather, the core itself becomes just one part of a broader infrastructure integrating front- and back-office elements. These various applications should be able to harmoniously coexist on the cloud, sharing data and supporting one another seamlessly.
What should a cloud-native architecture look like for insurers?
An agile and modular architecture with the ability to plug and play apps should enable greater innovation and differentiation.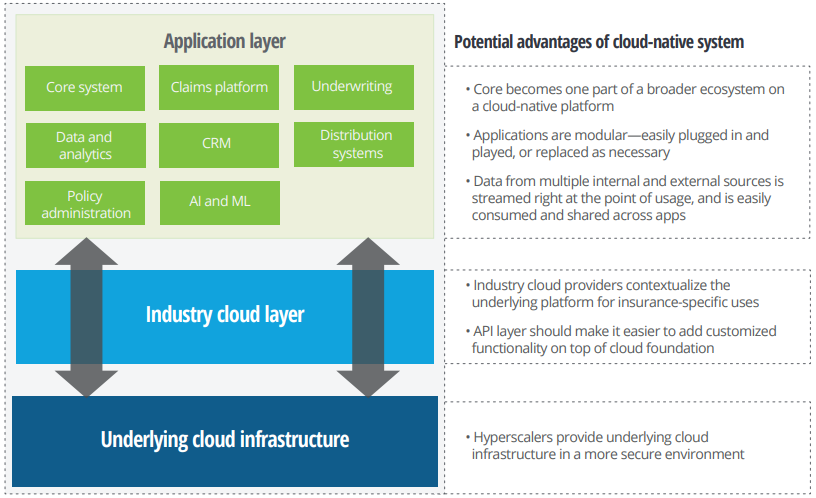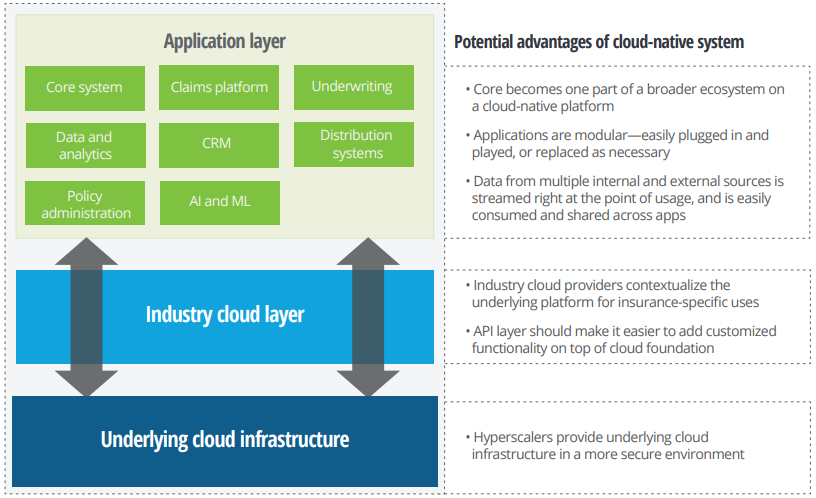 A cloud-based infrastructure also should enhance the usability and effectiveness of different application systems, such as AI and advanced analytics. These capabilities should become more consumable when embedded within the cloud as part of any new technological function added, rather than as a separate system.
As Deloitte's State of AI in the enterprise, 2nd edition reportconcluded: "By using cloud services as a gateway, it's never been easier to explore and access AI's potential—with minimal upfront investment and a reduced need for in-house expertise."
Insurers should also take into account geographic factors affecting cloud implementation—especially regulatory differences.
The EU, for example, sets General Data Protection Regulation standards specifically on how companies should process and protect EU citizens' data hosted on cloud platforms.63 Related data storage compliance laws around the world also should be taken into account when considering cloud options, particularly for multinational carriers.
The next leg of the cloud journey—moving remaining systems and industry-specific functions onto the cloud while making them more interoperable—could take time to implement. But insurers should already be taking steps to overcome lingering legacy obstacles preventing full realization of their cloud infrastructure's potential. This can enable carriers to amplify system capabilities while making data more accessible and actionable. They could then leverage cloud as a driver of innovation, differentiation, and growth.
As insurers continue to modernize their infrastructure and data management systems on and off the cloud, many questions should be raised and capabilities put in place to address increased frequency of cybersecurity attacks and expanding global privacy regulations, in collaboration with multiple stakeholders across IT, risk and compliance, business lines, and functions.
For example, where will data be stored geographically? Are there appropriate controls to request and manage access? How is data being protected by cloud providers? How is access monitored, managed, and authorized? How are insurers tracking data assets throughout their life cycle from creation to disposal? Such considerations can be further complicated as insurers increase adoption of public cloud platforms.
…………………….
AUTHORS: Karl Hersch – US Insurance leader, Principal Deloitte Consulting, Neal Baumann – Global Financial Services Industry leader, Principal Deloitte Consulting, Michelle Canaan – manager Deloitte Center, Sam Friedman – senior manager, insurance research leader Deloitte Center.