The estimated insurance claims bill from the sequence of earthquakes that hit Turkey and Syria earlier in February appears to be growing as more is learned about the extent of the damage it caused, according to S&P Global Market Intelligence.
The insured loss for Turkey
Economic losses in Turkey are likely to top $25 billion compared with earlier predictions of about $20 billion.
The insured loss for Turkey could exceed $5 billion, risk modeling company RMS estimated, after earlier estimates had converged around the $2 billion mark.
The quakes have killed 42,510 people in Turkey, according to the latest update from the country's Disaster and Emergency Management Presidency, and RMS said over 335,000 buildings had been reported damaged.
The United States Geological Survey now estimates that the initial magnitude 7.8 earthquake will trigger economic losses of 1% to 10% of Turkey's GDP, up from an earlier estimate of 0% to 6%.
While the insurance industry's share of the economic losses is expected to be relatively small, much uncertainty about the ultimate claims bill remains and full clarity may not emerge for several months.
Turkey's high inflation, which stood at 64.27% in 2022 according to the Turkish Statistical Institute, is complicating insured loss estimates. As of Feb. 24, US$1 was equivalent to 18.88 Turkish lira.
Counting the cost
A previous estimate from Verisk put insured losses from the earthquake at over $1 billion. CoreLogic has predicted an insured loss of up to $4 billion with a best estimate of about $2 billion, based on its expectation of an "insurable loss" — damage to building stock that could be insured — of $4 billion to $7 billion. Karen Clark & Co. had estimated $2.4 billion of insured losses.
Global insurers and reinsurers are expected to bear the bulk of the claims burden. The Turkish Catastrophe Insurance Pool, or TCIP, had a total claims paying ability of 46 billion Turkish lira in 2021, according to its annual report for that year, most of which came from its excess-of-loss reinsurance program, which covers losses from 5 billion lira to 36.9 billion lira.
Largest fire & natural disaster premiums in Turkey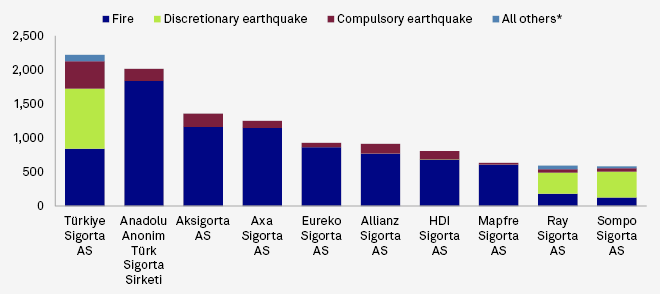 Munich Re and Swiss Re had the highest shares of the program, the report said. Munich Re pointed assessment of the catastrophe, which said international insurers and reinsurers cover "the lion's share" of the pool and confirmed that the reinsurer is a current participant on the program.
Insured losses appear to be an unusually small fraction [of the overall loss] compared to other natural catastrophes, adding that the company had been in touch with TCIP and primary insurers but was not able to quantify losses yet.
Turkish subsidiaries of large international insurance groups are prominent in Turkey's nonlife insurance market.
Allianz SE subsidiary Allianz Sigorta AS is one of the largest foreign-owned players in Turkey's overall nonlife market, and local subsidiaries of AXA SA, Allianz, Talanx AG, Mapfre SA and Sompo Holdings are among the top 10 fire and natural disaster underwriters, according to 2021 data from the Insurance Association of Türkiye.
Select insurers writing catastrophe insurance in Turkey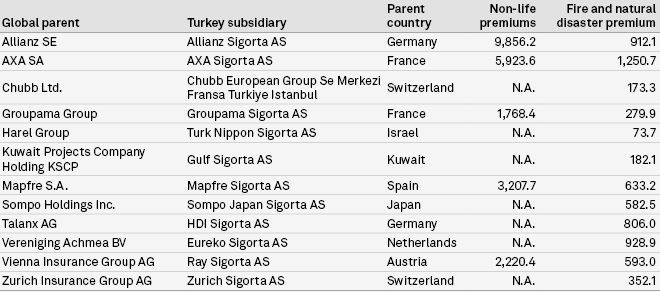 Allianz could have a claims bill between €50 million and €100 million. Mapfre is expecting its loss from Turkey to be a "medium-sized event" for the company, which would mostly fall on Mapfre Re.
Residential vs commercial insurance claims
While residential claims may take up the biggest share of the insured loss, commercial claims will also feature. Turkish loss adjuster Alesta, global claims firm Crawford & Co.'s partner company in the country, had received 500 non-TCIP claims.
In addition to property and business interruption insurance claims, there will also be marine cargo claims stemming from a fire at the port of Iskenderun.
The earthquakes hit an area in the country's southeast, which is less built-up and has a relatively low share of the compulsory residential earthquake policies issued by the TCIP.
The affected area accounts for less than 10% of the TCIP's total policy count of roughly 11 million, compared with 50% for the greater Istanbul area. The area is also "not a commercial hub in any sense of the word. TCIP policies pay out a maximum of 640,000 Turkish lira per policy, which limits residential payouts more generally. Residential claims will likely outweigh commercial claims.
Adjusters have yet to access some of the affected regions to assess the size and complexity of claims.
And, like elsewhere in the world, there will be a shortage of materials, supplies and contractors, and like-for-like construction may not be possible because there will be a close look at building codes and how was the building constructed. Taking a proper inventory of all of the effects will take at least 6 months [to] a year.
…………………….
AUTHOR: Ben Dyson – insurance reporter covering the EMEA region at S&P Global Market Intelligence
Fact checked by Oleg Parashchak