European venture valuations landed higher than expected in 2022 despite the current environment applying increasing pressure on startup price tags. Here's a look at five key trends from PitchBook European VC Valuations Report that explain how the market has impacted valuations.
The drop off in public market capitalizations has not yet made its way to European venture valuations, which are still pacing higher than last year.
But as the year progresses, company price tags for new deals may cause medians to fall. 2022 Report the key valuation trends across stages, sectors, and geographies. Foreign venture investors presents in half of all European deals 2022 worth €65 bn.
A total of 4,232 deals worth €65.2 billion included firms based outside of Europe in 2022. This represents 49.6% and 79% of overall European deal count and value, respectively.
The number of rounds with foreign investor participation is up slightly from 2021—when such deals represented 49.5% of overall transactions. On the other hand, in 2022, the share of deal value represented by rounds with foreign participation dropped from 81.7% to 79% as investors became more hesitant to commit large sums.
The median early-stage valuation paced at €8 million in Q3 as startups further from exit remain more sheltered from public market fluctuations.
The median late-stage valuation fell for the second consecutive quarter but still lands higher than expected.
VC down rounds register an uptick in activity from last year.
Median acquisition exit valuation reaches all-time high.
Early-stage valuations keep climbing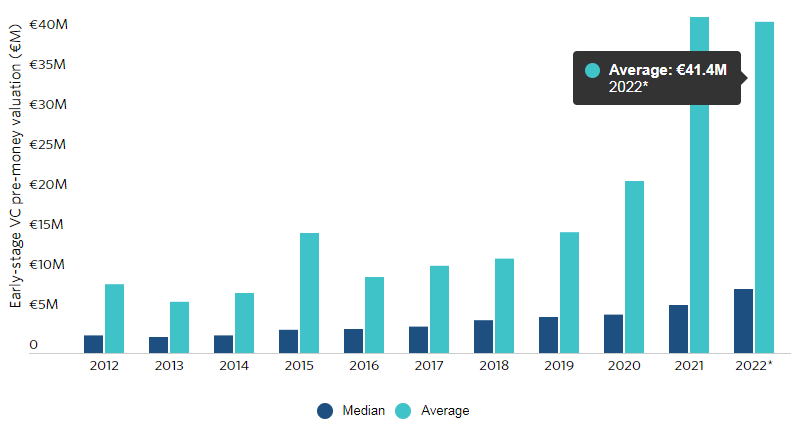 The median pre-money valuation for early-stage startups grew over 12% quarter-over-quarter to stand at €8 million in Q3 (see Venture Capital Investment in Web 3.0, Blockchain & Crypto).
Being further away from exit has helped insulate valuations from fluctuations in the public markets as investors are increasingly look toward the earlier stages to find new opportunities, driving up competition.
Late-stage valuations display weakness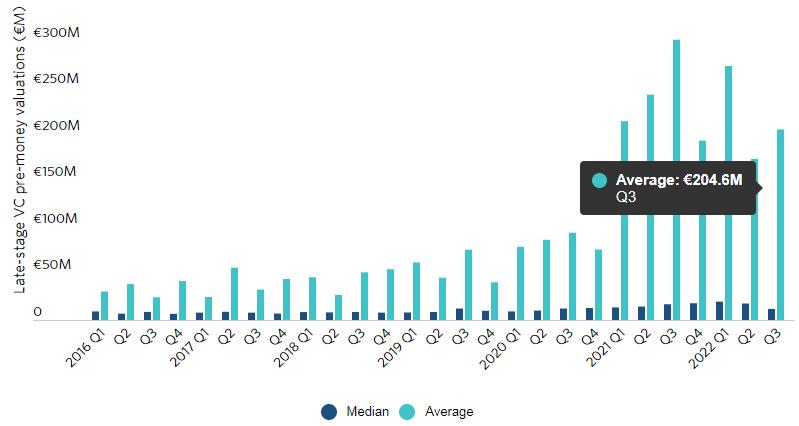 For the second consecutive quarter, the median late-stage valuation has fallen from its peak of €19.7 million at the beginning of the year. It is still pacing higher than last year at €17.2 million (see Investment in InsurTech).
Late-stage valuations are likely to continue on their decline as startups shift their focus from growth to conserving capital.
Deal sizes swell for seed-stage rounds
Seed investments saw the highest level of growth in deal sizes compared with other stages. From 2021 to Q3, the median round value increased by 63.6% resting at €1.8 million.
Seed-stage startups benefit even more from being years away from exit than early-stage. With monthly financial metrics being less important for these startups, there's more incentive from investors to write bigger checks (see Biggest FinTech Unicorns in the World).
Down rounds take a bigger share of the pie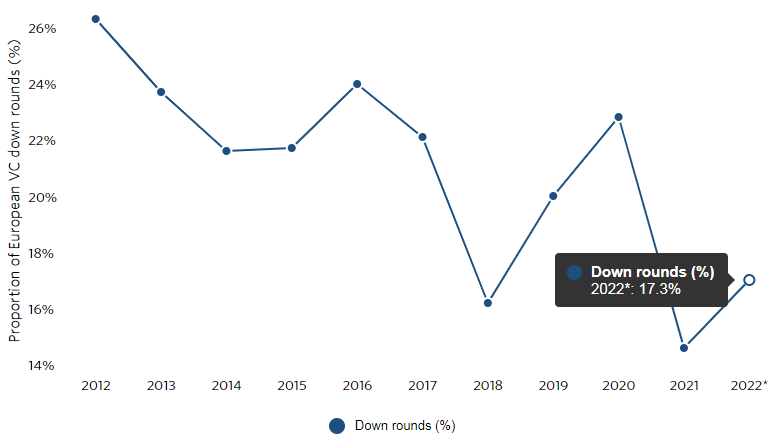 Down rounds are once again becoming more prevalent in Europe's VC ecosystem with these deals now accounting for 17.4% of overall count compared to 14.9% last year.
Funding continues to be harder to come by and, for startups looking to extend their runways, taking a valuation cut may be the only option if the current climate persists.
Exit valuations remain steady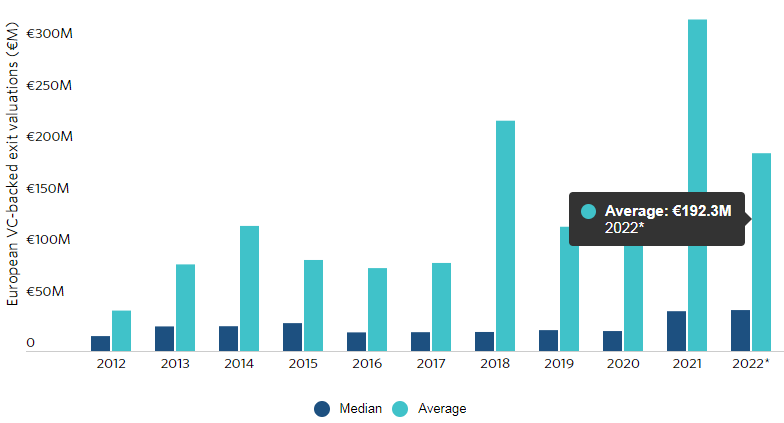 The median public listing valuation has fallen significantly with a quarter-over-quarter decline of 91.5% (see Biggest InsurTech Unicorn Startups in the World).
Acquisitions on the other hand have been buoyant with the median price tag coming in at €36.9 million in Q3 compared with €26.1 million in the same period last year.
……………………………
AUTHOR: Oleg Parashchak – CEO Finance Media & Editor-in-Chief at Beinsure Media