When it comes to technology priorities, insurers should be evaluating, refining, and scaling the various digital adaptations they implemented on an emergency basis during the pandemic to support a virtual workplace and customer engagement environment—making sure to align them with evolving long-term technology strategies.
According to Deloitte Digital and talent transformation Report, modernizing core systems should remain high on CIO agendas as carriers manage the end of life for legacy applications and look to rapidly integrate new data and automation solutions to boost efficiency and revenue—many of which would likely be deployed on cloud platforms.
IT transformation should be as much about people as about bytes and systems, especially with the battle for technology talent expected to be even more ferocious in 2022.
9 Technologies for Insurance Industry:
Cloud computing and storage
Data privacy
Data acquisition and processing
Robotic process automation
Insurers expect to be challenged to compete for software engineers who can integrate disparate systems and data sets, data scientists who can help make sense of the flood of information pouring into and out of insurer systems, as well as navigators who can lead cyber risk management in the face of rising threats from data breaches and ransomware attacks.
Emerging technologies where respondents expect to increase spending the most in 2022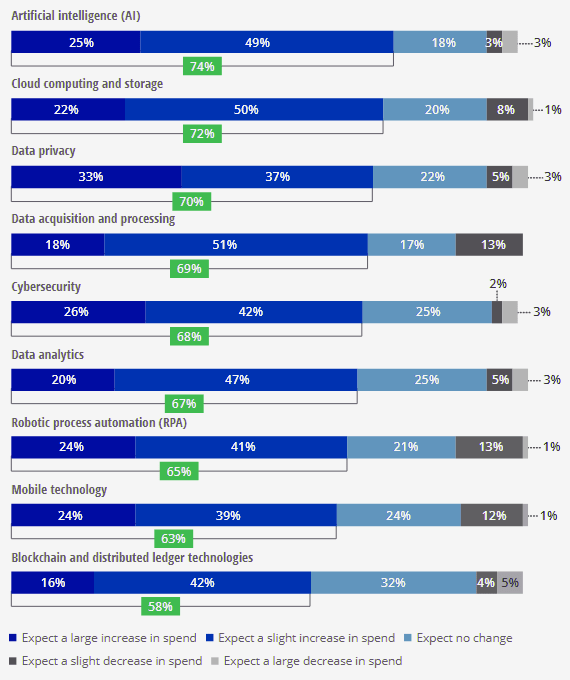 Given this multitude of pressing needs, it's not surprising that Deloitte's global survey respondents expect technology budgets to rise 13.7% in 2022. Emerging technologies where respondents expect to increase spending the most include AI, cloud, data privacy, data acquisition/ processing, as well as analytics.
Insurers are likely to be increasingly called upon to take steps to rebuild trust, contribute to a more just and sustainable world, and build a more equitable financial services industry where profit and societal impact coexist amicably
Insurers appear to have retained and may even have been able to build upon that foundation of trust despite disruptions caused by the pandemic, including denial of a number of property, business interruption, and liability claims for pandemic-related damages and mandatory lockdowns because of various policy exclusions—in some cases, prompting litigation.
Small business owners trusted in their insurers and agents
Still, about one-third of 5,300 small business owners in 14 countries surveyed by Deloitte said trust in their insurers and agents or brokers had actually improved significantly since the COVID-19 outbreak, while another third said their trust was at least somewhat improved. Only a handful said their trust levels had deteriorated, while the rest said it was about the same.
Among small business survey respondents who said their trust levels had improved, the top reasons cited were that insurers and their intermediaries had helped them through the pandemic by providing additional support services, accelerated claims payments, and premium discounts.
However, there are additional steps individual carriers could take to build greater trust and burnish the industry's reputation as risk managers. One way they might accomplish this is by leading efforts to come up with alternative financing mechanisms to cover a wider range of future pandemic losses, including potential public-private partnerships patterned after the one now supporting the terrorism insurance market.
They could also be more proactive in ESG initiatives to limit the causes of climate risk at its source, recruit a more diverse workforce and leadership team, as well as launch new products and services to alleviate coverage gaps for underserved communities.
Insurers might also bolster trust by becoming more open and collaborative with consumers on how all the new personal data available is being gathered and utilized. Only 11% of marketing leaders responding to our global outlook survey strongly agree that their company is much more transparent now in how they collect and use a customer's personal information, while 8 of 10 agreed they are not doing enough to make customers feel they are in control over their privacy.
………………………..

by Peter Sonner