The global economy is slowing sharply and inflation is at multi-decades highs: we anticipate what we call "inflationary recessions" in many major economies over the next 12-18 months.
According to sigma 4/2022 – World insurance Report, central banks are hiking interest rates, targeting price stability over economic growth. In our view, this is a notable positive to the current challenging conditions, on two fronts. It will help ward off 1970s-style stagflation. It also signals the end of the era of financial repression. For insurers, rising interest rates are a silver lining with investment returns set to improve.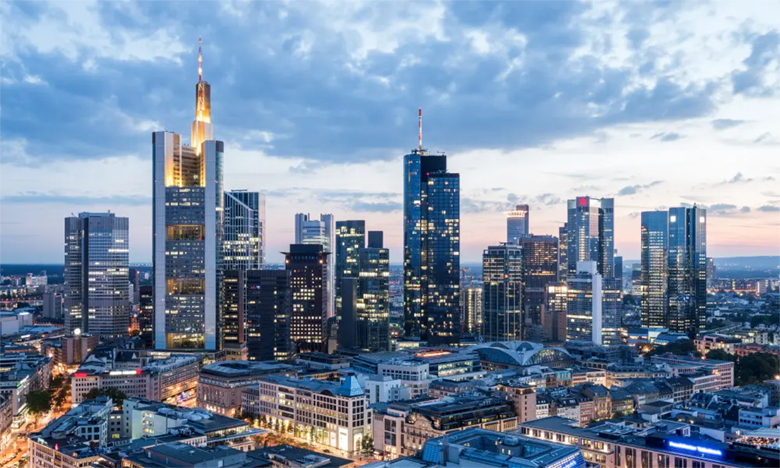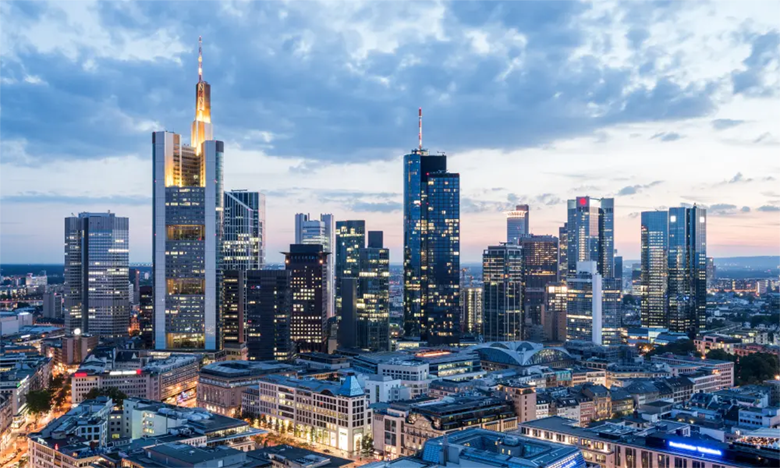 Insurance remains a growing industry – and reaching the USD 7 trillion mark for global premiums shows is a major milestone. However, these are not easy times and the insurers will need to keep a close eye on inflation and economic growth.
We expect high inflation to remain for longer, and forecast higher rates of inflation for the 2020s decade than in the previous 10 years. In the case of China, we believe structural factors such as increased productivity and rising digitalisation, among others, will lead to lower trend inflation (see How Does Inflation Challenging Insurer Profitability and Insurance Rates?).
Inflation – Next 10-year forecast average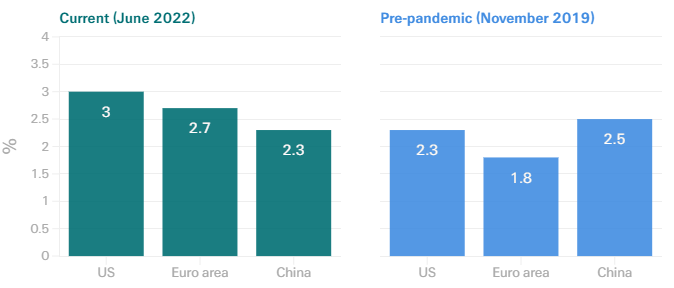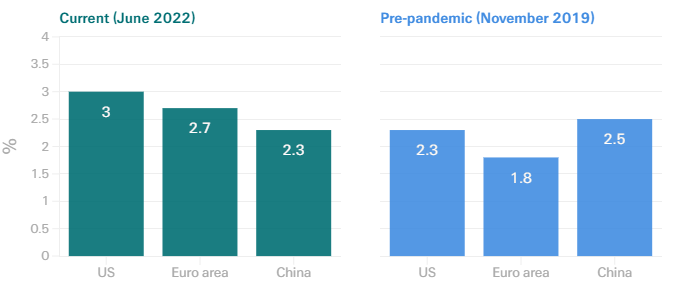 Historical data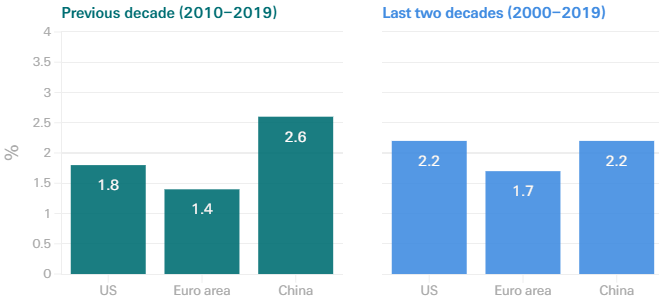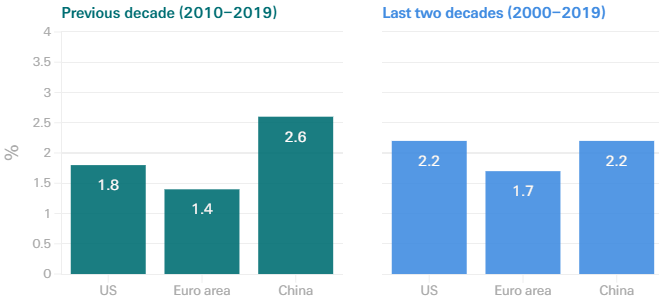 For insurers, the main inflation impact will show in rising claims costs, more in non-life than life insurance in which policy benefits are defined at inception. Motor and liability lines of business will likely be most immediately impacted. Accident, and motor and general liability will also be impacted, with inflation feeding into bodily injury claims (see How Do Insurance Markets Respond to Inflation?).
Swiss Re Institute estimate strong 6.1% nominal growth in total premiums (non-life and life) in 2022. In real terms, however, that translates into near flat growth (+0.4%).
Nevertheless, in nominal terms we expect total premiums volumes will exceed the USD 7 trillion mark for the first time ever this year. We base our estimation on strong market recovery from pandemic-induced lows, continued rate hardening in non-life, and stronger premium growth in emerging markets in particular (see Global Risk Management Survey). 
Real premium growth, 2020–2023F, non-life and life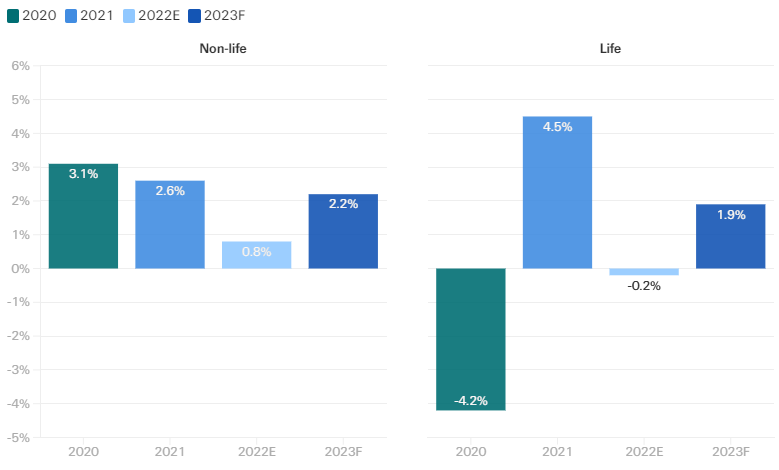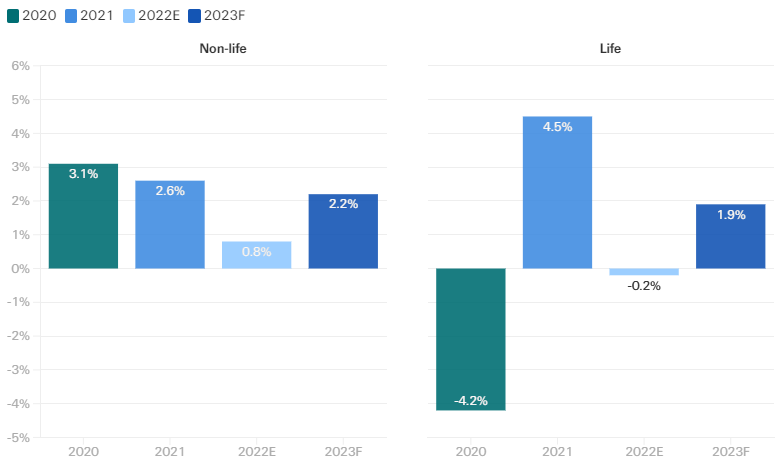 In non-life, we expect inflation of exposure values and rate hardening will boost global premium growth. Commercial lines (including workers compensation) will continue to expand more than personal lines (including health).
We estimate a 1.1% increase in commercial premiums in 2022, and a 3.1% gain in 2023, supported by rate hardening. Personal lines insurance premiums will expand by an estimated 0.5% in 2022, mainly on account of stagnation in advanced markets.
Global non-life premiums 2021, by line of business, USD bn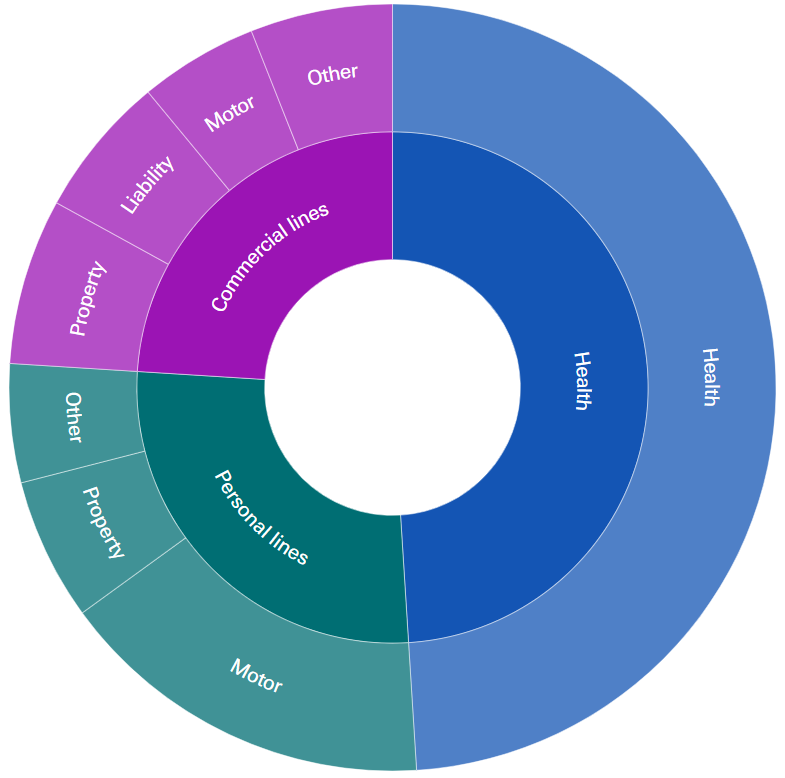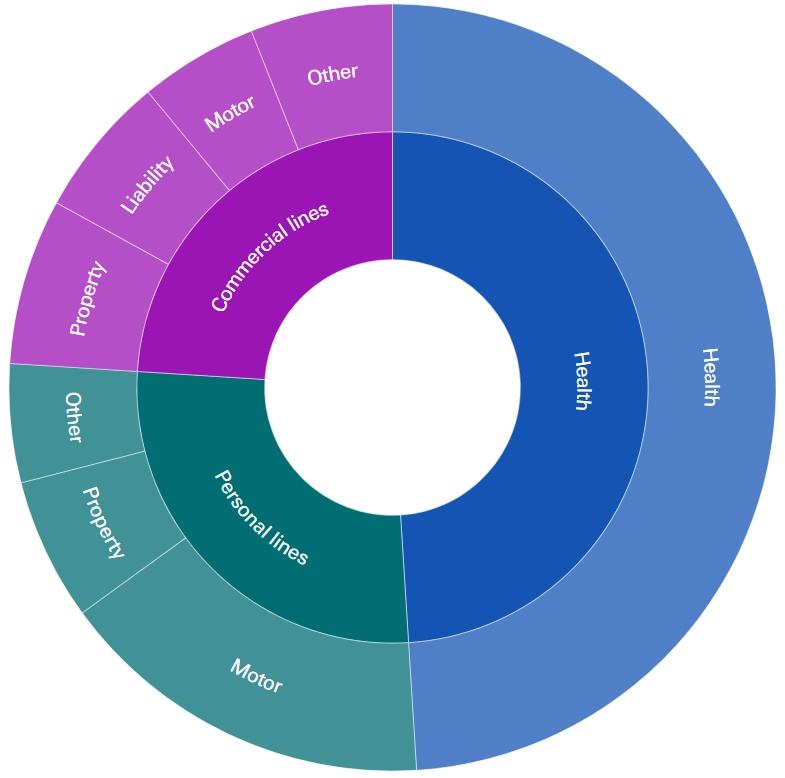 In life, we estimate that global premiums will contract slightly by 0.2% in real terms in 2022 (see How Life Insurers Prepare for the Future and Avoid Falling into the Recession Trap?). Saving premiums, which represent more than three quarters of the life sector, will likely suffer from volatile financial market conditions and falling disposable incomes. Increased risk awareness will continue to support demand for life protection products.
Global life risk and savings premiums, by volume and share of total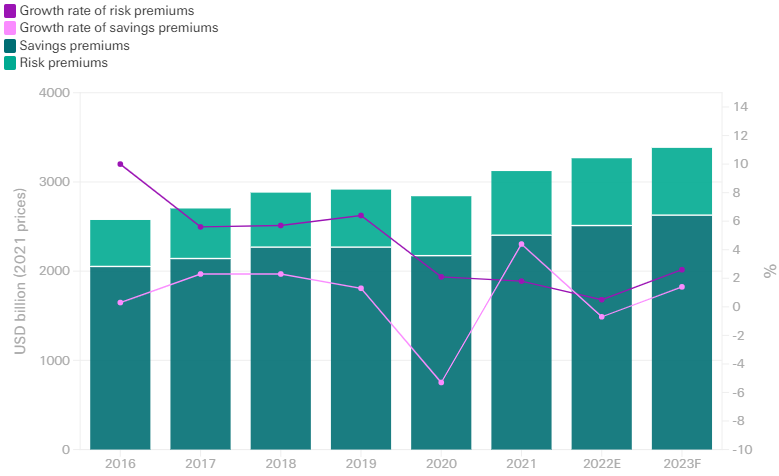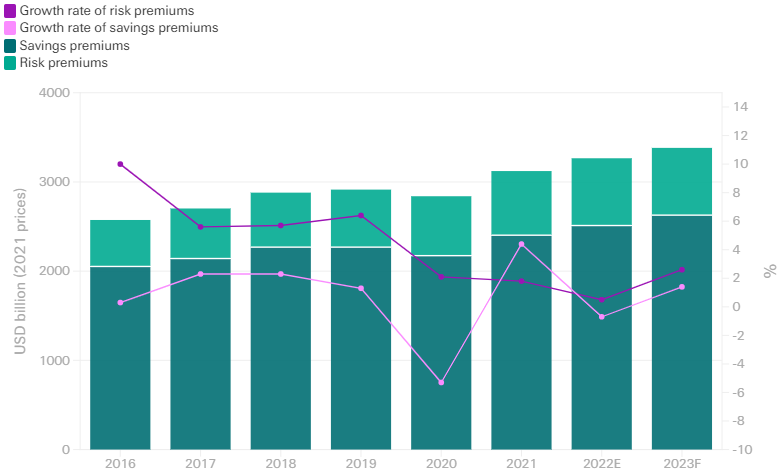 Other takeaways of this sigma are:
We are below consensus on our economic growth forecasts for the US and euro area in 2023, and expect that high inflation will linger for a while yet.
Lines of business susceptible to higher claims as a result of the war in Ukraine include niche segments such as aviation, trade credit, political risk and marine insurance (see How to Russia's War in Ukraine is Changing the World and Insurance?). Demand for cyber insurance could rise.
In non-life, we forecast a return to positive growth in real terms in 2023, with global premiums up 2.2%, based on ongoing rate hardening, mostly in commercial lines.
We expect the impact of high interest rates, stronger investment returns and improved underwriting results to start to show through in improved profitability next year.
Life premiums will grow by an estimated 1.9% in real terms next year, with heighted risk awareness post pandemic boosting demand for protection-type products, and as insurers increasingly go digital.
The impact of rising interest rates will likely show through in improved investment returns for life insurers in 2022 already, with a more significant boost in the medium- to longer terms.
The severity of COVID-19 claims may subside going into 2023 as the world adjusts to living with the virus. This too could support life sector profitability.
…………………….
AUTHORS: Fernando Casanova Aizpun – Senior Economist Swiss Re Institute, Li Xing – Head Insurance Market Analysis Swiss Re Institute, Roman Lechner – P&C Economic Research Lead Swiss Re Institute, Rajeev Sharan – Senior Economist Swiss Re Institute, James Finucane – Senior Economist of the Swiss Re Institute for the Americas