While the final quarter of 2022 was rough for many property and casualty insurers. The US P&C industry recorded a net underwriting loss of $26.5 billion in 2022, worsening by $21.5 billion from the previous year, according to S&P Global Market Intelligence analysis.
The US insurers showed a substantial weakening of underwriting profitability over the year, with personal lines losses and the impact of Hurricane Ian causing its collective combined ratio to deteriorate to 102.7%.
8.4% growth in net earned premiums and a 21.4% decline in policyholder dividend were countered by a 13.9% increase in incurred losses and loss adjustment expenses and a 6.2% rise in other underwriting expenses.
The personal lines segment, specifically the auto lines of business, were considered to be primarily responsible for the decline in underwriting results.
The 20 percentage point (ppt) gap between personal and commercial insurance lines loss ratios in the first nine months of 2022 is likely to decrease in 2023 as personal lines rate increases gain momentum and the drivers of motor inflation decelerate.
P&C Insurers in US wrote more than $800 bn (+9.5%) in premiums, generating about $780 bn (+7.5%) in earned premiums.
The 10 US Largest P&C insurance companies command almost half (47%) of the market, with the top 25 insurers accounting for two-thirds of the overall share. Direct written premiums (DWP) from these insurance providers reached almost $517 bn at the end of last year, while earned premiums slightly exceeded $488 bn.
P&C insurance includes auto, homeowners and commercial insurance. Net premiums written for the sector totaled $652.8 bn last year. Meanwhile, the life/annuity insurance sector includes annuities, accident and health, and life insurance with net premiums for the sector totaling $240 bn (see Global Commercial Property & Casualty Insurance Market Review).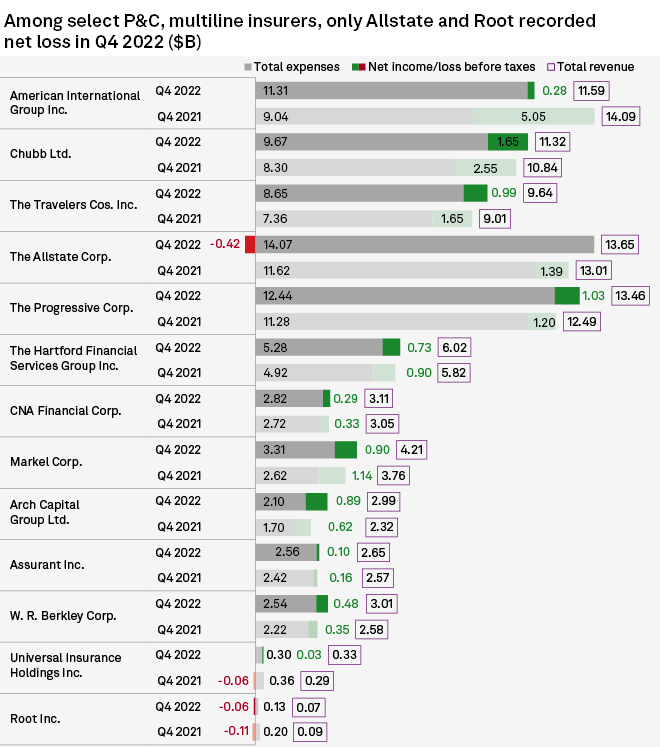 According to 2023 US P&C Insurance Outlook, the US insurance industry employed 2.9 mn people, according to the US Department of Labor. Of those, 1.7 mn worked for insurance companies, including life and health insurers (962,500 workers), P/C insurers (665,900 workers), and reinsurers (27,300 workers). The remaining 1.2 mn worked for insurance agencies, brokers, and other insurance-related enterprises.
2022 was a difficult year for the US P&C insurance industry: claims severities surged with inflation, natural catastrophe losses were elevated for a sixth straight year, and the lowest realized capital gains since 2009 offset higher fixed income yields.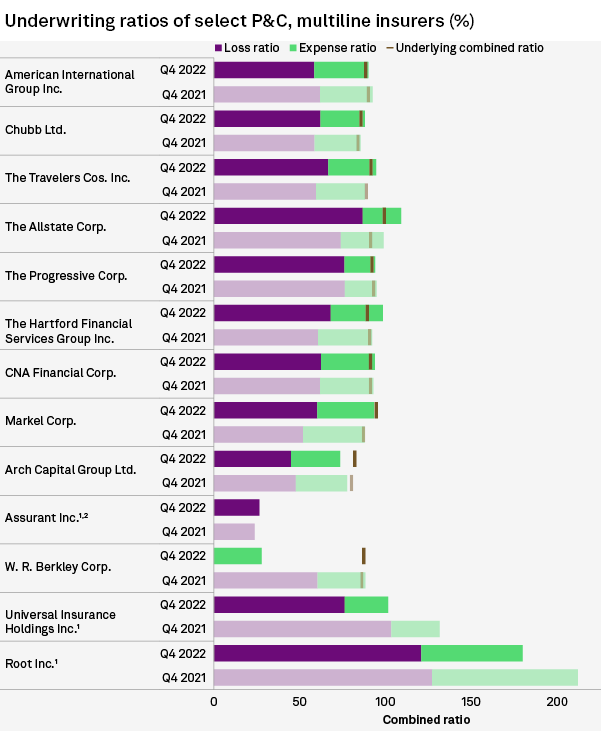 Allstate was one of two companies to record net losses in an analysis of fourth-quarter 2022 results for select public P&C and multiline insurers trading.
Auto insurance drive insurers' losses
Thedirect loss ratio for this line of business stood at 84.5% in 2022, more than 20 ppt above the average for the decade pre-pandemic.
On estimated full-year earned premiums of USD 110 billion, we calculate that this implies USD 22 billion of extra claims costs in 2022.
Mario Rizzo, president of Allstate's property and liability business, said sharply increasing loss costs in the company's auto lines were a key factor in the insurer's heavy losses.
Speaking on an earnings call, Rizzo said the fourth-quarter 2022 combined ratio of 112.6% for the segment was "substantially worse than our targets," and resulted in an underwriting loss of $974 million for the period.
Catastrophe losses of $779 million, primarily from a cross-country winter storm on Dec. 21–26, 2022, was one major factor behind the elevated combined ratio.
Universal Insurance Holdings Inc. and Root Inc. were the only other carriers in the analysis with combined ratios over 100% for the quarter, but both showed improvement year over year. Universal's combined ratio declined to 101.4% from 131.4% a year earlier, while Root's dropped to 179.7% from 211.9%.
The Hartford Financial Services Group Inc. came in just under 100% at 98.3%, an increase from 92.1% a year ago.
In 3Q22, Hurricane Ian and high inflation combined to create a USD 14.2 billion underwriting loss and an industry net loss of USD 3.7 billion. Investment results disappointed for a second consecutive quarter in 3Q22 as net realised capital losses again offset the benefit of higher interest rates.
However, downside risks remain, and a more severe-than-expected recession or inflation this year or in 2024 would pose risks for insurers' exposure and premium growth, claims costs, investment yields and capital gains.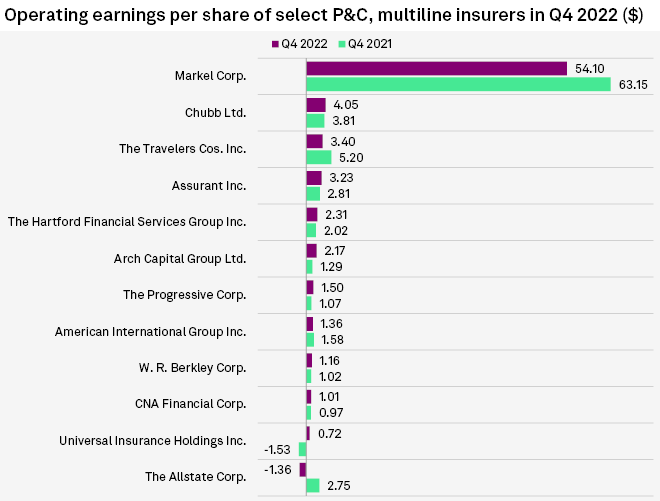 The statutory combined ratio for the P&C sector
American International Group Inc. logged a 17.8% decline in total revenue to $11.59 billion, from $14.09 billion a year ago. The insurer was one of just two companies in this analysis to see revenues fall on an annual basis.
The statutory combined ratio for the P&C sector was 103.02% in the fourth quarter of 2022, up from 99.83% a year ago, but down from 106.73% a quarter earlier.
A decrease in net investment income and realized losses on securities played key roles in AIG experiencing revenue decline among the companies featured in this analysis.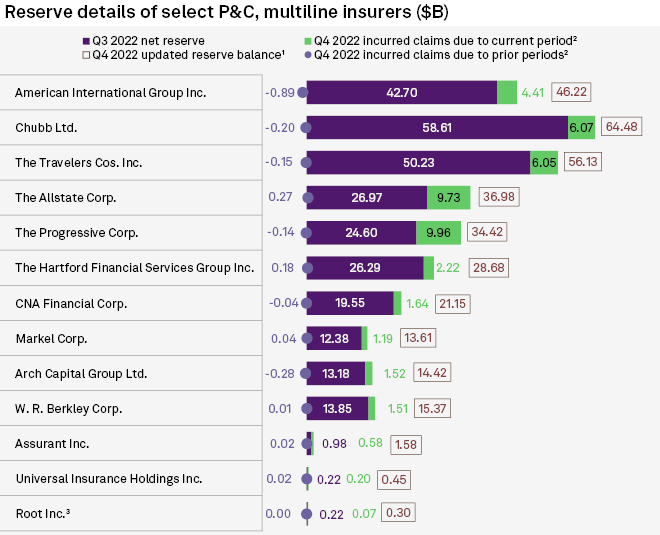 AIG's net investment income fell to $3.26 billion from $3.57 billion a year earlier, CFO Sabra Purtill said during an earnings call.
The decline was due to lower alternative investment income, principally on private equity investments, and lower bond call and tender premiums and mortgage prepayment fees.

AIG's CFO Sabra Purtill
The company in the analysis that reported a fourth-quarter 2022 decline in revenue was Root, which fell to $71.3 million from $93.2 million a year ago. Root booked a $58.3 million pretax loss in the quarter but managed to cut total expenses to $129.6 million from $203.1 million.
Catastrophe losses declined insurers income
Catastrophe losses accounted for 6.9 points on the 2022 combined ratio, down from an estimated 7.7 points in the prior year.
Excluding $3.8 billion of favourable reserve development during the year (down from $5.7 billion of favorable reserve development and the lowest amount of reserve releases in the last five years), the industry's accident year combined ratio was 103.2.
Analysts further noted that the decline in pre-tax operating income was held to 15.3% as a $10.8 billion distribution of cash and Treasury bills received by Columbia Insurance Company boosted the industry's net investment income by 27.6%.
With tax expense down 35.2% and realized capital gains down 83.2%, the industry's net income slid 31.3% to $42 billion.
P&C industry surplus declined 6.7% from the end of 2021, to $951.9 billion, as $67.1 billion of net income, contributed capital, and other surplus gains was reduced by $35.3 billion of stockholder dividends and a combined $136.6 billion change in unrealized losses at National Indemnity Company, Columbia Insurance Company, and State Farm Mutual.
……………
AUTHORS: Tom Jacobs, Kris Elaine Figuracion – S&P Global Market Intelligence analytics