Embedded insurance is fast becoming a favorite buzzword among insurtech entrepreneurs and insurance innovators. But what does it mean, and why does it matter? Put simply, embedded insurance is a form of digital bundling, enabling partners from virtually any industry to offer insurance policies as an add-on or feature, generally as part of a digital sale.
All embedded offers are not alike:
A soft-embedded (opt-in) sale occurs when the right customer is presented with the right insurance product at the right time. For example, an airline might present travel insurance just as a client is booking plane tickets and is more aware of this risk.
A hard-embedded (opt-out) offer is included within a primary purchase by default. For example, an extended warranty may be included within the purchase price of an electronic device, and the customer must affirmatively take action to refuse the embedded insurance product.
And then there is invisible insurance, or a product so firmly embedded within the primary insurance customer experience that involvement is mandatory. For example, Uber's rideshare insurance automatically covers drivers and passengers.
All types of embedded offers are growing in popularity as insurers seek to provide greater convenience and link coverage with brands that consumers know and trust (see Embedding Cyber Risk in Risk Management).
Bancassurance and Beyond
The appeal of this form of insurance distribution can be traced back to consumer wants and needs. Research surveys suggest increasing customer appetite for embedded offers executed well, due to speed, simplicity, and association with trusted brands.
A recent survey in the U.K. conducted by Momentive.ai and commissioned by Cover Genius sought to find out how customers of banks, nonbanks, and transactional apps would react to embedded insurance offers based on real-time transactional data: 71% of British digital bank customers expressed interest in receiving embedded insurance offers, and more than three-fifths of traditional bank customers were open to such purchases, with convenience being the primary driver.
Marketing analytics firm Forrester Research supports this analysis, predicting that one-third of insurers are likely to embed insurance products to extend their distribution reach in 2022.
Demand appears to be highest among customers who already use mobile-wallet-based investing accounts or similar apps.
Customers are ready. A survey by Accenture found that "customers are increasingly willing to consider insurance purchases while shopping for other needs.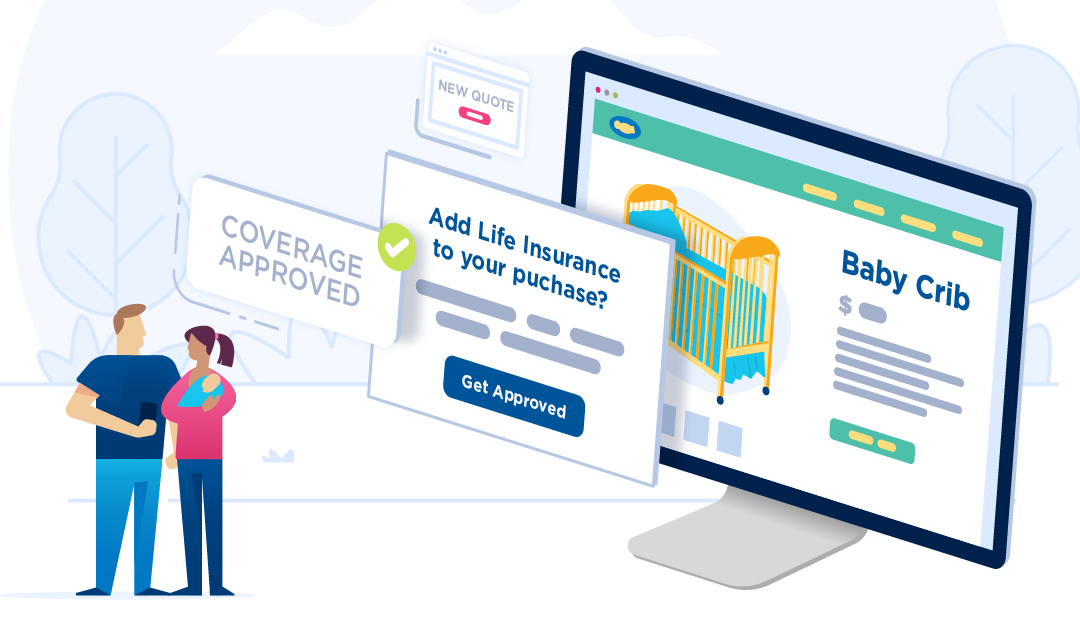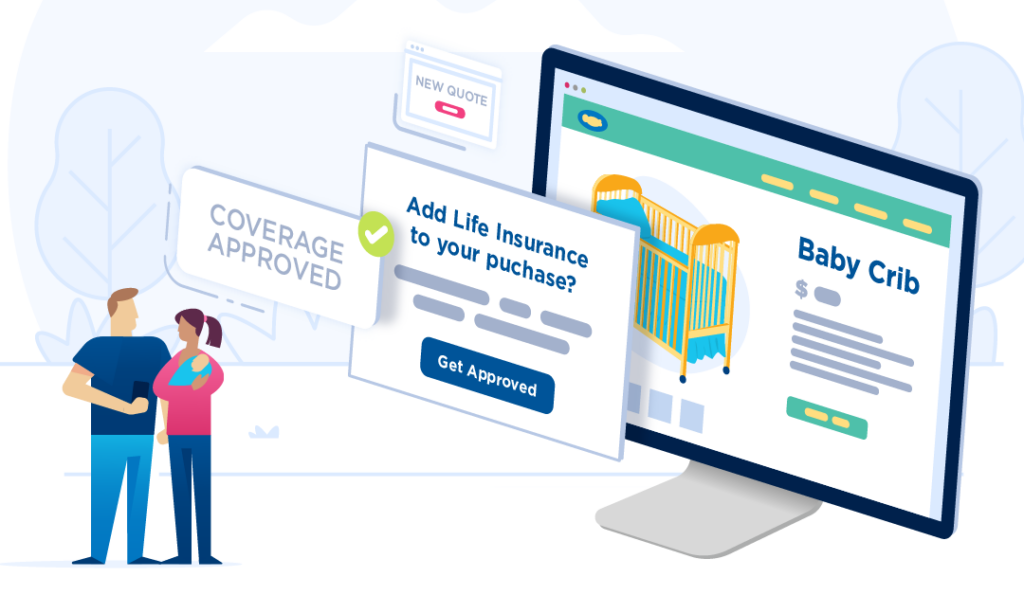 Some 40% would consider buying insurance from a car dealer, for instance, while 30% might choose a retailer or supermarket, and 29% would consider online service providers." This applies across all insurance products, including auto, home, and life.
What types of offers win? Unsurprisingly, bancassurance attracted the most attention, perhaps due to a longer history and association with trusted financial institutions.
A Cover Genius and Payments.com survey of U.S. consumers found that majorities are "very" or "extremely" interested in bank-embedded insurance offers, and appetite for these products rose dramatically when selecting for consumers who had already purchased some form of bancassurance product.
Insurance Ecosystem Solutions
The growing popularity of embedded offers is tightly linked to advances in technology and the emergence of insurance ecosystems, or networks of digital providers of health, financial, or related services.
Rather than engage in elaborate software integrations, insurers can now offer seamless connections to digital platforms of almost any type of business through low-cost, low-friction API (Application Programming Interface) connections (see The Future of Digital Transformation in Insurance).
Customers can then add coverage to non-insurance-related purchases with a click. This IaaS (Insurance-as-a-Service) approach is already well-established. For example, retailers often present appliance or electronics warranty offers just prior to online or in-store checkout.
Increasingly, this approach is being applied to insurance and within ecosystems of financial services and digital health providers.
Savvy insurers can pool data and insights from across systems and services to establish more personal, informed, and valued relationships with consumers and provide more customized and coordinated risk assessment and care.
Asian insurers are at the vanguard of this movement: Ping An Insurance Group in China has become the largest and most sophisticated embedded insurance provider in the world.
The group operates a collection of ventures from various non-insurance sectors, which it seamlessly integrates its own insurance offerings.
Likewise, China's Ant Group controls an interconnected financial ecosystem through its digital payment super-app Alipay. Via the insurance platform built in to the Alipay app, the Ant group sells thousands of life and non-life insurance products from dozens of carriers (see Life Insurance Market in China).
Lessons from Property and Casualty
Property and casualty (P&C) insurers were early entrants and may offer a case study in what life and health carriers can expect. The prominent Commercial P&C Insurance Sector examples are in automotive partnerships, such as the pact between electronic vehicle giant Tesla and State National Insurance Co.
In 2019, Tesla became one of the first auto manufacturers to embrace the concept of embedded insurance, offering the purchase of auto coverage at the point of sale through a partnership with State National.
In 2020, Toyota and Nationwide pursued a similar partnership but with a twist: In return for sharing their driving data, customers could receive discounts on their premiums.
Other embedded P&C examples include:
travel protection from Cover Genius through Ryanair, and from Allianz Partners through Singapore Airlines
travel insurance offered when purchasing accommodations from Marriott
extended warranty coverage from bsurance when purchasing appliances through UNIQA
Lessons for Life and Health
However, if P&C carriers have a head start in embedded innovations, life insurers are catching up rapidly. Insurers are partnering with companies and platforms that can present a digital offer strategically when consumers are motivated by relevant life events, such as applying for a mortgage, preparing for a new baby, enrolling in a college savings plan, or entering a student loan agreement.
Examples include:
A new partnership between CaixaBank's insurance branch and bsurance created a first-of-its kind embedded life insurance product made available online alongside other banking services.
A unique business-to-business-to-consumer B2B2C insurance partnership between Chubb and insurtech Betterfly in Latin America will expand life insurance in five countries in the region.
An insurance-in-a-box model offered by insurtech Bubble enables mortgage and real estate companies to embed homeowners and life insurance into real estate transactions. The model allows a range of companies to embed widgets, APIs, and URLs; to tailor quotes in real time; and to fit insurance offers seamlessly into existing home and loan purchase customer journeys. The two term life products offered are Next Term Life (Pacific Life) and Simplified Issue Term Life (SBLI).
A pact between Allianz Life in Ghana and the CFAO and Pay Angel Remittance mobile pay companies allow life insurance offers to be embedded in digital remittance services, a growing industry in Africa. Similarly, PUMA Energy Tanzania has partnered with Sanlam Tanzania, Selcom Tanzania, and TanManagement Insurance Brokers Limited to initiate life insurance cover embedded in smart payment cards. This initiative supports the government's efforts to increase insurance penetration.
Final Thoughts
This is a developing area, with great potential for growth in the coming years, that insurers should closely follow. Embedded insurance is proving to be a powerful way to reach new audiences and to bridge the protection gap.
To be effective, the product must be integrated into the online purchasing experience, remain affordable and easy to access via a seamless customer journey, and add value but not distract from the customers' main purchase.
…………………………
AUTHORS: Diana Bosworth – Knowledge Management and Information Specialist, Global Actuarial Pricing and Research (GAPR), Matt Berkley – Strategic Research Communications Lead, Global Actuarial Pricing and Research