Catastrophes and natural disasters in the Asia Pacific (APAC) region amounted to a total economic loss of $80 bn. A substantial protection gap (the difference between total economic losses and what's covered by insurance) of 86% meant many disaster losses were uninsured, according to Aon's Weather, Climate and Catastrophe Insight Report.
The extreme weather records broken across the year highlight the continuing need to strengthen resilience by adopting effective adaptation strategies and improving disaster management and warning systems, to better protect the communities in which we live and work across the APAC region.
The data, statistics and analytics of this report are intended to help organisations understand natural disaster and extreme weather trends, quantify and qualify issues influencing catastrophe risk, and make better decisions to enhance resilience (see Main Factors of the Increase in Insurance Losses from Natural Disasters).
APAC Natural Disaster Economic Losses Summary
Flood losses continued to dominate as the costliest peril for the third consecutive year, accounting for more than 61% of the loss total. Much of the flood losses occurred in South Asia, where the insurance penetration remains very low.
Economic losses were 35% lower than the average and 21% below the median of the 21st century. Insured losses in the APAC region reached approximately USD 11 billion and were notably below the average (USD 15 billion), yet as the statistic is skewed by an outlier year of 2011, losses were 18% higher than the median (see Global Insured & Economic Losses from Natural Catastrophes Outlook).
Roughly a third of the APAC losses were related to catastrophes in Australia.
In Asia, flooding remained a recurring threat with annual losses exceeding USD 30 billion every year since 2010. Pakistan, India, southern China and South Korea saw record rain and significant flooding in 2022 (see Inflation, Insurance Losses from Natural Catastrophes).
Tropical cyclone losses for Asia and Oceania were 75% and 91% below their 21st century averages, respectively. This greatly contributed to the relatively low natural disaster losses for 2022. The number of fatalities from tropical cyclones were also lowest in at least 66 years.
The APAC region was rocked by several large earthquakes in 2022. Nearly 2000 fatalities were reported and at least 300,000 homes were damaged in total, most notably from the earthquakes in Afghanistan, Pakistan, Indonesia, China, the Philippines and Japan.
APAC Economic and Insured Losses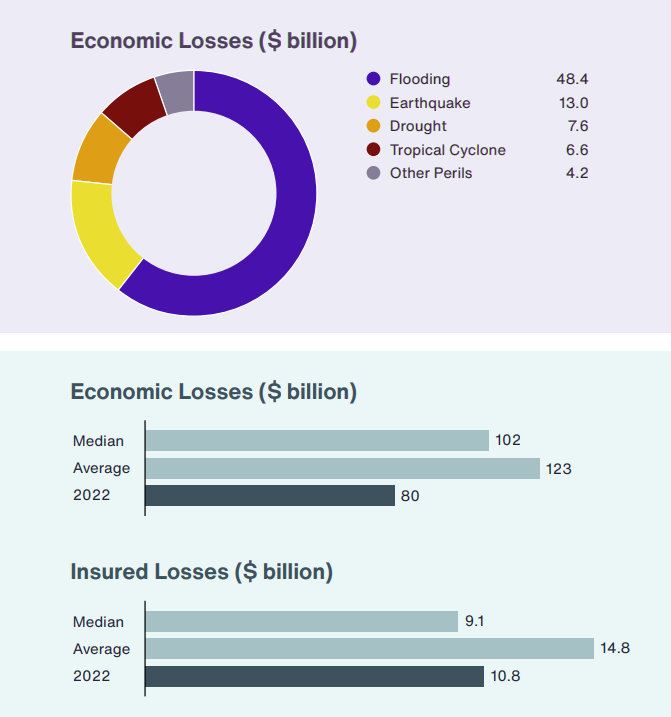 Monsoonal floods in Pakistan had a far-reaching humanitarian impact on the country, with 1,739 lives lost and over 33 million people affected. Ongoing impacts were felt through acute malnutrition or waterborne diseases such as typhoid, diarrhea and malaria.
Hospitals were overwhelmed as thousands of health facilities were destroyed in the flooding. In a summary of the 2022 monsoon season, the Pakistan Meteorological Department noted that country-wide rainfall from July to September was 175% above average.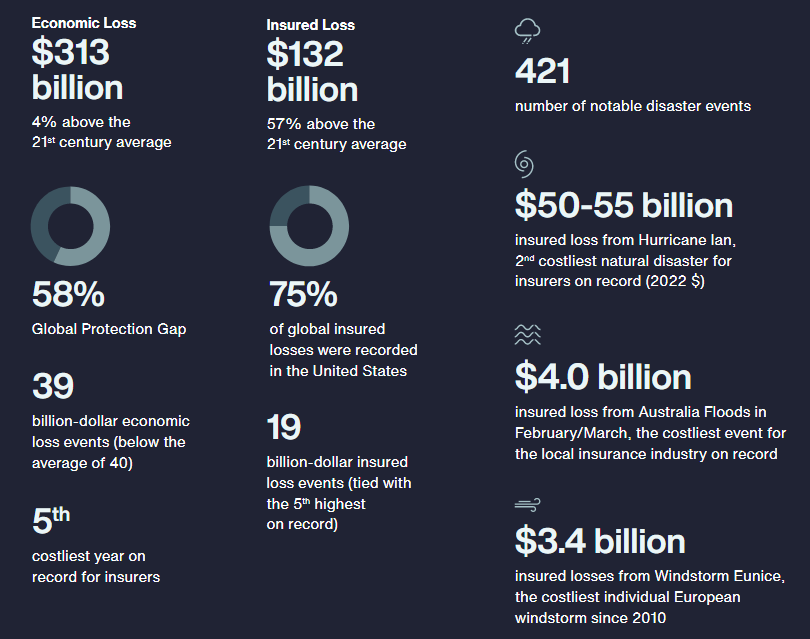 The top 10 global economic loss events
| | | | | |
| --- | --- | --- | --- | --- |
| Event | Location | Deaths | Economic Loss ($ bn) | Insured Loss ($ bn) |
| Hurricane Ian | United States, Cuba | 157 | 95.5 | 52.5 |
| European Drought | Southern, Western & Central Europe | N/A | 22 | 3 |
| U.S. Drought | United States | N/A | 16 | 8 |
| Pakistan Seasonal Floods | Pakistan | 1,739 | 15 | 0.1 |
| China Seasonal Floods | China | 195 | 15 | 0.4 |
| Fukushima Earthquake | Japan | 4 | 9.1 | 2.9 |
| QLD & NSW Floods | Australia | 22 | 8 | 4 |
| China Drought | China | N/A | 7.6 | 0.2 |
| Windstorm Eunice | Western & Central Europe | 17 | 4.5 | 3.4 |
| India Seasonal Floods | India | 2,135 | 4.2 | 0.1 |
Source: AON
Natural Disaster Losses in Australia
2022 was characterised by a continuation of the 'big wet', as Australia entered its third consecutive La Niña year. This was a rare triple-dip La Niña event, only the fourth triple-dip since 1900 and the first for 22 years.
The continuation of La Niña culminated in Sydney's wettest year on record since 1859. There were two declared CAT events in Australia in 2022, the February to March South East Queensland and NSW Floods, and the Victoria, NSW and Tasmanian floods in October.
In addition, there were several other significant events, including storms and flooding in the Hunter and Greater Sydney region in June, floods in central west NSW in November and December, and flooding in the Murray-Marling Basin and in the Northern Territory and north Western Australia, both in December.
In total, 2022 saw at least AUD 6.950 billion of industry reported losses (as of March 2023). Insured losses from natural catastrophes in H1 2023 estimated $23 bn.
The South East Queensland and NSW floods is now the largest insured loss event for Australia on record, with a reported industry loss of AUD 5.809 billion (as of March 2023), surpassing the 1999 Sydney hailstorm (AUD 5.57 billion). At the time of publication of this report, not all claims from this event have been processed, so the closed final loss is still to be finalised.
The 2022 east coast floods were the result of multiple slow-moving low-pressure systems and severe thunderstorms which brought heavy rainfall, damaging winds and hail, and the prolonged storm and flood damage was the result of a series of meteorological disturbances, which all had the same large-scale synoptic driver – a quasi-stationary low-pressure trough over the eastern seaboard.
This synoptic setup was very similar to the conditions that produced severe flooding in 1974 and 2011. This occurred against a backdrop of already very wet catchment conditions and was a widespread and slow-moving series of flooding.
Insurance claims spanned 35 river catchments, covering a 1600 km north to south extent. River flood peaks occurred over a 16-day period, and many rivers experienced more than one peak.
Flood depths varied greatly between river catchments. In Brisbane, Queensland, the flood depth had a 20-year recurrence interval, whereas in Lismore (northern NSW) flood depths exceeded the 800-year recurrence interval. Historical loss analysis suggests this weather event had a return period of loss greater than 100 years. Industry exposure CAT model runs suggest this level of loss sits somewhere between 50 and 100 years.
2022 was the third highest industry loss year on record since 1967. Flooding is now Australia's second most costly peril since 1967 (as of March 2023) – causing a total of AUD 23.53 billion of industry reported losses, now surpassing hailstorms (AUD 21.45 billion), but still behind cyclones (AUD 28.11 billion).
This emphasises the importance of 'secondary perils' to Australia's natural hazard environment. It is important to note, that some flood damage can be hidden in the event classification. For example, significant flood-related damage in cyclones, storms and hailstorms is aggregated into these classifications.
Australia has come out of a rare triple-dip La Niña. with the Bureau of Meteorology declaring its official end in March 2023. Australia is now currently in El Niño Southern Oscillation (ENSO) neutral conditions. International models (as of March 2023) suggest a 50% chance of El Niño forming in 2023/24, which is about twice the normal likelihood.
Natural Disaster Losses in New Zealand
In New Zealand, 2022 was the fifth highest loss year on record (going back to 1968) at NZD 335.59 million, with the largest loss contribution coming from the North Island floods in March, generating NZD 119.64 million from approximately 10,000 total claims.
PERILS, the independent Zurich-based organisation providing industry-wide catastrophe insurance data, has disclosed its initial industry loss estimate for the floods in the North Island of New Zealand during the period of 27 January to 2 February 2023.
PERILS' initial estimate of the insured market loss, based on loss data collected from the majority of the New Zealand insurance market, is NZD 1,650 mn ($1.018 mn).
In line with the PERILS event definition for New Zealand, this loss number covers the property line of business.
An updated estimate of the market loss from the North Island Floods will be made available on 2 May 2023, three months after the event end date.
Like in Australia, 2022 was an above average loss year, driven by an accumulation of flood and storm events from persistent La Niña conditions. Cyclone Dovi (NZD 54.84 million), the Levin Tornado (NZD 11 million) and the Tonga volcanic eruption (NZD 5.93 million) also contributed in 2022.
Overall, 2022 was a wet (and costly) year for New Zealand with flood and storm losses comprising 79 per cent of 2022 industry reported losses (NZD 263.77 million).
While weather-related perils have the potential to generate significant insurance losses, earthquake holds clear dominance as New Zealand's most expensive peril (both in terms of observed loss and future loss potential).
For example, the Canterbury Earthquake Sequence (2010-11) delivered a total insured loss of approximately NZD 38 billion. This total insured loss is by far the largest loss for the industry in the southern hemisphere, eclipsing the record-breaking Australian South East Queensland and NSW floods from March 2022.
2023 has already been a record-breaking loss year from weather perils in New Zealand and has seen far more significant loss compared to 2022. 2023 is now the second highest loss year, behind 2011
Both the Auckland 'Anniversary Day' storm and ex-tropical cyclone Gabrielle so far in 2023, are expected to generate total insured losses over NZD 2 billion and NZD 1.5 billion respectively, with both events far surpassing the previous highest weather-related insured loss event on record (the 2019 Timaru hailstorm at NZD 171 million).
Natural Disaster Losses in Asia
Flooding typically generates the highest economic losses from natural disasters in Asia.
Much of the flood losses in 2022 occurred in South Asia, where the insurance penetration remains very low. Economic losses were 35% lower than the average and 21% below the median of the 21st century.
In Asia, flooding remained a recurring threat with annual losses exceeding USD 30 billion every year since 2010. Many places saw record rain and significant flooding in 2022 including Pakistan, India, southern China, South Korea and Malaysia. In particular, the South Asia floods resulted in USD 19 billion economic loss (see TOP 20 Costliest U.S. Hurricanes. Losses Will Increase by 10% over 20 Years).
Extended summers accompanied by continuing La Niña conditions drove prolific rainfall in Sindh (Pakistan) and Meghalaya (India) also increasing risks of deadly landslides and/or overflowing rivers.
Along the east coast of Peninsular Malaysia there were floods and associated landslides after above average rainfall as part of the monsoon and active La Niña.
Much of the Indian subcontinent received above average precipitation totals and the monsoon extended further westward than usual towards Pakistan, causing widespread flooding. In a summary of the 2022 monsoon season, the Pakistan Meteorological Department noted that country-wide rainfall in July to September was 175% above average.
Regionally, the anomaly was the most significant in Balochistan (450%) and Sindh (426%), and was also above the long-term mean in Punjab, Gilgit-Baltistan and Khyber Pakhtunkhwa.
A large part of the country was under water for an extended period of time in August resulting in a significant humanitarian crisis.
The event highlighted many issues facing countries in Asia in context of disaster resilience and ability to respond to ongoing events.
A significant number of fatalities in Pakistan during summer were not due to the flooding itself, but rather secondary challenges that stemmed from the event, such as acute malnutrition or waterborne diseases such as typhoid, diarrhea, and malaria.
Tropical cyclone losses for Asia were 75% below its 21st century average. This greatly contributed to the relatively low natural disaster losses for 2022. The number of fatalities from tropical cyclones were also lowest in at least 66 years.
This is not only a result of below-average activity, but also improved disaster response and adaptation measures. Tropical cyclone losses in Asia dropped to one of its lowest with ACE (accumulated cyclone energy) scores in the northwest Pacific and north Indian respectively reaching their fifth and fourth lowest values since 1991.
The Philippines was impacted by Super Typhoon Noru, the fourth category 5 equivalent storm to make landfall in the Philippines in the past three years. The loss from Noru was lower than past events due to its track across the northern region of the Philippines which, while worst hit, is also less populated.
Natural Disaster Losses in China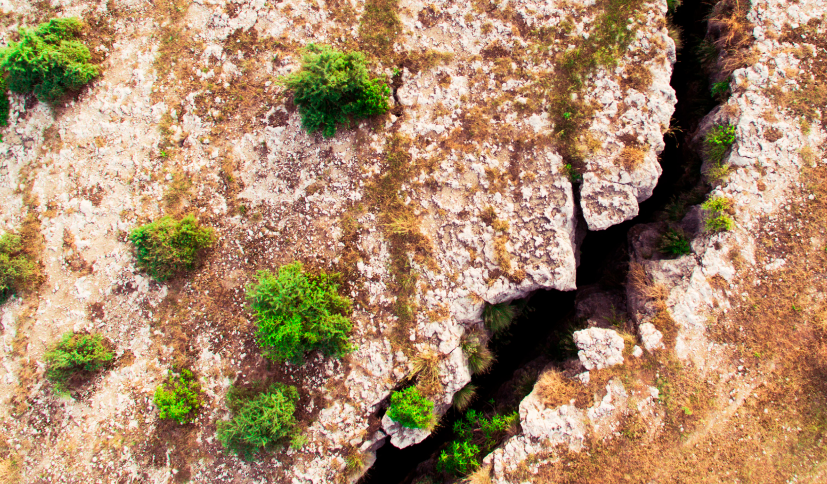 China's overall climate conditions in 2022 were poorer than average, with warm and dry climate features and prominent drought and floods. The national average temperature recorded is the second highest in history and the precipitation level was the lowest since 2012.
However, the area of crop damage, human deaths, and direct economic losses caused by natural disasters are lower in 2022 compared to the past five years' averages.
According to the yearbook recently released by the Ministry of Emergency Management of China, in 2022 a total of 112 million people were affected by various natural disasters throughout the year.
554 people were reported to have died or were missing due to the disaster, 47,000 houses collapsed and 796,000 were damaged, and a significant number of hectares of crops were affected resulting in a total direct economic losses of CNY 238.65 billion.
From May to June 2022, southern China suffered from a strong rainfall season. Under its influence, the Pearl River basin formed two consecutive floods, causing several local urban and rural flooding events with secondary losses.
The floods affected 6.49 million people in the Guangdong and Guangxi provinces, with a direct economic loss of CNY 27.82 billion.
In June, central and southern China, including the Fujian, Jiangxi and Hunan provinces, suffered several rounds of heavy rainfall, triggering serious flooding and secondary events that caused serious damage to agriculture, transportation, and water and power supplies, for a total direct economic loss of CNY 43.3 billion.
A total of four typhoons made landfall in China throughout the year, which were fewer than average with direct economic losses of CNY 5.42 billion, lower than historical averages.
In 2022, influenced by the strong and large subtropical high pressure and La Niña conditions, China experienced a higher average temperature and several local droughts occurred throughout the year.
A total of 52 million people were affected, 7.6 million people needed livelihood assistance due to the drought, and six million thousand hectares of crops were affected, with a direct economic loss of CNY 51.28 billion.
Among them, the drought in the Yangtze River basin lasted between July to early November and became the most severe hydrological drought event on record.
Typhoon activities for Hong Kong SAR and Taiwan were also low in 2022.
According to the statistics of the Central Weather Bureau Taiwan (as at 31 December 2022), the last typhoon landfall in Taiwan was 24 August 2019, meaning a record of 1225 days and the longest period of no typhoon activity since the official typhoon records in 1958.
Typhoons are an important source of fresh water in Taiwan, and whether or not a typhoon makes landfall has a great impact on the storage capacity of Taiwan's reservoirs, so the effective management of water resources has become a significant issue.
Natural Disaster Losses in Japan
In 2022, the average temperature in Japan was the fourth highest since statistics began in 1898. Three typhoons made landfall in 2022 which is almost the same level as the long-term observed average.
In August, warm and moist air flowed from the Sea of Japan toward the front extending to the Tohoku and Hokuriku regions, causing the atmospheric conditions to become extremely unstable.
It rained heavily in the regions which was then followed by Typhoon Meari, forming on 11 August and making landfall in Shizuoka Prefecture on 13 August.
Due to these series of meteorological conditions, 15 meteorological stations observed new records of 24-hour precipitation, and floods occurred throughout Japan including four first class rivers. There were 7286 reports of residential damage26, and the economic loss caused by these events is expected to be USD 141+ million.
Hinnamnor, a super typhoon that generated at the end of August, did not make landfall in Japan, but passed through the south and west of Japan, causing damage mainly in the Okinawa and Kyushu regions.
Eight stations observed new records of maximum wind speeds, and there were 234 reports of residential damages in Japan.
Typhoon Nanmadol, which generated in mid-September, was the most damaging meteorological disaster for Japan in 2022. The typhoon was slow moving which prolonged the precipitation affecting the region. The typhoon landed near Kagoshima City at 940 hPa, which is the fifth lowest observed central pressure at the time of landfall in Japan.
The damage expanded mainly in the Kyushu region where strong winds and floods occurred. 22 stations observed new records of maximum wind speeds, 37 stations observed new records of 24-hour precipitation, and floods occurred in the western part of Japan including one first class river.
2744 residentials were reported damaged and economic losses are expected to be USD 2+ billion
The intensity of Nanmadol weakened after landfall, and insurance losses were below reinsurance trigger points.
Typhoon Talas, which formed in late September, approached Japan immediately following Nanmadol. Talas had high central pressure and changed to an extratropical cyclone before making landfall, but it brought heavy rains on the Pacific side of eastern Japan. Several stations observed new records of
24-hour precipitation, and flooding was seen in several rivers, mainly in the Tokai region. The economic damage is expected to be USD 52+ million for this event.
La Niña and El Niño in the Pacific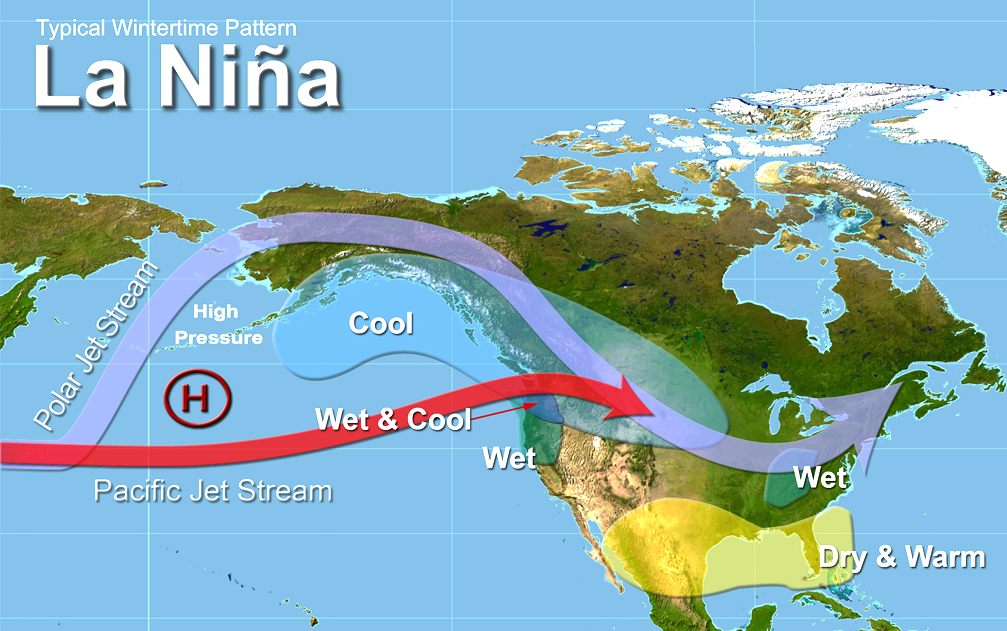 La Niña is one of the main drivers of loss volatility from weather perils. Analysis indicates that ~65% and ~80% of all cyclone and flood losses, respectively, have occurred during periods of La Niña since 1967.
Underpinning La Niña is the slower-paced climate system called the Pacific Decadal Variability (PDV). The PDV determines whether La Niña or El Niño weather events are strong or weak.
The Pacific Ocean Basin has been in a sustained La Niña-like phase of the PDV since 1998. AUD 1.61 billion increase in mean annual loss during PDV-negative (La Niña-like) years versus PDV-positive (El Niño-like) years.
Therefore, it is a key, yet relatively unknown, driver of decadal loss volatility.
Aon's analysis suggests the current triple-dip La Niña event is about to push the Pacific climate into a drought cycle. The current PDV Index is equivalent to the strongest negative values (La Niña years) on record.
In addition, the build-up of upper ocean heat content in the subtropical south-west Pacific means the PDV is nearing a tipping point, where a moderate El Niño event in the 2023-2025 period could flip the PDV to an El Niño-like phase for the ensuing decade.
Therefore, there is a high likelihood that the current triple-dip La Niña may be the precursor to the PDV flipping to an El Niño-like decadal state.
The historical loss record shows that periods of El Niño – in comparison to La Niña – are associated with reduced flood, cyclone and overall losses.
Therefore, a sustained decadal period of El Niño-like conditions would potentially exert downward pressure on insurance losses.
Closing the Protection Gap
There is no greater volatility we face – mitigating, and in some cases adapting to, climate change is one of our biggest challenges.
As the Asia Pacific region continues to be exposed to increasingly volatile weather conditions that are in part enhanced by the growing effects of climate change, including record-setting temperatures, rainfall, flooding, droughts, fires, cyclones, and storms, the substantial 2022 protection gap of 86% not only highlights the vulnerability of our region's communities, but also the opportunity for new solutions.
Closing the protection gap demands an "all-hands-on-deck approach" linking insurance with governments, public policy and other sources of risk-taking capital.
With scalable solutions, organisations can make better decisions to build resilience against increasingly volatile climate-related risks. Innovative products, such as parametric (re)insurance, can be an alternative risk transfer solution to address climate-related risk exposures more adequately, solving for uninsured or underinsured risks, while complementing traditional indemnity programs.
Catastrophe bonds, whilst created to provide post-event cover for traditional risks, also encourage pre-investment in research and development that accelerate clean energy transitions by assuring certainty of funds to deal with the impact of traditional claims.
……………….
AUTHORS: Peter Cheesman – Head of Analytics, Aon Asia Pacific, Tom Mortlock – Senior Catastrophe Research Analyst AON Pacific, Paul Koutouridis – Director Aon Global Risk Consulting, Brad Weir – Head of Analytics Aon Asia, Anvesh Dhagat – Senior Financial Analyst Aon, John Moore – Head of Analytics Aon Japan, Yifan Fu – Head of Analytics Greater China