PERILS, the independent Zurich-based organisation providing industry-wide catastrophe insurance data, has disclosed its initial industry loss estimate for the floods in the North Island of New Zealand during the period of 27 January to 2 February 2023.
PERILS' initial estimate of the insured market loss, based on loss data collected from the majority of the New Zealand insurance market, is NZD 1,650 mn ($1.018 mn).
In line with the PERILS event definition for New Zealand, this loss number covers the property line of business.
An updated estimate of the market loss from the North Island Floods will be made available on 2 May 2023, three months after the event end date.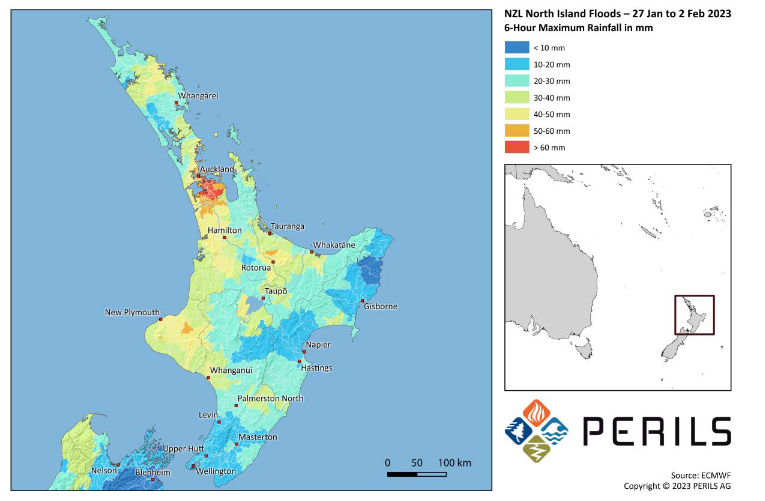 From 27 January to 2 February 2023, extreme rainfall caused severe inundation across the greater Auckland Region and surrounding areas on the North Island of New Zealand, resulting in the costliest weather event for the region's insurance industry to date.
The event was fuelled by extraordinarily warm and humid weather throughout the summer which culminated in record-breaking rainstorms on 27 January and 1 February.
These caused intense pluvial, fluvial and sewage flooding which affected a large number of insured properties.
The record rainfall amounts were driven by a pronounced atmospheric river which brought moist and warm air masses to New Zealand which collided with strong easterly winds that triggered the heavy convective rainfall over the North Island.
Although similar rainstorms have occurred in the past, these had previously spared major cities, whereas in this case Auckland was severely impacted.
This event is unprecedented being the largest weather-related insurance industry loss historically for New Zealand.

Darryl Pidcock, Head of PERILS Asia-Pacific
It is the third largest Cat event for the sector, only surpassed by the Canterbury Earthquakes of 2010/11 and the Kaikoura Earthquake of 2016. In addition, Cyclone Gabrielle passed through the North Island region only ten days after the North Island Floods, causing considerable damage and leaving many people homeless.
For two such extreme weather events to occur within such a short period is unprecedent in New Zealand's recent history and will test the industry's existing understanding of these perils.
This is the first New Zealand industry event loss to be reported by PERILS since we started covering the market in 2019. We hope it will further support the industry's understanding of extreme weather risk in the region.
PERILS is providing industry-wide natural catastrophe exposure and event loss data. The PERILS Industry Exposure & Loss Database is available to all interested parties via annual subscription.
The database contains industry property sums insured and event loss information on a CRESTA zone level and per property line of business.

by Yana Keller