The current environment is complex: inflation has stayed higher for longer than expected, natural catastrophes cause increased losses, the COVID-19 pandemic is still fresh in people's minds, uncertainty and volatility are on the rise. It comes as no surprise that there is a greater need for financial protection and a higher insurance demand.
According to Swiss Re, this complex environment presents also opportunities, with Swiss Re focused on supporting clients in understanding the risks and providing tools to help them grow (see Impact of Natural Catastrophic Risks).
Swiss Re expects the global non-life reinsurance market to grow by 3.2% p.a. until 2025
Swiss Re expect hard markets conditions to persist in 2023, based on rising demand for coverage and inflation-driven higher values of insured assets. On the supply side, a reduction in risk appetite on the part of capital providers has constrained market capacity. Interest rate hikes to fight inflation have also played a role, by increasing the cost of capital and reducing the value of financial assets.
On the life and health side, reinsurer sees subsiding COVID-19 mortality, hot employment markets and rising wages as supportive for the sector, coupled with higher interest rates.
Natural catastrophes: growing protection gap
The insured losses have grown by 5–7% p.a. over the past 30 years.
The loss generating power of nature, alongside the socio-economic and geopolitical crises of recent years helped pushed property reinsurance rates to close to 20-year highs in the January 2023 renewals season.
Reinsurance rates for property catastrophe business should increase by well over 10% when contracts are renewed, Fitch Ratings says, supporting underwriting margins against rising claims due to high inflation and climate change. Increasing prices and higher reinvestment yields will help to offset the effects of rising claims inflation and lower asset values.
Global economic losses from natural disasters mounted to USD 275 billion in 2022. At USD 125 billion, insured losses covered 45% of the damage, the fourth highest total for a single year on sigma records. Today, annual global insured losses of more than USD 100 billion from natural catastrophes are standard.
Global catastrophe insured losses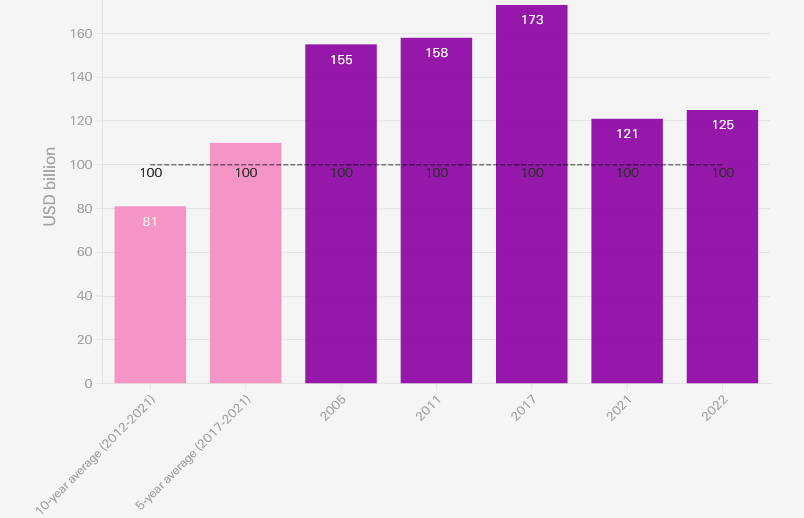 According to Swiss Re, this so-called protection gap is growing, driven by factors such as increasing frequency of climate-related natural catastrophe events (e.g. droughts, floods and wildfires) and wealth accumulation in risk-prone areas, such as near the coast or wild forests. Closing this gap is both an opportunity for insurers to grow and an important part of increasing global financial resilience.
We remain committed to the natural catastrophe market. It is a very promising business – if you understand the risk and have the trust of your clients.

Urs Baertschi – CEO Property & Casualty Reinsurance (P&C Re) Swiss Re
Growing risks need to be accompanied by risk-adequate pricing. Rising losses from catastrophes point to the need for full understanding of all risk factors, in particular with respect to secondary perils, which are not always monitored as closely as primary peril risks (see 10 Most Important Global Business Risks for 2023-2024).
The loss experience offers insights for re/insurers including a need for better monitoring and sharing of granular exposure data; the importance of observation periods and a debiasing of historical losses; and the need for models and underwriting decisions to adjust readily to rapidly changing physical and socio-economic conditions.
Historically, the soft market dating back to around 2013–2014 clearly reflected lower losses in those years.

Gianfranco Lot – Chief Underwriting Officer P&C Re
However, with USD 100 billion in annual natural catastrophe losses coming through regularly, those rates needed to go up. The current hard reinsurance market is a logical economic consequence of the series of interconnected risks.
Climate-related natural catastrophes do not only affect the re/insurance property market but have implications for many other insured assets across the globe: from wind parks and solar panels to crop fields and container ships.
Moderate premium growth in traditional life insurance
Multiple tailwinds support the L&H business, such as higher interest rates and subsiding COVID-19 mortality. Swiss Re expects the global L&H market to recover in 2023 but nevertheless, stay below the historical trend. Challenges include an eventual economic slowdown.
We have very strong teams, with often decades-long leading industry experience. This allows L&H Re to cover more than 280 million family members around the globe.

Paul Murray, CEO L&H Re
Swiss Re's business is well diversified across mortality, health and longevity risks, as well as different regions around the world. The mortality market is growing, helped by increased risk awareness in the aftermath of the COVID-19 pandemic, while growth in health is driven particularly by Asia.
Since 2002, society experienced five pandemic/near-pandemic viruses: SARS (2002–2004), MERS (2012), the avian flu (various, ongoing), the swine flu (2009–2010) and COVID-19 (2019/20–2023).
After SARS, in 2006, Swiss Re started developing its own pandemic model to perform stress tests on its portfolios.
Swiss Re model various factors around disease characteristics, non-pharmaceutical and pharmaceutical interventions, demographics, dependencies on financial markets and non-L&H business factors.

Julien Descombes, Chief Underwriting Officer L&H Re
The experience of the COVID-19 pandemic has led to various updates to the pandemic model, from underwriting guidelines to capacity adjustments. However, overall COVID-19 has not significantly affected Swiss Re's view of the long-term mortality trends.
Future longevity gains
Historically, mortality improvements have typically come in waves. Since 2010, however, population-level mortality improvement has slowed, plateauing in several key advanced markets, primarily reflecting a flattening in deaths due to cardiovascular diseases.
Almost every region saw a drop in life expectancy between 2020 and 2022 due to COVID-19.
We are monitoring the situation carefully to see how the pathway will develop. This should normalise over time as we move from pandemic to endemic

Natalie Kelly, Head Global Underwriting, Claims & R&D at L&H Re
Future longevity gains are likely to come from several areas of medical breakthroughs, including cancer diagnosis and treatments, and new treatments for Alzheimer's disease.
There are many future developments which could drive positive and impactful improvements in life expectancy, but these take time to develop and come to fruition. Our greatest opportunity remains our own lifestyle choices.
In many markets long-term mortality improvement trend has grown more complicated over the last decade.
The significant advanced-market gains that characterised the 20th century have slowed or plateaued in the last decade or so, due to forces re/insurers like Swiss Re have a key interest in understanding.
That's because even modest rate changes can have an impact on L&H insurance portfolios. Our industry has a role to play when it comes to bending the curve in a more positive direction.
For instance, dramatic gains in the UK that accelerated in the 1960s to lift life expectancy to now more than 80 years from 65 at the close of World War II have, unfortunately, tapered off. The US experience has been more sobering: Life expectancy began faltering a decade ago and stands at around 76 years; in longevity, the world's biggest economy now trails its peers.
One thing we have learnt is historical progress in lifespan improvements often comes in waves, driven by medical, nutritional, or lifestyle advances that aid healthy aging. Significant gains that accompanied the golden era of antibiotics in the 1950s, awareness of smoking risks, or cholesterol-lowering drugs were often trailed by slowdowns, perhaps like the one we're now experiencing.
…………………
QUOTES: Urs Baertschi – CEO Property & Casualty Reinsurance (P&C Re) Swiss Re, Paul Murray – Chief Executive Officer Life & Health Re​insurance Swiss Re, Gianfranco Lot – Chief Underwriting Officer P&C Re, Julien Descombes – Chief Underwriting Officer L&H Re, Natalie Kelly – Head Global Underwriting, Claims & R&D at L&H Re