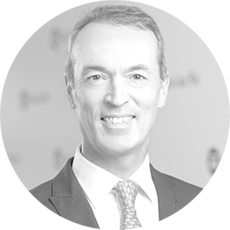 Paul Murray – Chief Executive Officer Life & Health Re​insurance Swiss Re
Paul Murray began his career in 1994, progressing through various insurance industry roles in Scotland, South Africa and eventually London, where he worked for an actuarial consultancy.
He joined Swiss Re in 2003 as a Marketing Actuary, and was appointed as Managing Director, Head of Life & Health Products, UK, Ireland & Africa in 2006. From 2010 to 2014, he held the position of Managing Director, Head of Life & Health Products, Asia, while based in Hong Kong. In 2014, he returned to London where he was Chief Pricing Officer and Head of the Life and Health Products Centre. Since 2018, he has been Global Head of Life and Health Products, responsible for supporting transformation of insurance markets globally, and additionally leading the Swiss Re Sustainability initiative for Life and Health.
Paul Murray was appointed Chief Executive Officer Reinsurance Asia and Regional President Asia, and member of the Swiss Re Group EC, as of 1 April 2022. Effective 3 April 2023, he assumed the role of Chief Executive Officer L&H Reinsurance.
Educational background
Master's degree with honours in Mathematics, Glasgow University, United Kingdom
Post-graduate Diploma in Actuarial Science, Heriot Watt University, United Kingdom
Fellow of the Faculty of Actuaries (FFA)