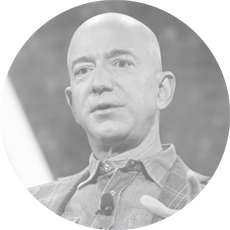 Jeff Bezos, Amazon
Jeff Bezos founded e-commerce giant Amazon in 1994 out of his garage in Seattle. He stepped down as CEO to become executive chairman in July 2021. He now owns a bit less than 10% of the company.
He and his wife MacKenzie divorced in 2019 after 25 years of marriage and he transferred a quarter of his then-16% Amazon stake to her.
Bezos has donated more than $400 million worth of stock to nonprofits in 2022, though it's unclear which organizations received those shares. Bezos owns The Washington Post and Blue Origin, an aerospace company developing rockets; he briefly flew to space in one in July 2021.