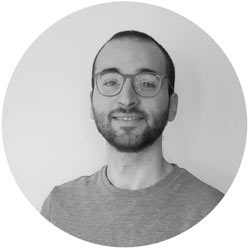 Matthieu Nadini – data scientist Elliptic
Matthieu is a data scientist at Elliptic with a focus on data-driven analysis of multiple blockchains, specializing in Bitcoin and Ethereum behavioral patterns and NFT trading behavior. He has conducted research on blockchain technology and NFTs at City University of London and The Alan Turing Institute. He holds a PhD in Engineering from New York University, which he completed in 2020.
I analysed several datasets in Python and conceived mathematical models to find their relevant structures. For instance, I detected the individuals that are strong work collaborators in a workplace environment. I coded the mathematical models in Python and C++

I co-mentored a total of four undergraduate students and one master student. I was the instructor of several laboratories, for a total of 138 students
Working at Dynamical Systems Laboratory (DSL) on 'Network-based modeling of infectious disease epidemics in a mobile population' under the supervision of Prof. M. Porfiri and A. Rizzo.