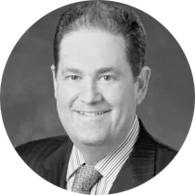 Richard T. Roth – Principal Deloitte Global Benchmarking Center Deloitte Consulting
Rick leads Deloitte's Global Benchmarking Center, responsible for overall benchmark methodology and operations. Rick has extensive experience working with Fortune 100 companies across all areas of SG&A, including finance, information technology, procurement and human resources.
Through relevant peer data comparisons, Deloitte's GBC can provide executives with an understanding of their costs & where there are potential performance improvement opportunities. The GBC has conducted functional benchmarks for more than 4,000 clients demonstrating success with incorporating benchmark process, structure, & rigor to complex engagements.
Rick is a sought-after speaker, and is frequently quoted by media such as CFO Magazine, CNBC, Financial Times and Business Week.
Most recently, Rick was a President at The Hackett Group.
Prior to Hackett, he was a partner at KPMG responsible for co-founding the World-Class Finance Practice. Rick is also a member of the Cognos Innovation Center Advisory Board.