HR benchmarking in Insurance uses both quantitative and qualitative data to make comparisons between and within organizations, roles, practices, and processes. It is used to provide feedback to organizations for continuous improvement to their people practices and challenge existing processes.
What is HR benchmarking?
Companies usually benchmark against similar competitors of the same size or industry, intending to incorporate better practices into their routines.
Benchmarking is the process of comparing similar characteristics between businesses, identifying the most successful practices, and integrating them into the company procedure.
After collecting data for comparison purposes, HR professionals can better determine the benchmark– the target that they want to shoot for.
Let's, for example, say that there is a bank located in Germany. As a financial institution, it could compare its human resources practices (recruitment, retention, employee engagement, net promoter scores) to other similar institutions in Germany. This would be an indicator of how the organization is performing relative to the other organizations.
Why should HR leaders care about benchmarking?
HR professionals can reap valuable information from benchmarking. They can use benchmarking to identify the gap between techniques in their own company, and similar practices in more successful companies.
Through analyzing the reasons for these gaps, HR leaders can determine which practices and policies are effective, and which need adjustment. Studying competing company practices can also keep HR leaders informed regarding the constantly changing landscape of customer demands.
HR leaders can use benchmarking to improve:
Recruitment
Engagement
Retention
Training
Compensation planning
Budgeting
Turnover rate
What can HR leaders do to ensure effective benchmarking?
To implement impactful benchmarking, HR can:
Define the focus area. HR leaders can collaborate with colleagues to pinpoint the issue in need of improvement, and formulate a question that the benchmarking process will address. For example, a company looking to hire in house brand marketing designers could ask: what compensation can we offer that fits the company budget and needs, as well as attracts and retains talent?
Identify the measurements. Difference metrics allow HR leaders to compare specific aspects of their company with those of other companies.HR leaders can measure, for instance:

Quality of hire
Turnover rate
Quality of work
Market index
Average compensation per employee

Collect data. Professional HR leaders engage in extensive, in-depth research to find external information that accurately corresponds to their measurements. They often purchase benchmarking reports that save them from having to sift through irrelevant information and provide accurate, pertinent data.
Study the gaps. Comparing internal and external metrics, HR leaders should ask what their organization can do to achieve the success that other companies have reached. Based on the data they collect, HR leaders can implement changes that align with company strategy. Perhaps, for instance, a company prides itself on high base salaries.
Design a plan to implement the changes. HR leaders and colleagues can collaborate to implement an executive-backed plan that achieves the designated goals. Creating a detailed plan that meshes with the company culture can increase the chances that employees will readily accept the new changes.
Analyze the long term results. After a specified period, HR professionals should follow up to ensure that the new changes are leading to positive results, and then provide a detailed report to distribute to collaborators.
HR challenge
In today's challenging economy, insurance institution's human resource (HR) organization should be more nimble than ever to respond to constantly changing internal and external pressures.
According to Deloitte report, these pressures challenge their ability to achieve operational excellence, improve work force effectiveness, develop future leaders, and capitalize on the growth of emerging markets.
Complex and quickly evolving external and internal factors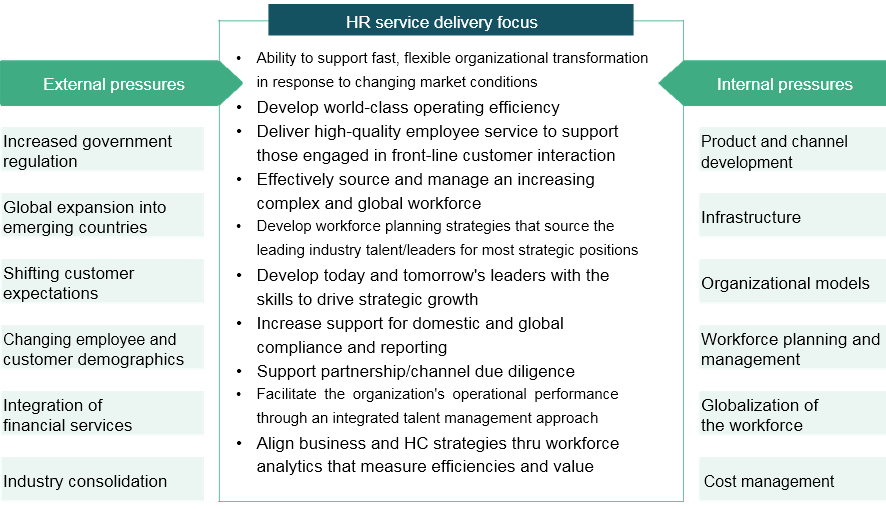 How does benchmarking improve company culture?
Benchmarking is an ongoing process of company growth and advancement. Using benchmarking to enhance the employee experience and increase compensation, retention, and job satisfaction can lead to greater employee well-being and in turn a healthier company culture.
Types of HR Benchmarking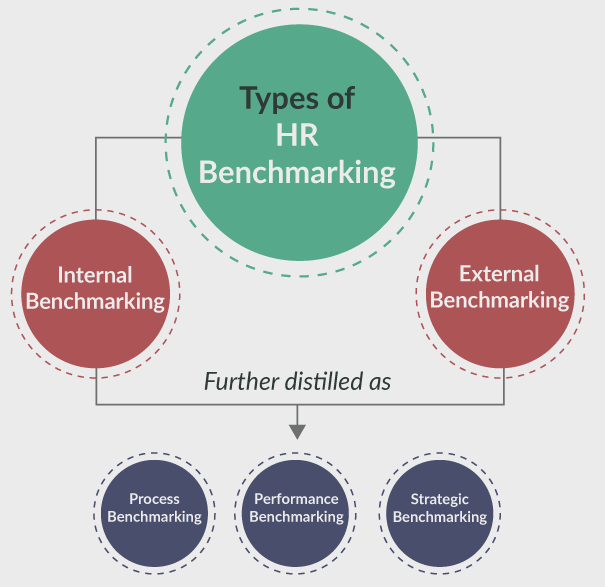 Insurance intuition's HR executives are looking to achieve cost competitiveness in an uncertain market
Current state of insurance HR services
In today's challenging economy, even some of the top insurance companies are under-performing in the efficiency and effectiveness of their HR services
Insurance HR organizations should be able to respond to constantly changing internal and external pressures that challenge their ability to achieve operational excellence, improve work force effectiveness, develop future leaders, and capitalize on the growth of emerging markets
Understanding available opportunities in HR service delivery models is an integral part of driving greater value
Insurance executives need to know:

–– Do we spend too much to acquire new talent?
–– Does our HR service delivery model align with the company's strategic goal and revenue sources?
–– How do our employee benefit costs compare with other companies in our industry?
Delivers invaluable data-centric insight and analysis with benchmark and survey capabilities
Dedicated benchmarking team comprises more than 60 highly-experienced benchmark professionals with deep benchmarking knowledge in finance, human resources, information technology, sales, general, and administrative, procurement, supply chain, shared services, and industry-specific operations functions.
GBC capabilities
Relevant: Tailored peer groups are determined using industry and organizational demographic information, resulting in analysis that is applicable to your specific company
Process-based: Process data is collected where work is performed, regardless of a company's structure to enable effective comparisons
Actionable: Tailored reports detailing individual performance metrics help companies identify and prioritize areas of opportunity
Efficient: Focused question sets are designed to collect information most critical to company and/or industry issues
Proprietary: Deloitte's peer group database is proprietary based on data collected directly from our clients
HR cost per employee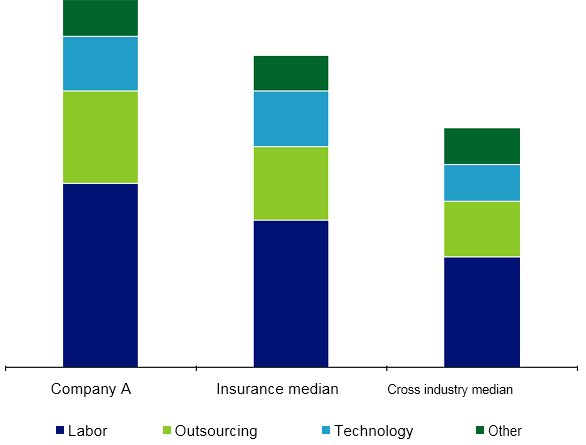 Global HR benchmark is designed to provide insurance executives with actionable data to help reduce costs and increase efficiency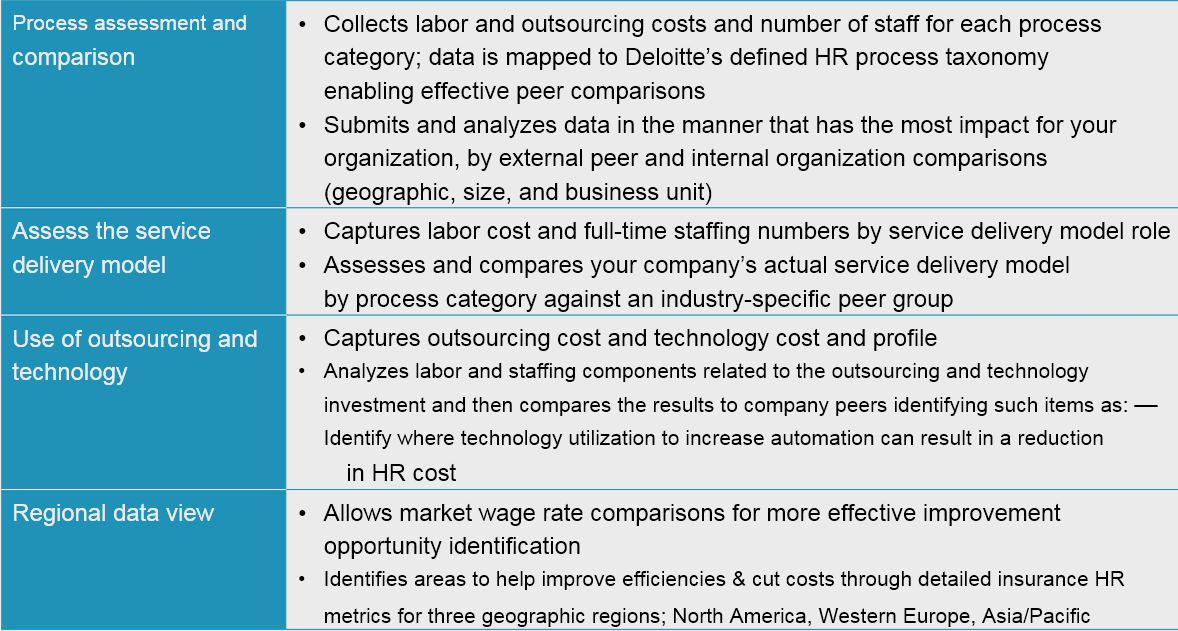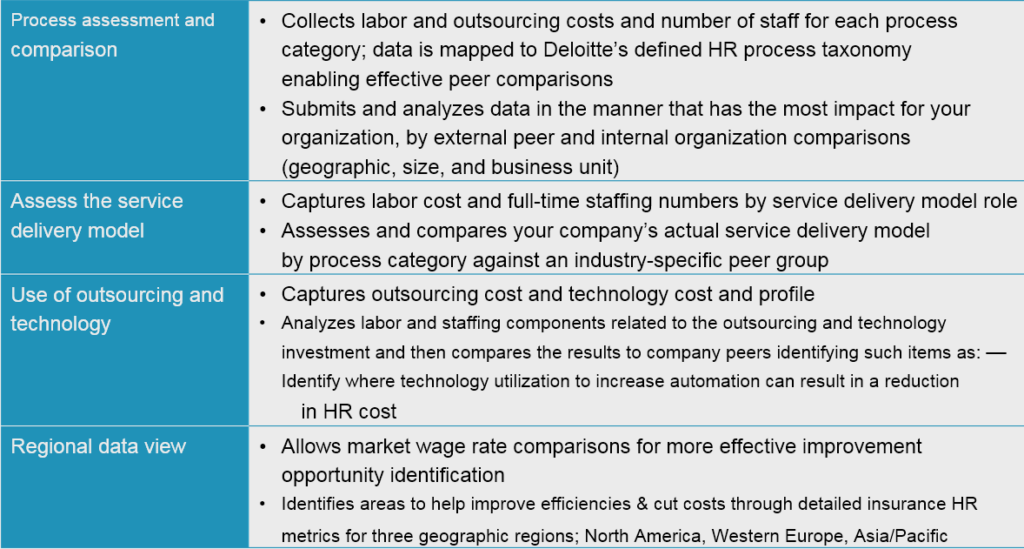 For consistency, we uses a time-tested approach and methodology from planning to the final results presentation.
The focused questionnaire addresses issues most critical to executives, making data collection fast, analysis valuable and relevant. The benchmark contains approximately 55 questions.


Insight into service delivery model roles
Data is collected by service delivery model role, allowing analysis of role-based costs within process categories. This role-based view can provide insight into:
–– Process fragmentation and full-time staff distribution
–– The potential benefits of moving activity to more efficient, lower cost parts of the organization (e.g., shared services) or leveraging outsourcing
Talent management SDM process cost distribution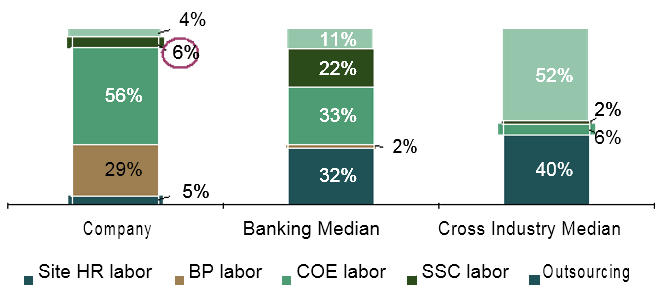 Talent management labor rate per SDM role ($US 000)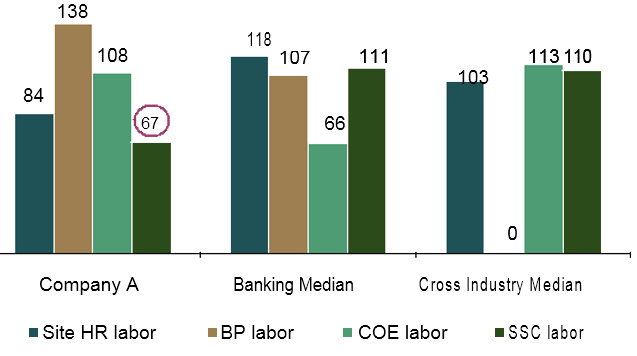 Multiple reporting locations
Multiple reporting locations provide essential insight and highlight key cost and performance improvement opportunities for executives.
Multiple reporting locations
Multiple reporting locations enable internal benchmarking comparisons by geography, business unit, etc., in the results presentation
Identify such opportunities as:

–– The lack of common processes and leading practice implementation across units or the enterprise
–– Cost gaps between business units, regions, or other locations
–– Specific cost drivers, allowing relative prioritization
HR process cost per employee ($US)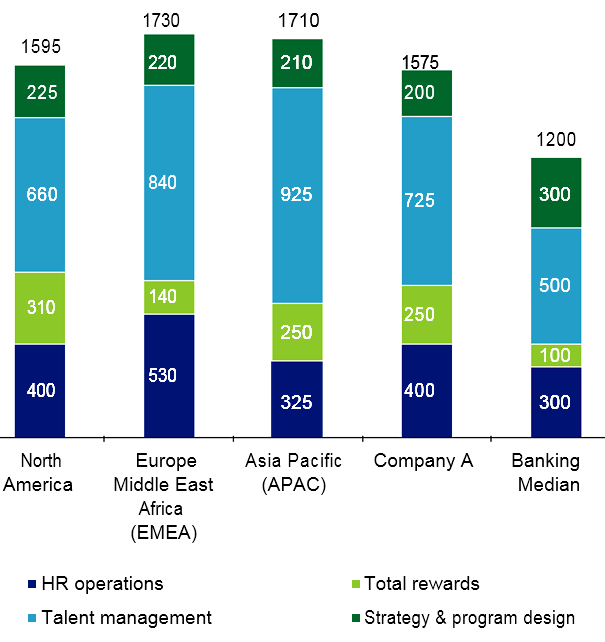 Gap analysis of HR process
Gap analysis of human resources process categories helps pinpoint where to focus efforts.
Quantify cost gaps
Cost gaps begin at the overall functional level and then drill into process category
Allows prioritization of key areas of opportunity and focus
Total process gap to industry top performer ($US M)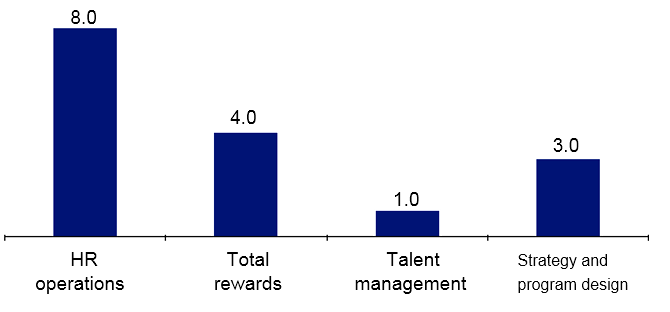 View cost gap components
Begin by identifying where the costs gaps exist — in process (labor and outsourcing), technology, or other
Process cost gaps can be quantified in two ways

–– Labor rate differentiator identifies the gap based on labor rate differences with peer comparison
–– Staffing efficiency identifies the gap based on staff size differences with peer comparison
Total process cost gap to top performer ($US M)

HR costs cover a variety of metrics. This could include the cost of how much it is to run the HR function or to cover HR budget metrics, such as cost per hire. As with other metrics, it is essential to ensure the data is consistent and comparable with organizations with similar characteristics. As an example, see below an extract from a Deloitte report which compares HR process cost per employee.
Process category gap analysis ($US M)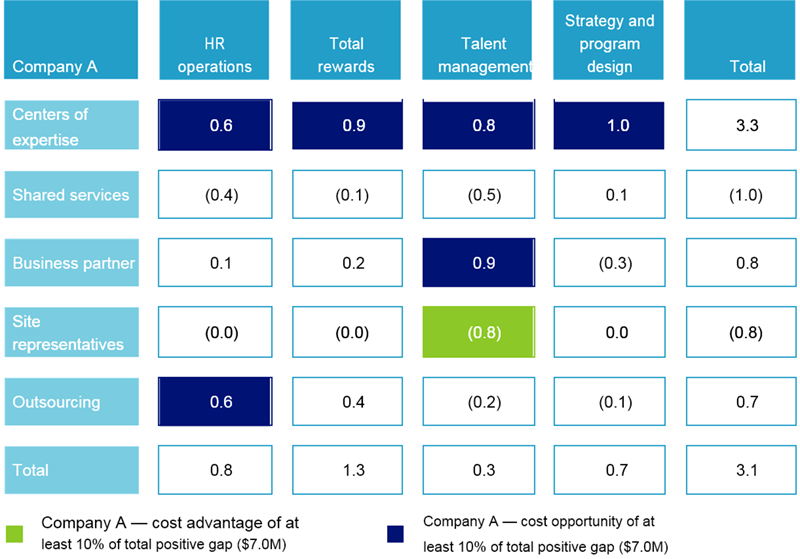 You can benchmark just about every aspect involving people in your organization, as long as you have the data to back it.
Concerning all the legal requirements surrounding HR, this is perhaps the least exciting area to measure. Yet, interestingly, I find this is the area where HR teams focus too much of their time and attention. Clearly, compliance is important and something that needs monitoring regularly, but this must be done in conjunction with measuring those functions that are related to the organisation's strategic priorities.
……………………….
AUTHOR: Richard T. Roth – Principal Deloitte Global Benchmarking Center Deloitte Consulting LLP